lip makeup
5 Mistakes You Could Be Making With Your Matte Lipstick
It really does matte-r!
March 31, 2021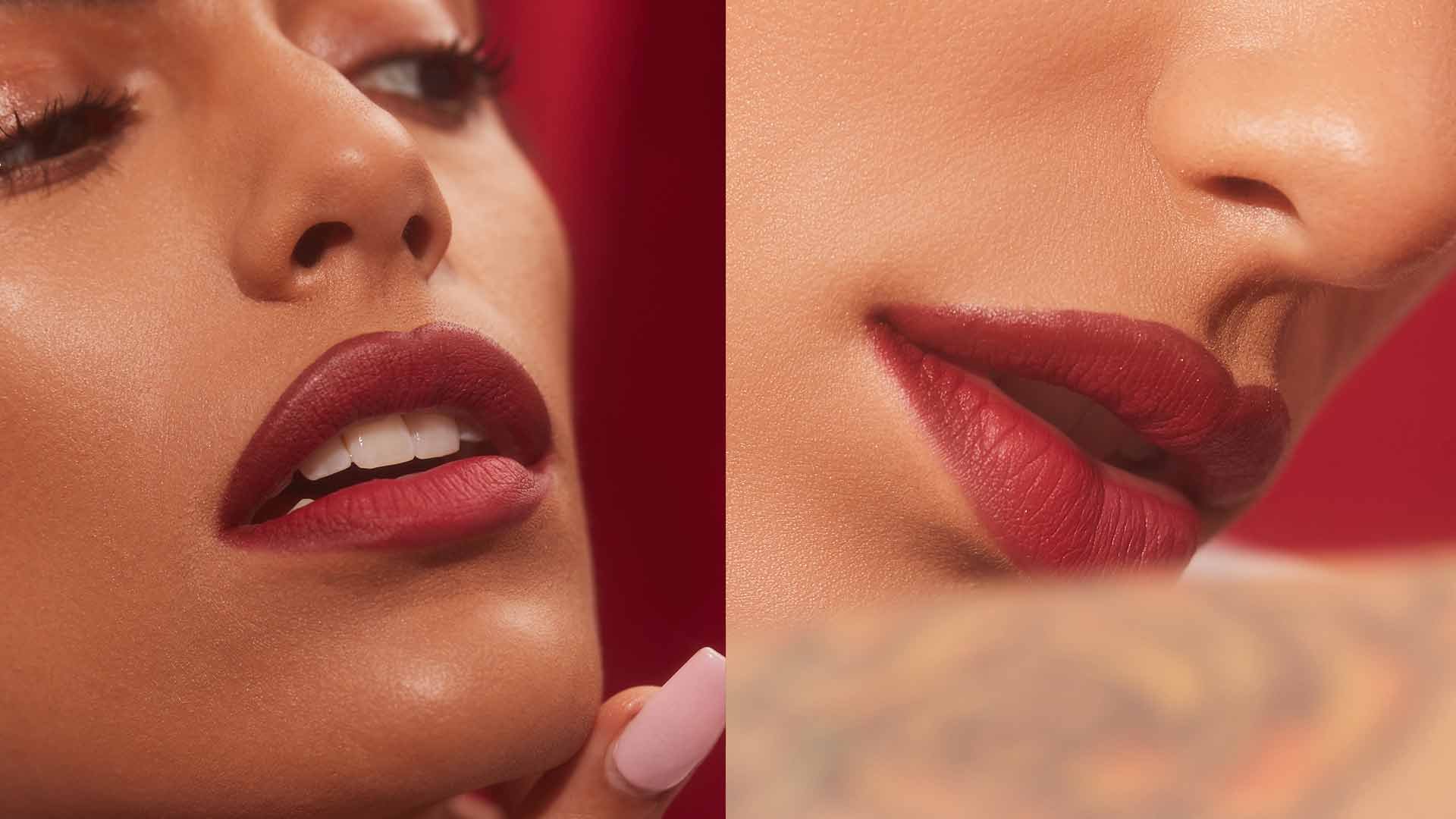 Even in an age of protective face masks, we'll never get enough of the transformative power of a gorgeous lipstick. Since more matte lipstick options have become available, the finish has easily become a go-to for everyday women beauty lovers alike (especially since they tend to transfer less than their satin counterparts). And while matte lipstick looks enchanting on everyone, how you apply it to your pout is really important. If you're noticing that your matte lipstick doesn't have staying power or doesn't always look the most flattering, you might be guilty of these five common matte lipstick mistakes.
MISTAKE #1: YOU SKIP PRIMER
We've said it before and we'll say it again, all makeup looks begin with primer. Primer isn't just for foundation or eye makeup—it can also help to keep lipstick in place throughout the day and create a smooth canvas for lipstick application. If you don't own a lip primer, you can use lip liner, like the L'Oréal Paris Colour Riche Lip Liner, over your entire lip as a base. Works like a charm!
Editor's Tip: If you put lipstick on in the morning, throw the tube in your purse before heading out for the day. It's always a good idea to be prepared for a touch up just in case. For minimal touch-ups, try a stunning shade from the L'Oréal Paris Rouge Signature Matte Lip Stain line.
MISTAKE #2: YOU THINK LIP LINER ISN'T NECESSARY
Speaking of lip liner, if you don't think it's a game-changer then you've already lost the game. Outlining your lips before applying lipstick can help to keep your color from seeping outside the lines. What's more, if you plan on rocking a nude lip, a lip liner that's a tad darker than your natural lip color can add serious dimension for the pillow-y pout of your dreams. Unless you're going for a '90s throwback look, make sure your liner isn't too dark—you don't want to walk around looking like a coloring book that's yet to be filled in.
Looking for a great lip liner and lip gloss combo in a matte finish? Pair the L'Oréal Paris Colour Riche Matte Lip Liner with your favorite L'Oréal Paris Pro-Matte Gloss for a velvety smooth look that lasts.
MISTAKE #3: YOU CHOOSE COLOR THAT MAKES YOUR LIPS LOOK SMALLER
Believe it or not, some colors make lips look bigger than others. What's even more shocking is that dark lipstick can sometimes make lips appear thinner. So, unless your lips are as luscious as you want them to look sans lipstick, you might want to opt for a lighter shade that will give the appearance of a fuller pout. The L'Oréal Paris Colour Riche Matte Lipstick collection offers 16 bright colors that won't dry out your lips.
MISTAKE #4: YOU START AT THE CORNERS INSTEAD OF THE CENTER OF YOUR LIPS
This is an easy mistake to make with all lipstick, matte or otherwise. But when you start at the corners of your lips, it's more likely that you'll veer outside the lines. To avoid this little dilemma, just start applying matte lipstick at the center of your lips—and take notice of how your perfect pout becomes more controlled. Try it with a luxurious nude shade from the L'Oréal Paris Colour Riche Ultra Matte Highly Pigmented Nude Lipstick line.
MISTAKE #5: YOU FORGOT TO CHECK YOUR TEETH
Lipstick on your lips is cute. But when it's on your teeth? Not so fabulous. To ensure you won't end up ruining your selfie with a coral-stained grin, be sure to stick a finger in your mouth and pull it out with your lips lightly closed around it. With the L'Oréal Paris Colour Riche Creamy Matte Lipstick, Rich Hydration, you'll get a brilliant color payoff paired with intense moisture that stays exactly where you want it.
Photo Credit: Chaunte Vaughn
{ "@context": "https://schema.org/", "@type": "WebPage", "speakable": { "@type": "SpeakableSpecification", "cssSelector": ["speakable-content"] }, "url": "https://www.lorealparisusa.com/beauty-magazine/makeup/lip-makeup/matte-lipstick-mistakes" }
Discover more tips & tricks
Keep your skin happy
See all articles
Shop Featured Makeup products
Discover More
{ "@context": "http://schema.org", "@type": "BreadcrumbList", "itemListElement": [ { "@type":"ListItem", "position": 1, "item": { "@id": "/", "name": "Home" } } , { "@type":"ListItem", "position": 2, "item": { "@id": "https://www.lorealparisusa.com/beauty-magazine", "name": "Beauty Magazine" } } , { "@type":"ListItem", "position": 3, "item": { "@id": "https://www.lorealparisusa.com/beauty-magazine/makeup", "name": "Makeup Tips For Every Look" } } , { "@type":"ListItem", "position": 4, "item": { "@id": "https://www.lorealparisusa.com/beauty-magazine/makeup/lip-makeup", "name": "Lip Makeup" } } , { "@type":"ListItem", "position": 5, "item": { "@id": "https://www.lorealparisusa.com/beauty-magazine/makeup/lip-makeup/matte-lipstick-mistakes", "name": "matte-lipstick-mistakes" } } ] }