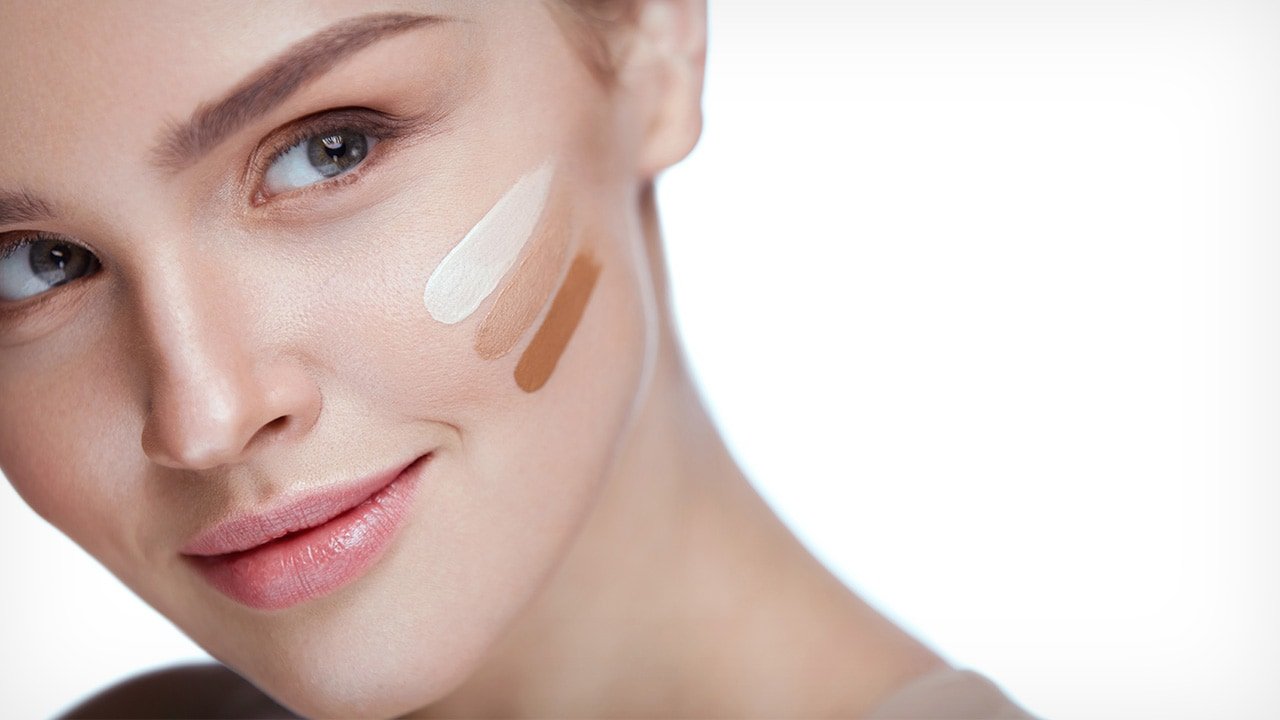 face makeup
8 Tips for When You're In-Between Foundation Shades
It's that time of year—as the cold winter weather starts to transition into warmer temperatures for spring and summer (thankfully), your pasty skin will likely start to gain back a little color. And while everyone loves having bronzed skin during the summer, it's a little less fun transitioning your makeup routine between seasons—mainly due to that awkward period of being in-between foundation shades, which can really take a toll on your overall makeup look. Stuck on how to fix the inevitable? Keep reading for eight tips for when you're in-between foundation shades.
TIP #1: MIX AND MATCH
Chances are you have a winter and summer foundation shade on-hand, but what do you do for those in-between seasons where your skin isn't quite as pale but also isn't totally tan yet? This is where you have the opportunity to play mix master. Take the two shades you already have and mix them together to create your own custom shade in a pinch! Think of it like mixing two paint colors to create one you don't have in your collection—just apply a few pumps of both shades on the back of your hand, mix with a cotton swab, and you're good to go!
TIP #2: DON'T SKIP YOUR NECK
One of the tell-tale signs that your foundation doesn't match? Your neck! Make sure to blend your foundation past your jawline and down your neck to eliminate any unwanted harsh lines where your face makeup meets your décolletage.
TIP #3: GRAB A FACE POWDER
If you don't have an extra foundation on-hand, you can use a face powder to lighten or deepen your complexion by a few shades. Need to go lighter? Reach for the L'Oréal Paris True Match™ Powder in a shade that's lighter than your foundation. Need to go darker? Try applying a bronzer, like the L'Oréal Paris True Match™ Lumi Bronze It Bronzer, to your temples, cheeks, nose, and jawline.
TIP #4: MAKE SELF-TANNER YOUR BFF
If you're too pale for your current foundation shade, reach for a self-tanner to give yourself a faux glow that better suits your makeup. Not sure where to start when it comes to self-tanner? No problem! Head on over to our article, How to Use Every Type of Self-Tanner, for everything you need to know.
TIP #5: WEAR A TURTLENECK
When in doubt, turtleneck it out! As we mentioned earlier, your neck is one of the most obvious giveaways that you're in-between foundation shades. If you don't have another foundation hue, a face powder, or a self-tanner on-hand, you can disguise your mismatched neck by wearing a turtleneck. You can get the same effect by sporting a scarf or high-neck blouse, so don't worry you'll be stuck in a turtleneck until summer hits.
TIP #6: STICK TO CONCEALER
If your skin tone tends to change dramatically from season to season, you may not be able to make the foundations in your collection work when you're in-between shades. In that case, consider using a concealer instead. While it won't give you the same full coverage that a foundation will, a concealer can be used to disguise under-eye bags, unwanted blemishes, and areas of discoloration.
TIP #7: WHEN IN DOUBT, ALWAYS GO LIGHTER
Torn between a lighter or darker foundation shade? If you can't decide, we recommend always going for the lighter shade. It's much easier to create a darker-looking complexion with the help of bronzer and face powder than it is it to lighten up a darker hue!
TIP #8: DON'T SKIP COLOR-CORRECTION
If you need to go sans foundation while you transition into your new shade, make color-correction your BFF. You can use the L'Oréal Paris True Match™ Color Correcting Crayon to neutralize your complexion. Use the green shade to conceal redness and blemishes, the bisque, peach, or orange shade to disguise dark circles, dark spots, and hyperpigmentation, and the yellow shade to hide blue or purple areas like age spots.
Next: How to Transition Your Makeup Routine from Winter to Spring
Discover more tips & tricks
Keep your skin happy
See all articles
Shop Featured Makeup products
Discover More