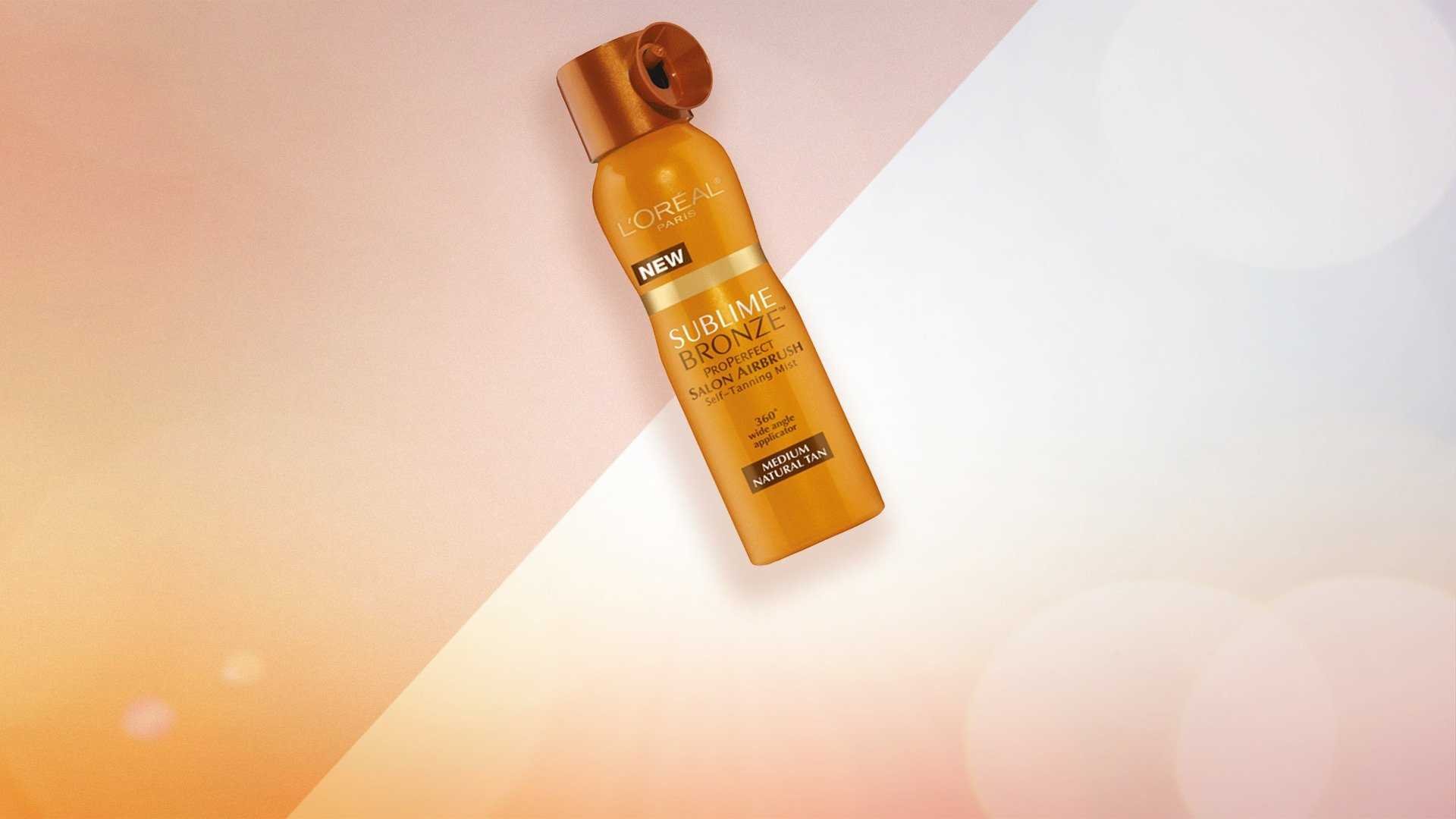 sun care and self tanning
How to Use a Self-Tanner Mist for a Spray Tan-Inspired Glow
If you've ever used self-tanner before, chances are you've had a mishap once or twice. Unless you're a pro, it can be pretty easy to mess up—and that means you could be left with streaky, patchy color. But using a self-tanner is the best way to get that sun-kissed glow you crave year-round (yep, even in the middle of winter). And besides, who has the time or the money to get a professional spray tan every other week? Not us. So, what can you do to avoid streaks and splotches when applying a self-tanning spray? Here, learn all you need to know about self-tanner mists, including how to use one without mistakes for flawless faux color.
WHAT IS A SELF-TANNER MIST?
You know how celebs always look perfectly bronzed on the red carpet? Usually, it's because they've had a professional spray tan. Consider a self-tanning spray a salon-inspired version of this. Only instead of having someone else spray color on you, you do it yourself from the comfort of your own bathroom for an even, smooth tan. Like the sound of that?
IS A SELF-TANNING LOTION OR SPRAY BETTER?
You may be wondering—is a self-tanning lotion or spray better? While both are great options for giving yourself an at-home faux glow, each serves its purpose based on your needs. If you want an instantly bronzed complexion, a self-tanning spray may be the better option. If you prefer a more gradual fake tan, consider using a self-tanning lotion!
OUR BEST SELF-TANNING SPRAY MIST
The L'Oréal Paris Sublime Bronze™ ProPerfect Salon Airbrush Mist, which comes in Medium and Deep shades, offers salon-inspired airbrush tanning results at home. The self-tanner mist has a 360° wide-angle jet applicator that provides continuous coverage for a 100-percent natural-looking tan. It's a super-fine mist that applies evenly and dries quickly.
One of the great things about this self-tanning spray mist is that it makes it easy to apply self-tanner evenly onto hard-to-reach areas (like your back and shoulders) because of the spray nozzle. The wide-angle applicator can even be used when upside down—without leaking—so you can worry less about making a mess when trying to hit tricky spots.
HOW DO YOU USE SELF-TANNING SPRAY?
Never used a self-tanner mist before? No problem! You'll ace the application in no time. We're sharing instructions on how to use our self-tanning spray, so pretty soon you can be covered with a gorgeous golden color!
STEP 1: CLEANSE AND EXFOLIATE YOUR SKIN
Pay attention: This is the most important prep step! Dead skin cells can build up on the surface of your skin, and this buildup can cause self-tanner to appear splotchy when you apply it. This is because self-tanner naturally clings to areas of dry skin, like elbows and knees, so you'll want to be sure to exfoliate all over beforehand.
To do so, use a gentle scrub cleanser in the shower to slough off dead skin cells. Remember to pay extra attention to areas that tend to get dry, so they don't end up darker than the rest of your body. You can also use a gentle face scrub, like the L'Oréal Paris Pure-Sugar Resurface & Energize Kona Coffee Scrub, to exfoliate your face before you tan your visage.
Editor's note: Need a refresher on all things exfoliation? Here's How to Exfoliate from Head to Toe.
STEP 2: APPLY MOISTURIZER
The next step in your journey to perfectly bronzed skin? Moisturizing, of course! After you're done exfoliating in the shower, gently towel off and continue the self-tanner prepping process by applying a hydrating moisturizer onto damp skin. (Applying moisturizer when skin is damp can help lock in hydration.) Moisturizing before using a self-tanner will also help the color go on evenly, so don't skip this step.
STEP 3: IT'S TIME TO MIST!
Hold the can of sunless tanner at arm's length and spray onto your skin. Apply the self-tanner sparingly around high absorption areas: we're talking knees, elbows, and feet. Bend your knees to keep skin taut while spraying the self-tanner mist to help get an even application. Don't forget to hit your back, too—it shouldn't be an issue thanks to this mist's spray nozzle. When you've applied an even layer of self-tanner to all the areas you want to tan, don't rub in the color.
STEP 4: WAIT IT OUT
Time is your friend when it comes to getting a flawless-looking faux tan from a self-tanning spray (or any self-tanner, for that matter). While you might have the urge to throw on your clothes before your self-tanner is fully dry, this could result in a splotchy finish—and even stained clothes. Yikes! So, after you've finished misting yourself, wait a bit. Once your tan has dried, put on loose clothes to help prevent staining.
HOW DO YOU MAINTAIN THE LOOK OF A FAKE TAN?
You can use our self-tanner mist daily until you reach your desired level of color and then once or twice a week to maintain it. If you prefer, you can use the L'Oréal Paris Sublime Bronze Hydrating Self-Tanning Milk Medium up to three times per week between your self-tanning spray applications to maintain a streak-free glow.
Now, what if you've received a professional spray tan? Can you put self-tanner over a spray tan to keep it going? The answer is yes! If your tan is in need of a touch-up, you can layer a self-tanning spray on top. The one thing to keep in mind is that the end result may not be totally seamless if your spray tan already isn't fading evenly.
Next up: If you don't think a self-tanning mist is the right self-tanner for you, don't worry, we have plenty of other options! Check out our article, The Best Self-Tanner for Every Situation.
Discover more tips & tricks
Keep your skin happy
See all articles
Shop Featured Skin Care products
Discover More