face makeup
How to Find a Foundation Match for Yellow Undertones
Including our own favorite foundation picks.
April 25, 2022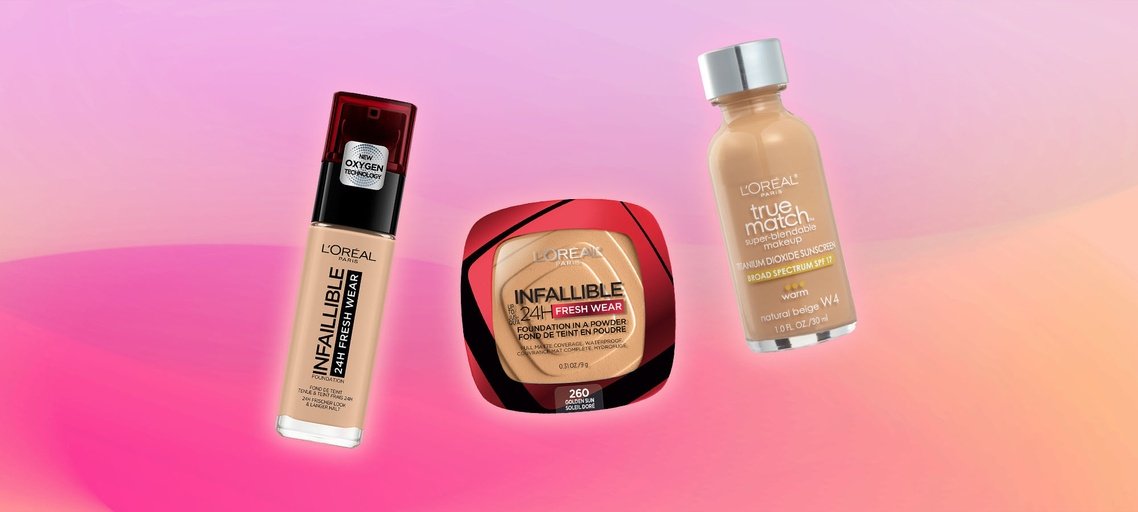 In some ways, shopping is so much easier when you know what you're looking for. But, once you know what you need, the options available to you can drastically dwindle. This can become a good thing when it comes to foundation however, because matching skin tone (i.e., fair, light, medium, deep) isn't always enough. It has to match your undertones too, which is why if your skin has yellow undertones, you'll need to find a foundation that best complements it. Keep reading to learn how to find your foundation match when you have yellow undertones.
How to Confirm You Have a Yellow Undertone
Before you embark on a search for foundation with a yellow undertone, it's a good idea to determine whether your skin actually has yellow tones. First thing's first, are yellow undertones warm or cool? Complexions can have one of three different undertones: cool, warm, or neutral. Skin with a touch of blue or pink is on the cool side, whereas skin that appears peachy or yellow would be considered warm. Somewhere in the middle means skin is neutral. Try these simple tips to check if your undertone is actually warm with yellow undertones:
1. Try the Vein Test.
Look at the inside of your arm — if your veins appear green, it's an indication of warm-toned skin.
2. Try the Paper Test
It sounds really weird but we've seen it work. Placing something stark white, like a piece of paper, next to your face can help you figure out your undertones. The white should create a cast of color on your skin. If your face suddenly gives off a yellowish hue, you're warm.
3. Consider Your Jewelry and Clothing Choices
Do you prefer gold or silver jewelry? If you find gold complements your skin tone the best, that's another sign of a warm undertone. Also, think about the pieces in your wardrobe that always receive rave reviews. If you're constantly complimented when wearing shades of brown, dark green or orange, your undertone is likely warm.
How to Find Your Yellow Undertone Foundation Match
Finding a foundation that matches your complexion, especially one with a yellow undertone, can be a challenge. The trick to making the selection process less of a struggle is to look for a line that has foundations with an array of undertones. Consider one of our best yellow undertone foundations, which we've compiled into a neat little list below.
1. Pick Your Favorite Coverage
L'Oréal Paris True Match Super Blendable Makeup: When you want your foundation to look like skin, try a shade from this collection which includes 15 warm shades — that's a third of its 45 shades offered. The formula is super-hydrating, provides medium coverage, and has a natural finish that's so blendable it's like you can't tell where your foundation ends and your skin begins.
L'Oréal Paris Infallible Up to 24HR Fresh Wear Foundation, Lightweight: With medium-to-full buildable coverage that lasts all day, this is your go-to formula if you plan to rock a full face of makeup. The formula's three oil absorbers resist sweat, water, and transfer, so you don't have to worry about your foundation staying put throughout the day. Most importantly, it comes in shades that are perfect for warm undertones, such as Porcelain, Honey-Bisque, Mahogany and more.
L'Oréal Paris Age Perfect Makeup Radiant Serum Foundation with SPF 50: This lightweight foundation is formulated for mature skin, and it won't settle into lines while providing radiant coverage. It has all the benefits of a foundation with the added bonus of SPF 50, and it comes in multiple warm shades, a few being Golden Sun, Golden Hazelnut, and Golden Ivory.
2. Pair with Coordinating Products
Not only should your foundation match your skin, but so should the rest of your makeup. The easiest way to find coordinating products is to stick with products in the same line. If you went with our first recommendation, the L'Oréal Paris True Match™ line offers plenty of products to complement your foundation.
But before foundation, prepping the skin properly is key. Start by smoothing on a skin-perfecting primer, such as the L'Oréal Paris Age Perfect Blurring Face Primer, to create an even canvas. Then, dot your foundation of choice onto your cheeks, nose, chin, and forehead. Using your fingers or a makeup blender, like the L'Oréal Paris Infallible Blend Artist Foundation Blender, blend your foundation out toward your hairline and down, bringing the color onto your neck for a seamless look.
After foundation is applied, you'll want to use a concealer to cover imperfections, a face powder to set your look, and a warm-toned blush to create a healthy-looking flush. Try the L'Oréal Paris True Match Concealer, L'Oréal Paris True Match Powder, and L'Oréal Paris True Match Blush.
3. Finish Your Face
Brush a coat of lengthening mascara, like the L'Oréal Paris Voluminous Lash Paradise Washable Mascara, onto lashes, tightline with a silky-smooth eyeliner, like the L'Oréal Paris Infallible Pro-Last Waterproof, Up to 24HR Pencil Eyeliner, and coat your pout in a sheer lip gloss, like the L'Oreal Paris Glow Paradise Lip Balm-in-Gloss.
When you're finished with your eyes and lips, there's just one more step: Spritz with a setting spray, like the L'Oréal Paris Infallible Pro-Spray and Set Make-Up Oil-Free Setting Spray, to help ensure your makeup lasts throughout the day. Mission accomplished.
Next: How to Find Your Perfect True Match Foundation Shade
Edited by: Shannon Stubbs, Photo Design: Crystal Simone
{ "@context": "https://schema.org/", "@type": "WebPage", "speakable": { "@type": "SpeakableSpecification", "cssSelector": ["speakable-content"] }, "url": "https://www.lorealparisusa.com/beauty-magazine/makeup/face-makeup/foundation-with-yellow-undertone" }
Discover more tips & tricks
Keep your skin happy
See all articles
Shop Featured Makeup products
Discover More
{ "@context": "http://schema.org", "@type": "BreadcrumbList", "itemListElement": [ { "@type":"ListItem", "position": 1, "item": { "@id": "/", "name": "Home" } } , { "@type":"ListItem", "position": 2, "item": { "@id": "https://www.lorealparisusa.com/beauty-magazine", "name": "Beauty Magazine" } } , { "@type":"ListItem", "position": 3, "item": { "@id": "https://www.lorealparisusa.com/beauty-magazine/makeup", "name": "Makeup Tips For Every Look" } } , { "@type":"ListItem", "position": 4, "item": { "@id": "https://www.lorealparisusa.com/beauty-magazine/makeup/face-makeup", "name": "Face Makeup" } } , { "@type":"ListItem", "position": 5, "item": { "@id": "https://www.lorealparisusa.com/beauty-magazine/makeup/face-makeup/foundation-with-yellow-undertone", "name": "foundation-with-yellow-undertone" } } ] }