face makeup
How to Use Concealer as Foundation
You don't always need foundation for a full-coverage look.
October 10, 2022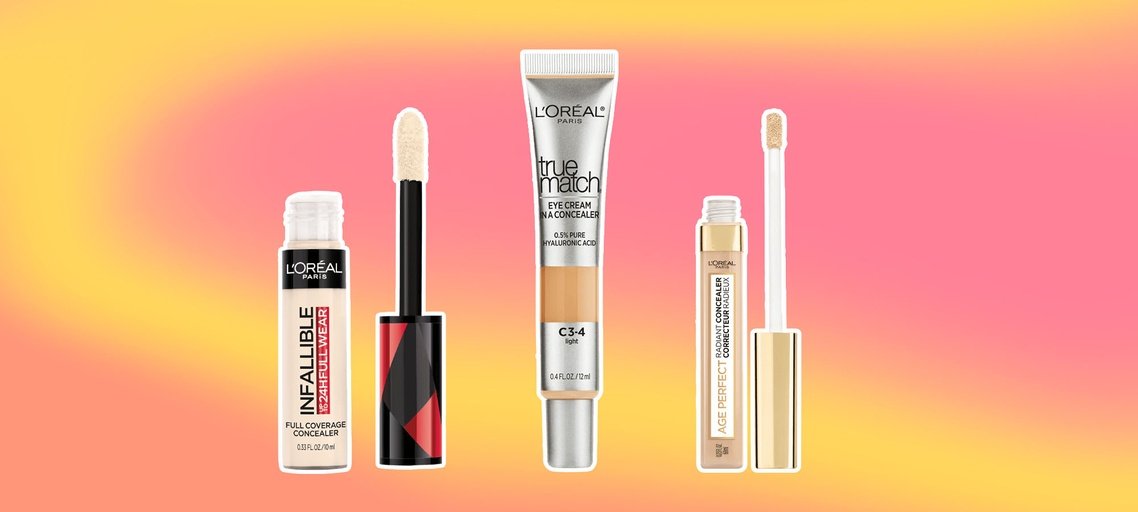 As the no-makeup, makeup look continues to dominate the trend cycle, influencers and beauty lovers are continuing to find ways to make our makeup routines easier. The latest trend that's been taking over our TikTok feeds is foundation-less makeup, substituting the base product for lighter options like a tinted moisturizer or — a recently popular option — an all-over concealer.
This may seem criminal for die-hard foundation lovers, but it's possible to get a similar full coverage look depending on your method and what products you use. Keep reading to find out how to prep the skin for a seamless,
full-coverage look
.
How to Use Concealer as Foundation
If you're used to always wearing foundation, you may be wondering if you can even use concealer as a foundation. But, replacing foundation with concealer actually makes your routine shorter while giving you more breathable coverage. But before jumping right in, you need to prep and apply your product in a certain way for the best results.
According to the experts at L'Oréal Paris, it's best to start with just moisturized skin that's still a little damp so that it's easier for the concealer to blend and spread. Then, take a wet beauty blender and apply the concealer, starting from the T-zone and blending outwards until you have the desired amount of coverage. For a satin, full coverage finish, he recommends starting with a sheer amount of concealer, setting with loose powder, and then continuing to build up the concealer if needed.
Another smooth application hack — using your ring finger to blend in the concealer. Your body heat will manipulate the product so that it looks melted into the skin, and it'll look more airbrushed than if you used a brush.
The Best Concealers To Use As Foundation
Use a creamy concealer, since they can blend easily while giving a sufficient amount of coverage. Here are some of our favorites to use when applying concealer as foundation.
This concealer is formulated with a hydrating serum and glycerin to illuminate and nourish the skin, making it a perfect, blendable base option. It's also great for mature skin, as it can brighten the skin and it doesn't settle into fine lines.
Even though this concealer has a matte finish, its creamy consistency makes it a great choice for using concealer as foundation. It also has a waterproof formula — so you don't have to worry about creasing, transferring or fading. Use a shade that matches your skin tone exactly, and this option comes in 25 shades to help you find your match.
This skin care-makeup hybrid is great for the under eye area, as concealers can often look patchy and cakey in that area if the skin is dry. It contains hyaluronic acid to hydrate, making it easier to blend for a natural finish. Even though it does contain eye cream, this is a lightweight option to use concealer as foundation.
Next: 4 Pro Tips to Make Your Makeup Look Smooth
Written by: Shannon Stubbs, Design by: Crystal Simone
Discover more tips & tricks
Keep your skin happy
See all articles
Improve your routine
Show your new look more love:
makeup