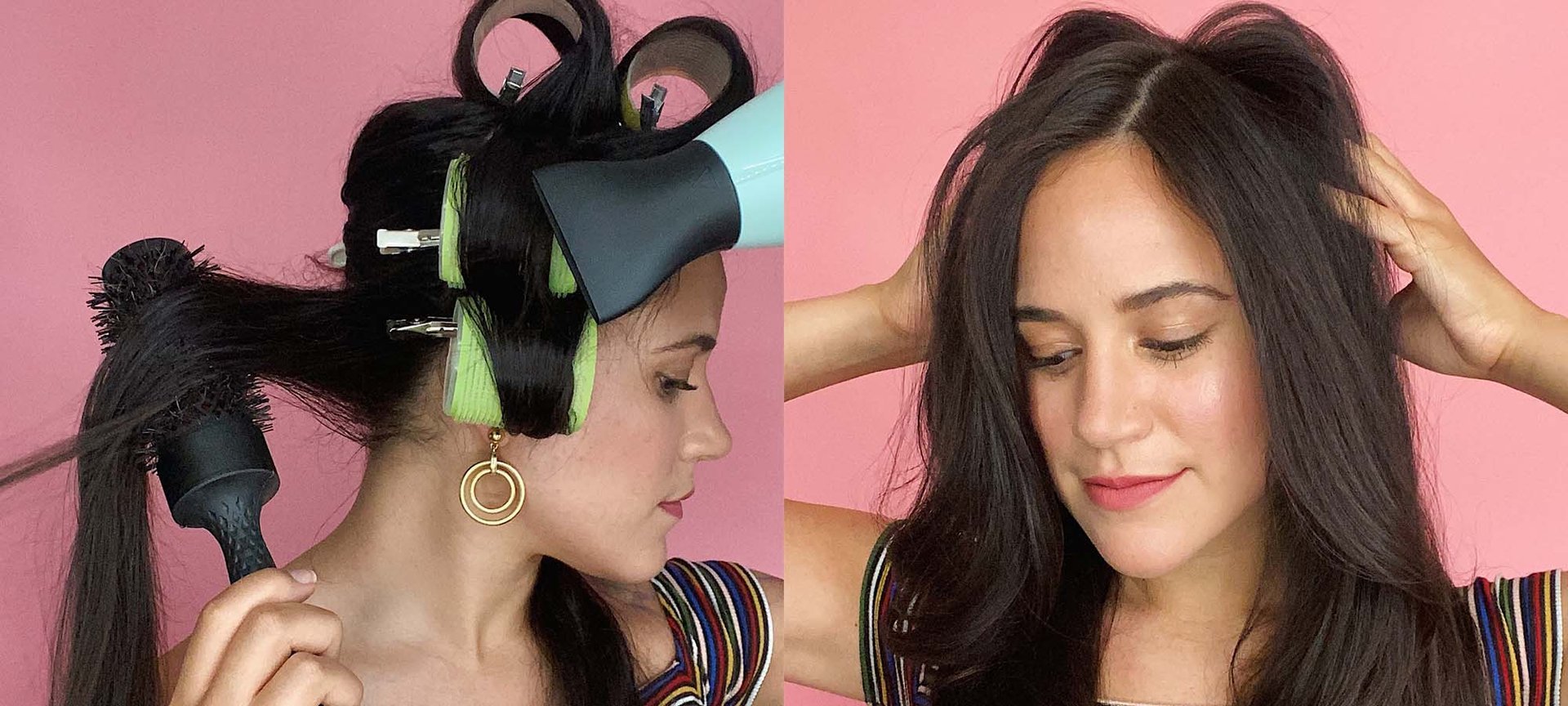 hairstyle trends
How to Create a '90s Blowout in 5 Easy Steps
The hair trend speaks volumes.
Big hair is back — and it's bigger than ever. After years of relying on beach waves and tousled hairstyles as our go-to looks, the bouncy '90s blowout hair trend (think: Cher Horowitz in Clueless and Rachel Green in Friends) is coming full circle and having a major moment again.
Timeless, classic and chic, this old-school hairstyle is synonymous with the word "glamour." According to Jonathan Colombini, celebrity hairstylist and L'Oréal Paris expert, the '90s blowout hairstyle is all about body, bounce and, of course, volume. Says the pro, "getting volume is always in the foundation" of a bombshell blowout. Whether you're getting ready for a virtual work meeting or a night out on the town, the fluffy hairstyle is the perfect way to show off your silky, smooth locks.
Ready to give the throwback hairstyle a go? Bring your arm strength, grab your heat protectants and hot tools and read our best tips for quickly mastering the look yourself, below.
1. Wash And Condition With Volumizing Shampoo
First things first, before you begin your blowout you'll need to wash your hair with a volumizing shampoo. An essential step in your shower or wash day routine, a shampoo with volumizing properties works to revive your tresses and prevent them from ever going flat — something you want to avoid. The L'Oréal Paris Sulfate-Free Volume Shampoo delivers a lightweight fullness to your hair that you can depend on all day. Pair it with the L'Oréal Paris Sulfate-Free Volume Conditioner and be sure to only apply it to the mid-length and ends of your hair.
Editor's tip: For folks with dry or damaged strands, incorporate a hair mask or treatment — such as the L'Oréal Paris Elvive 8 Second Wonder Water Lamellar Hair Treatment — into your hair care routine a few times a week. It will not only be beneficial to your mane but also make your blowout look ten times better.
2. Use Volumizing Hair Care Products
The key to a big, bouncy look doesn't only come down to the products but also to the application technique. Because volume lives at the crown of the hair, you should be putting most of your focus on that area. We recommend using a thickening styler or volumizing spray and mousse, such as the L'Oréal Paris Everpure Sulfate-Free 21-in-1 Color Caring Spray, Leave In. This all-in-one treatment delivers 21 benefits that work wonders on your mane — including priming and protecting hair before heat styling, adding shine and body and creating silkiness.
If you want to keep your new 'do flyaway- and frizz-free, apply the L'Oréal Paris Elvive Dream Lengths No Haircut Cream Leave In Treatment to damp hair to help seal any split ends.
3. Divide Your Hair Into Sections
Using claw clips, divide your damp (and heat-protected) hair into sections. The number of sections will depend on how much hair you have. Part your hair from ear to ear, creating a top and bottom section, and clip the top section out of the way. Then, part the bottom section down the middle, bringing each side in front of your shoulders.
Working in small sections, wrap your hair under and around a round brush, and direct the blow dryer to your roots. Work down the section and finish by rolling the ends under. You'll want your ends to swoop inwards and look lightly curled. Continue this step on your entire head until you're finished.
Editor's tip: You can also use a hot brush or curling iron with a bigger barrel to achieve the flip too.
4. Reach For Velcro Rollers
To amp up the volume, use old-school velcro rollers when you're finished blow-drying. Using this heat-free tool is optional but it's a foolproof way to add more bounce to your style.
Gather a one-inch section of hair, place the roller at the end and then roll it inwards towards your scalp. Continue placing the velcro hair rollers throughout your hair until full. Leave them in until your hair has fully cooled down. Just remember: The longer you wait, the more voluminous your hair will come out.
Editor's tip: When the rollers are out, flip your head upside down and shake for maximum bounce and body.
5. Finish Off With Hairspray
As a finishing touch, lock your new 'do in place with the L'Oréal Paris Elnett Extra Strong Hold Volume hairspray, and voilà! Your '90s blowout is complete.
Next: 9 Hair Care Mistakes to Stop Making Today
Written by: Sophie Dweck, Photo Credit: Jasmine Burnside
Discover more tips & tricks
Keep your skin happy
See all articles
Improve your routine
Show your new look more love:
makeup