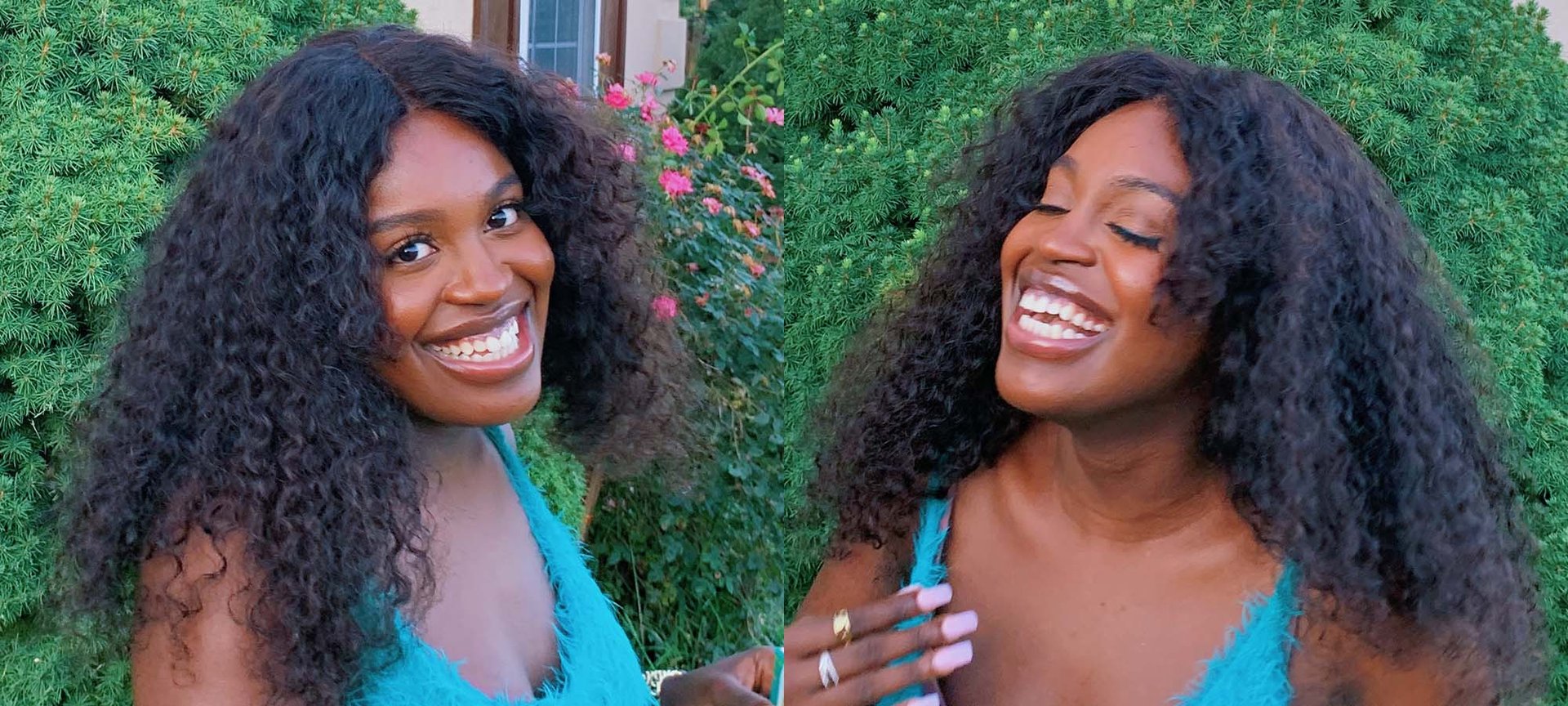 hairstyle trends
3 Tips For Getting Great Bangs With Curly Hair
Cut with confidence.
If you've been thinking of making a drastic change to your curly mane, bangs are an easy way to instantly transform your look. Curly bangs are nothing short of fierce and they've become super popular these days. However, getting the perfect curly bang isn't as straightforward as giving yourself a trim. Whether you're seeing a professional or braving DIY bangs at home, there are a few factors that can cause a great set of curly bangs to spiral into a hair nightmare. To help you make the most informed fringe decision, we're sharing our top three hair care tips for getting bangs on curly hair.
Consider Your Natural Features
Once you've decided to embrace bangs, the next step is figuring out which style to wear.
Whether you opt for blunt, side-swept, shaggy, or curtain bangs, it's important to choose a bang that will frame your face to its fullest potential.

While you might have an idea of how you'd like your bangs to look, not every cut will work for your curly hair. To ensure you get the most flattering fringe, choose a bang style that works best for your face shape in conjunction with your hair type and hair texture.

If you have an oval face, a blunt fringe that hits just below your brows can help accentuate your facial features to help balance out width. For faces that are slightly rounder or squarer, eyebrow grazing bangs are a gorgeous look. If you have a heart-shaped face, just about any style of bang will work for you.
Cut Your Bangs Long And Dry
Anyone with curls knows how much hair shrinkage can make a difference in length and texture. Since curly hair tends to shrink as it dries, it's never recommended to cut hair while it's wet.


Cutting your curly hair when it's dry or slightly damp will help you get an accurate measure of the length of your bangs so you'll be able to see how your curls fall once they're styled.
When you're ready to trim, start with a longer bang than you actually want. Starting your bangs around the bridge of your nose will leave plenty of lengths to work with. This way you have some flexibility to make adjustments to achieve the curly bangs of your dreams.
Use Styling Products Created For Curls
All of your curls, including your freshly cut ones, need to stay hydrated to maintain their shape and shine. To keep your fringe frizz-free, make sure you're using products made for curly hair that optimize your hair's bounce and shine.
Keep your curls moisturized and defined by using a hydrating shampoo and conditioner system like the L'Oréal Paris Elvive Extraordinary Oil Curls Shampoo and L'Oréal Paris Elvive Extraordinary Oil Curls Conditioner.
When it comes to styling your curly bangs, just remember that less is more. Applying too many products can end up making your bangs look greasy or weighed down. Opt for a lightweight hair serum like the L'Oréal Paris Elvive Dream Lengths Frizz Killer Serum Leave-In which helps soften and define curls for bouncy, frizz-free spirals.

For the times your fringe needs a quick refresh, reach for a dry shampoo like L'Oréal Paris Elvive Dream Lengths Air Volume Dry Shampoo. This waterless shampoo will help absorb excess oils and product buildup from your bangs (and the rest of your hair) between washes.
Next: 7 Tips To Get Poof-Free Fluffy Hair
Written by: Lauren Paige Richeson, Photo Credit: Sarah Duvivier
{ "@context": "https://schema.org/", "@type": "WebPage", "speakable": { "@type": "SpeakableSpecification", "cssSelector": ["speakable-content"] }, "url": "https://www.lorealparisusa.com/beauty-magazine/hair-style/hairstyle-trends/curly-bangs" }
Discover more tips & tricks
Keep your skin happy
See all articles
Improve your routine
Show your new look more love:
makeup
{ "@context": "http://schema.org", "@type": "BreadcrumbList", "itemListElement": [ { "@type":"ListItem", "position": 1, "item": { "@id": "/", "name": "Home" } } , { "@type":"ListItem", "position": 2, "item": { "@id": "https://www.lorealparisusa.com/beauty-magazine", "name": "Beauty Magazine" } } , { "@type":"ListItem", "position": 3, "item": { "@id": "https://www.lorealparisusa.com/beauty-magazine/hair-style", "name": "Find Your Next Hot Look" } } , { "@type":"ListItem", "position": 4, "item": { "@id": "https://www.lorealparisusa.com/beauty-magazine/hair-style/hairstyle-trends", "name": "Hairstyle Trends" } } , { "@type":"ListItem", "position": 5, "item": { "@id": "https://www.lorealparisusa.com/beauty-magazine/hair-style/hairstyle-trends/curly-bangs", "name": "curly-bangs" } } ] }