hair color trends
How to Do Sherbet Hair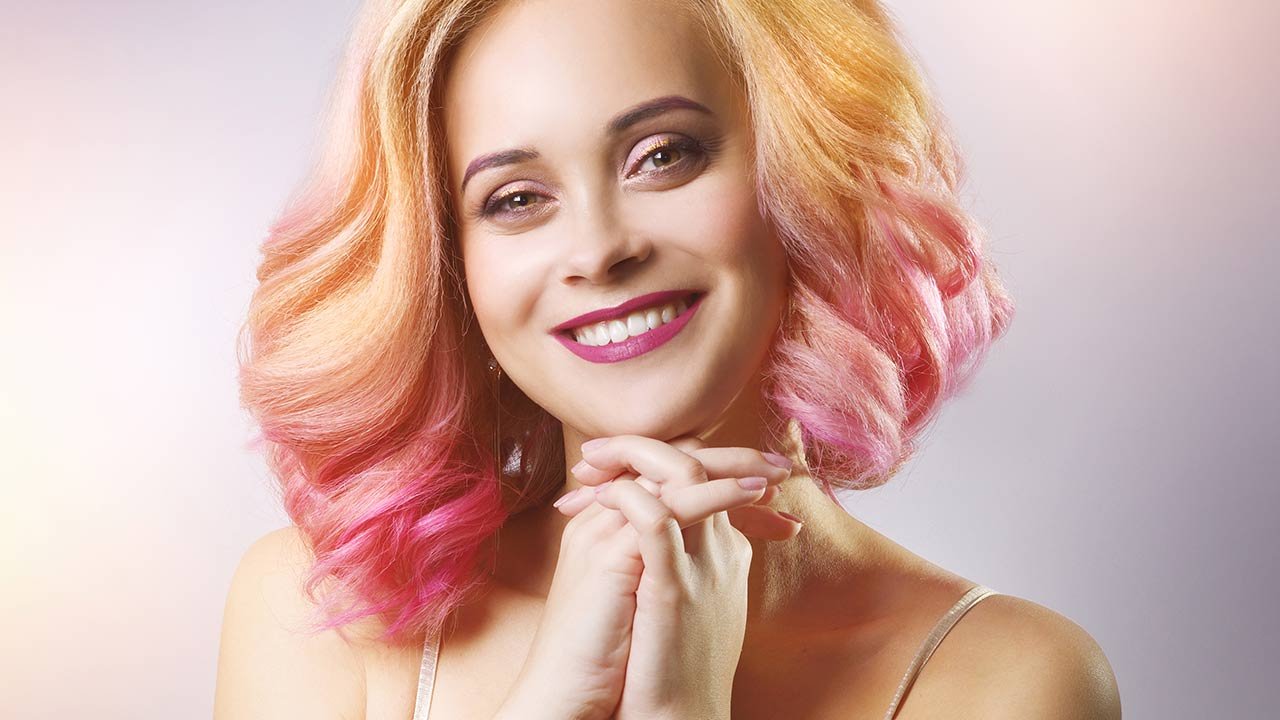 If your guilty pleasure happens to be sweet treats, there's a cool new way to spoil your sweet tooth. No, we aren't talking about some newfangled kind of ice cream. What, exactly, do we mean? We happen to be referring to the latest hair color trend inspired by one of our favorite desserts: sherbet hair. If you want to color your locks to look like this yummy summertime treat, keep reading. Below, we explain how to get sherbet hair and everything else you need to know about this hair color trend.
How to Prepare for Sherbet Strands
Deciding to dye your hair to look like sherbet doesn't mean you can snap your fingers and suddenly have a whole new hair hue. As with other rainbow hair color trends, a bit of planning and preparation are required. Once you've come to the conclusion that sherbet hair will suit you, start searching for images for inspiration. In addition to actual photos of sherbet, find pictures of people with similar colorings to ensure you'll get exactly what you're hoping for when you visit your colorist or dye your hair at home. Remember, it's always better to over-explain what you want than to not be crystal clear.
How to Get Sherbet Strands at the Salon
Since sherbet hair requires blending multiple colors together (pinks, oranges, and peaches), be prepared for more work than your normal DIY dyeing session. It's also important to keep in mind that unless your hair is already baby blonde (a.k.a. super, super-light), you'll need to bleach beforehand, and it may take a few attempts to get your locks light enough for the colors to show up. While it's possible to DIY a sherbet-inspired mane (more on that in a bit), you may want to entrust a professional with the job. A trained colorist will be better able to determine the best way to achieve sherbet strands and expertly apply the colors for a custom look that flatters you. If you're not quite sure whether to head to a salon or give going solo a shot, a good rule of thumb is to leave dramatic hair color changes to the pros.
How to Get Sherbet Strands at Home
For fans of DIY, there's no way we could let you leave this page without learning how to get hair that looks like scrumptious sherbet—at home. For those beginning with dark hair, you'll want to bleach your hair with the L'Oréal Paris Colorista Bleach All Over before moving onto the fun colors. Natural blondes or those who already have bleached hair can move straight to picking out their sherbet shades. Once your hair is light enough, use the L'Oréal Paris Colorista Semi-Permanent Hair Color in Pink, Soft Pink, and Peach to create your sherbet-inspired color.
How to Take Care of Sherbet Strands
Sherbet-inspired hair may be based around a childhood-dessert fave, but that doesn't mean it's not to be taken seriously. In fact, after dyeing, your hair will need some serious special attention.
1. Use a system of hair care products formulated for color-treated hair. It's time to tailor your shower routine to color-treated hair. Try the L'Oréal Paris Hair Expert Color Vibrancy Intensive Shampoo, L'Oréal Paris Hair Expert Color Vibrancy Intensive Conditioner, and L'Oréal Paris Hair Expert Color Vibrancy Intensive Ultra Recovery Mask.
2. Opt to air dry. Sure, nothing beats a smooth, sleek blowout, but there's just something special about how sherbet hair looks when paired with loose waves and curls. Get the look by applying the L'Oréal Paris Advanced Hairstyle AIR DRY IT Wave Swept Spray, L'Oréal Paris Advanced Hairstyle AIR DRY IT Ruffled Body Mousse, or L'Oréal Paris Advanced Hairstyle AIR DRY IT Undone Style Cream to damp hair, then let your strands air dry.
Looking for a hair color that's based on a slightly subtler dessert? Check out this chocolate-inspired color idea.
Discover more tips & tricks
Keep your skin happy
See all articles
Shop Featured Hair Care products
Discover More