eye makeup
How To Wear Blue Eyeshadow On Different Skin Tones
December 22, 2020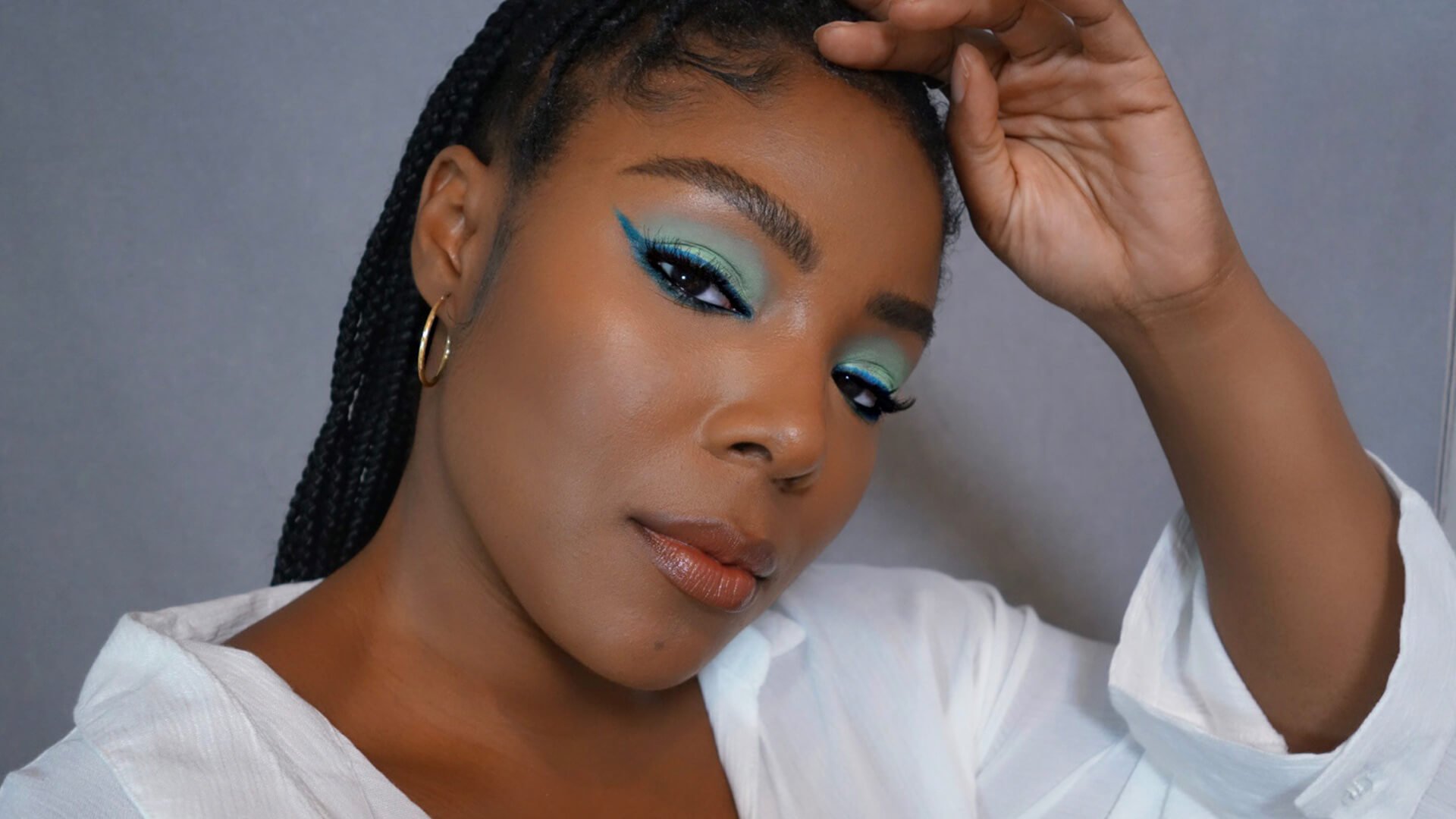 Years ago, blue eyeshadow was reserved for runway shows and magazine spreads.Today, it has become a makeup staple among celebrities and beauty influencers, and a go-to for every day women who have discovered that When it comes to makeup, there are no rules.
Blue, in all of its many hues, is a universally flattering and fun color that can work on all different skin tones. And depending on the look you're going for, picking certain shades of blue can make your eyes pop even more. Everyone should feel free to create and play around with all different colors. So we've rounded up some looks and the best L'Oreal Paris blue eyeshadows that can help you achieve the perfect eye-catching look. From bright shimmery shades to deep and sultry hues, keep reading to see how to work your best blues.
Look 1: All-Over Blue Shimmer
If you are trying out blue eyeshadow for the first time, all-over shimmery eyes are a great look to start with. It's easy to apply on the lid if you're also an eyeshadow novice, and it will work perfectly as a day to night look.
How to DIY the look:
For all skin tones, it's best to use an eyeshadow primer or base when working with shimmer and glitter eyeshadows. It will help keep the eyeshadow in place and prevent creasing. Eyeshadow primers also come in a range of colors that can match your skin tone. But white is often used on lighter skin tones (fair, light, and medium) to make colors look more vibrant.
After applying a thin layer of eyeshadow primer, swipe on some of the L'Oréal Paris Infallible 24 Hr Eye Shadow in the color timeless blue spark across your eyelids. You can also add a dab of silver eyeshadow to the inner corners of your eyes for a pop with the L'Oréal Paris Infallible 24 Hr Eye Shadow in the color silver sky. Finish off by coating your lashes with L'Oréal Paris Air Volume Mega Mascara in the shade blackest black.This will help cover up any eyeshadow fallout on the lashes and leave you with a defined look. Why? What will this do to elevate the look (describe in one brief statement.
Look 2: Icy-Soft Sky Blue Eyeshadow
A soft-glam icy inspired style that includes just the right amount of color and sparkle will bring out the eyes in those with lighter complexions.
How to DIY the look:
For skin tones that range between fair to medium, prep your lids with a white eyeshadow primer. For tan, olive, dark and deep skin tones, use a primer or concealer similar to your shade. Make sure to blend it out well and set it with a lightweight powder, so any color used on top will glide on smoothly.
Start off the look by applying a baby blue eye shadow color as your base all over your eyelids and crease using the L'Oréal Paris Colour Riche Monos Eyeshadow in agentic. Then create a smokey winged eyeliner using the L'Oréal Paris Infallible 24 Hr Eye Shadow in sultry smoke. Follow up by lining your eyes with the L'Oréal Paris Le Liner Signature Easy-Glide Mechanical Eyeliner in noire cashmere and smudge it out along the lash line.
Look 3: Royal Blue Smokey Eyeshadow
Royal Blue is a beautiful deep and rich shade of blue that complements darker complexions and will make your eyes pop.
How to DIY the look:
For those with darker and deeper skin tones start by prepping your eyes with a creamy concealer that's a few shades lighter than your skin tone. This will help brighten up your eyes and act as the perfect base for the eyeshadow. For those with fairer skin use any eyeshadow primer as your base.
Start off by sweeping a medium brown eyeshadow color that will work as your transition shade in the crease to add some warmth. Use L'Oréal Paris Colour Riche Monos Eyeshadow in acro-matte for this. Then use a flat eyeshadow brush to apply the L'Oréal Paris Infallible 24 Hr Eye Shadow in midnight blue all across your eyelids. Also, be sure to apply the same brown shadow to your lower lash line and smudge it out for a dramatic smokey effect.
Look 4: Bold Navy Blue Eyeshadow
Go bold or go home. If you want to create a heavy glam look using dark blue eyeshadow, we've got you covered.
How to DIY the look:
If your skin tone falls into the medium shade ranges like tan and olive you may know that certain colors can make you look washed out based on your undertones. Luckily, the L'Oréal Paris Colour Riche Monos Eyeshadow in grand bleu is the perfect fit for all skin tones, no matter your undertones, thanks to its rich pigment and light shimmer.
For this look you can skip the eyeshadow primer. Instead, start with L'Oréal Paris Infallible Pro-Last Waterproof, Up To 24hr Pencil Eyeliner in black and wing it out slightly along the lash line and halfway into the upper crease. Buff out the eyeliner with an eyeshadow brush in the outer corners and then pack on the deepest matte blue shade from the L'Oréal Paris Colour Riche Pocket Palette Eye Shadow in avant garde azure. Then, dust on deep shimmer blue from the palette across the middle of the eyelid and into the inner corners. Finish it off by coating your lashes with the L'Oréal Paris Voluminous Original Washable Bold Eye Mascara in cobalt blue for more drama.
Look 5: Bright Blue Electric Eyeshadow
What's better than one shade of blue? Two, of course! You can pair a few shades together to create an electric and mesmerizing look.
How to DIY the look:
No matter what your skin tone is, electric and bright blue colors will light up your eyes in an instant. However, how the color shows up will depend on the amount you apply. So if you have a lighter skin tone, try not to go over the color too many times (a little can go a long way). For darker skin tones, if the shade shows up too light, layer the product until you are satisfied with the outcome.
After applying an eyeshadow primer, start by dusting the top and bottom inner corners of your eyelids with L'Oréal Paris Infallible 24 Hr Eye Shadow in endless sea. Then apply the brightest shimmer blue shade in the L'Oréal Paris Colour Riche Pocket Palette Eye Shadow avant garde azure palette with your ring finger why the ring finger and not another finger or does this not matter. When using your finger, you'll notice it will be more pigmented and the ring finger is less aggressive than using any other finger. Finish the look by creating a winged line with the L'Oréal Paris Matte Signature Liquid Dip Eyeliner in black. A regular line, a winged line, or anything they want?
Next Up: Our Best Blue Eyeliners
Discover more tips & tricks
Keep your skin happy
See all articles
Shop Featured Makeup products
Discover More