hair color trends
How to Get a Peach Hair Color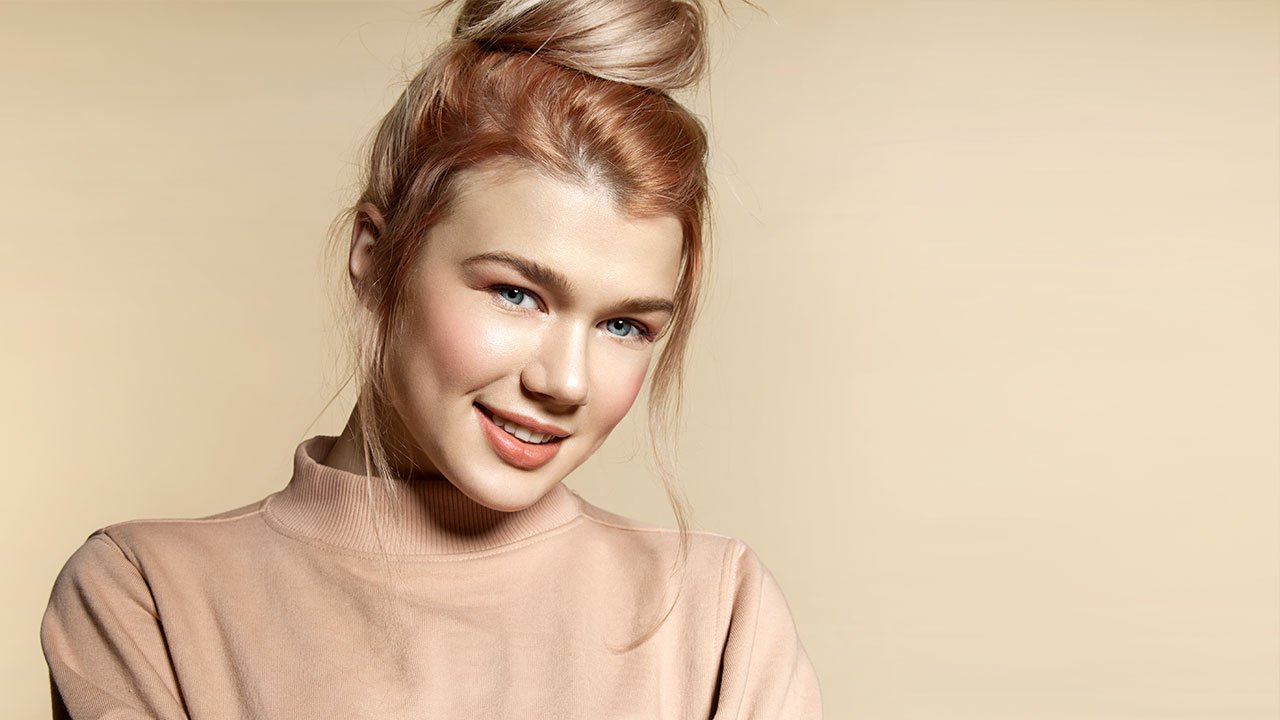 The peach trend has officially moved beyond peachy eyeshadow and lip colors. Now, celebrities and everyday girls alike are trying peach hair on for size. Want to get in on the pink peach hair color trend yourself? This muted pinky-orange hair dye looks gorgeous on all skin tones, with the key being to find the right version of the color to complement your complexion. Below, find the perfect peach hair color for your skin tone and learn how you can bring this hair color idea to life at home. You'll be as pretty as a peach in no time.
HOW TO FIND THE RIGHT PEACH HAIR COLOR FOR YOUR SKIN TONE
Peach hair color on the brain? Consider your skin tone and natural hair color before dyeing your hair.
If you have fair skin or light hair…opt for a light to medium peach hue. Think about it: Natural redheads tend to have fair skin, so there's no chance this will look anything less than fabulous on you. If you want to go for a more citrus-like look, make sure your peach shades leans more orange than pink.
If you have olive skin or dark hair...you can get away with a darker peach shade. A great way to amp up your peach hair is with an ombré accent. Simply concentrate a darker peach at the roots and let it fade beautifully into a pastel salmon color. Easy, peasy!
If you have dark skin…you want a peach hair color that really pops. To get the look, mix coral and strawberry tones together for a bright, vibrant orangey-pink hair color that will complement your gorgeous complexion.
WHAT YOU NEED TO KNOW ABOUT GETTING PEACH HAIR
As with all vibrant hair colors, peach hair will require quite a bit of work to achieve. If you're starting with a dark base color, you'll need to bleach your hair first so that the color will show up. That being said, you do have options—you can visit a colorist, or you can DIY it. The choice is up to you!
HOW TO GET PEACH HAIR AT HOME
Ready to transform your strands into a peach hair masterpiece? The L'Oréal Paris Féria in Rose Gold will suit your needs! While this shade can be used to achieve another major hair color trend—rose gold hair—it's also perfect for getting a pink peach hue.
Keep in mind that depending on your starting hair color, your process for going peach will vary. If you have bleached, light blonde, or highlighted hair, follow the instructions included with your peach hair dye, and you'll be well on your way to peach strands.
On the other hand, if you're working with darker hair, there's a bit more to it. Don't worry, you can still get the look at home if you'd like! You'll just need to bleach your locks first, which you can do with the L'Oréal Paris Colorista Bleach. Follow the enclosed instructions, then move on to applying your peach hair color.
Speaking of applying your peach hair dye, think about where you want to place your peach—you don't have to opt for all-over color. Instead, you may want to consider just bleaching your ends or creating highlights and applying your peach hue over that for an on-trend look.
HOW TO TAKE CARE OF YOUR NEW PEACH HAIR COLOR
Colored your hair with a peach hue? Congrats! Now, it's time to care for your strands the right way. That means using a system of shampoo and conditioner formulated for color-treated hair, like the L'Oréal Paris EverPure Repair & Defend Shampoo and L'Oréal Paris EverPure Repair & Defend Conditioner. Peach hair in need of a little extra love? Reach for a hair mask for added conditioning and detangling. Once or twice a week, simply swap out your conditioner for the L'Oréal Paris EverPure Repair Remedy Balm.
Another tip to help your peach hair color go the distance is to leave your heat-styling tools behind! Instead of relying on damaging hot temperatures to style your strands, add a few heat-free products, like the L'Oréal Paris Advanced Hairstyle CURVE IT Elastic Curl Mousse, to your routine. If your hairstyle calls for heat tools and it isn't negotiable, make sure to always reach for a heat protectant to help protect your strands. We love the L'Oréal Paris Advanced Hairstyle SLEEK IT Iron Straight Heatspray, which works to seal in shines, condition your hair, calm frizz, and protect your hair against heat damage.
Next up: Love the peach hair trend but want to go darker? Burnt orange hair just might be up your alley. Check out our article on How to Get Burnt Orange Hair.
Discover more tips & tricks
Keep your skin happy
See all articles
Shop Featured Hair Color products
Discover More