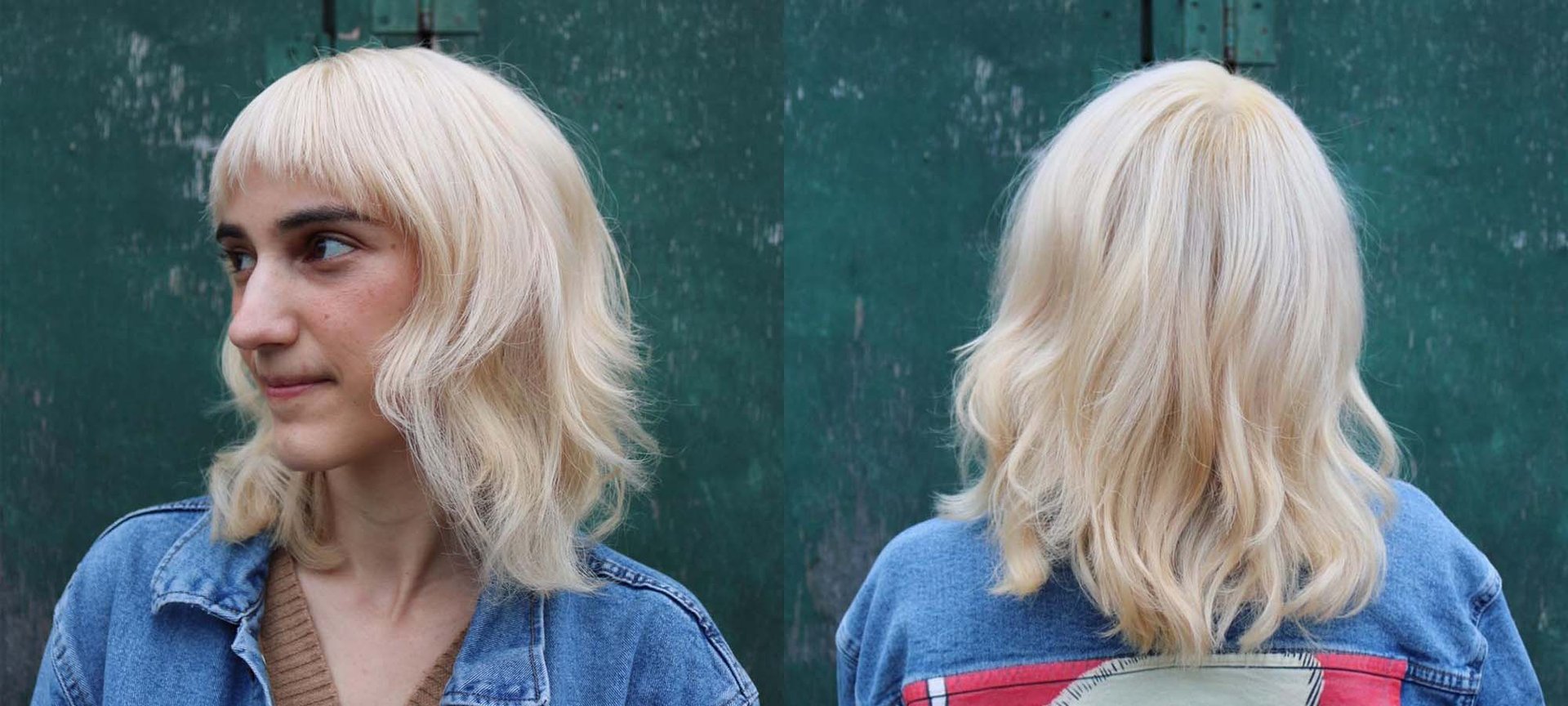 With so many blonde hair colors on the spectrum, it can be hard to decide which look will be more fun. From dishwasher blonde to cream soda hair, there's an endless number of blonde shades to try. Whether you're new to hair color or looking to redo your dye, a baby blonde hair color might just be the beauty rebirth your strands need. This classic and natural baby blonde hue is the epitome of golden locks and one of the hottest blonde hair color trends of our time. If you've been considering adopting a new blonde hue, keep reading to learn all about how to get the best baby blonde hair color for you.

What Is Baby Blonde Hair?
Baby blonde hair color resembles that light, gorgeous hair color of your naturally blonde friends. This shade of blonde is extremely light in hue—nearly platinum—but with warmer sun-bleached shades and deeper undertones throughout for an effect that looks youthful but natural, rather than an all-over bright white blonde.

How To Get A Baby Blonde Hair Color
As with any hair dye job, you can either make an appointment at the salon or choose to color your hair at home. If your starting color is on the lighter side, you can go straight for an all-over wash of color. If you're making a dramatic hair color change—like going from black hair to baby blonde — it's a good idea to rely on the skills of a professional. Since those with a darker starting color may have to undergo a few hair color processes to reach your desired level of baby blonde locks, a pro colorist can ensure you achieve the beautiful baby blonde hair color you crave.

While tackling baby blonde hair at home is possible, it does require a bit of patience and hair coloring skills. To get some guidance before you dye, reach out to the L'Oréal Paris Color Concierge to consult with an expert who can address all your hair color questions.


For those with darker hair, you'll need to bleach your mane before using a blonde hair dye. To do this step yourself, try using the L'Oréal Paris Féria Extra Bleach Blonding or the L'Oréal Paris Féria Hyper Platinum Advanced Lightening System Bleach to lighten your strands. If more steps are needed to process your old hair color out, it's important to wait at least 14 days between each bleaching session.



The Best Baby Blonde At Home Hair Colors

There are a few at-home blonde hair dyes to choose from, just pick the one that works best for you and follow the instructions included with your box of at-home hair colors.

The L'Oréal Paris Superior Preference Fade-Defying Shine Permanent Hair Color in Lightest Natural Blonde is a great at-home option because it's the perfect shade of blonde. The formula provides luminous color and lasts for up to eight weeks without fading.

If you're looking for a color with tons of dimension and shine, the L'Oréal Paris Féria in Light Beige Blonde is for you. It provides a shimmering color with highlights for gorgeous, bold results. To apply hair color at home correctly, be sure to follow the instructions on the packaging.


If you want to go baby blonde and also cover gray hairs use the L'Oréal Paris Excellence Crème in Extra Light Natural Blonde. This at-home blonde hair color will give you rich, radiant, and gorgeous color while providing 100 percent gray coverage—even on those stubborn strands.

How To Care For Your New Baby Blonde Hair
Going blonde calls for an updated hair care routine for color-treated hair. Here are a few hair care tips to follow.

1. Switch Your Hair Care System
To keep your colored hair in prime condition, be sure to use hair care products that are safe for color-treated hair, like the L'Oréal Paris EverPure Sulfate-Free Bond Strengthening Color Care Shampoo and the L'Oréal Paris EverPure Sulfate-Free Bond Strengthening Color Care Conditioner. This duo is safe for color-treated hair and also addresses the hair damage that occurs from bleaching by strengthening weak hair bonds.

When you notice your strands getting brassy, swap the above for either the L'Oréal Paris EverPure Sulfate-Free Brass Toning Purple Shampoo and the L'Oréal Paris EverPure Sulfate-Free Brass Toning Purple Conditioner which contains rich purple pigments that help to counteract unwanted orange tones.

2. Use A Heat Protectant
High temperatures from heat-styling can damage your hair and cause your color to fade. To prevent this, be sure to always use a heat-protectant like the L'Oréal Paris Elvive Dream Lengths Heat Slayer Pre-Iron Spray Leave-In, which protects your hair from heat up to 450 degrees.

3. Keep Your Roots In Check
Grown-out roots can seriously take a toll on your baby blonde hair unless you're sporting a rooted look. Make sure to schedule regular touch-ups to avoid any root mishaps. In a pinch, consider using the L'Oréal Paris Magic Root Cover Up Spray in Light to Medium Blonde to temporarily conceal your roots.


Next: How To Get A Natural-Looking Blonde Hair Color


Edited by: Lauren Paige Richeson, Photo Credit: Libby Knapp, IG/ @libbyk.hmua
{ "@context": "https://schema.org/", "@type": "WebPage", "speakable": { "@type": "SpeakableSpecification", "cssSelector": ["speakable-content"] }, "url": "https://www.lorealparisusa.com/beauty-magazine/hair-color/hair-color-trends/baby-blonde-hair" }
Discover more tips & tricks
Keep your skin happy
See all articles
Shop Featured Hair Care products
Discover More
{ "@context": "http://schema.org", "@type": "BreadcrumbList", "itemListElement": [ { "@type":"ListItem", "position": 1, "item": { "@id": "/", "name": "Home" } } , { "@type":"ListItem", "position": 2, "item": { "@id": "https://www.lorealparisusa.com/beauty-magazine", "name": "Beauty Magazine" } } , { "@type":"ListItem", "position": 3, "item": { "@id": "https://www.lorealparisusa.com/beauty-magazine/hair-color", "name": "Bold Ideas From Hair Color Pros" } } , { "@type":"ListItem", "position": 4, "item": { "@id": "https://www.lorealparisusa.com/beauty-magazine/hair-color/hair-color-trends", "name": "Hair Color Trends" } } , { "@type":"ListItem", "position": 5, "item": { "@id": "https://www.lorealparisusa.com/beauty-magazine/hair-color/hair-color-trends/baby-blonde-hair", "name": "baby-blonde-hair" } } ] }