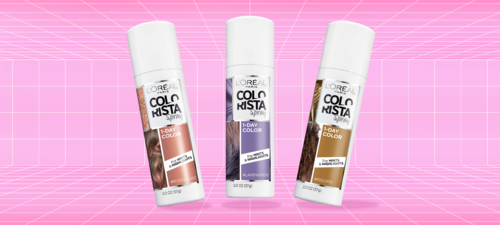 hair color application
Your DIY Guide To Using Semi-Permanent Hair Color At Home
For a short-term color that leaves a lasting impression.
With all the gorgeous hair color trends you may come across while scrolling on social media, it can be tempting to try something new, which isn't always simple to do. But with the use of semi-permanent hair dye and temporary hair color sprays, you can experiment with new shades without committing long term. Since a semi-permanent color will gradually fade in just a few shampoos, you can move on to another color or if you love the new tint, switch over to a permanent dye instead. If you're ready to take the dive into a short-term hair hue, read on to find out tips and tricks you should know when it comes to how to use semi-permanent hair dye at home so you can indulge in new colors often and with ease.

What Is Semi-Permanent Hair Color?
Semi-permanent hair dye is a non-damaging, short-term way to color your hair. Unlike most permanent formulas, it doesn't contain ammonia or peroxide, which means it doesn't require any developer or pre-mixing so that you can apply it straight to your hair from the applicator. It generally lasts through a few washes and can go even longer if you use the right products. And since there's no bleach required, it's also safe to use on hair that's been permed or relaxed. Semi-permanent hair color can add gloss and shine to dull-looking hair.
Semi-Permanent Hair Color Vs. Other Temporary Dyes
There are a few different types of temporary hair dye out there—semi-permanent hair color is just one of many. Here's how they differ so you can choose which one is the best for your new hue.

Temporary Hair Color
This type of hair dye, also known as wash-out hair color, doesn't actually change the color of your strands. It just coats the outside of the hair shaft without making it into your hair's cortex. The results should fade in just a few shampoos (or less), and there aren't chemicals like ammonia or peroxide in the formula. It's another fun (and commitment-less) way to play around with bold colors.
Sounds like the right option for you? Try L'Oréal Paris Colorista 1-Day Spray to indulge in some bright and punchy hair color trends. The temporary hair color spray works on all hair types and textures and washes out in just one shampoo session.

Demi-Permanent Hair Color
Demi-permanent hair dye falls right in between semi-permanent and permanent hair dye.
Demi-permanent hair dye typically has an ammonia-free formula that contains a developer, allowing it to penetrate under the outer cuticle of your hair. This helps the color last longer than semi-permanent alternatives, but not as long as permanent hair color since it doesn't fully penetrate the hair shaft. Like temporary and semi-permanent dyes, demi-permanent hair color will wash out over time.
Editor's tip: Clueless when it comes to hair anatomy? Head over to our article, What Exactly Is Hair Made Of? for a quick lesson on what hair is made of, how it grows, and more.
How To Use Semi-Permanent Hair Color
If you're ready for a momentary hair color makeover, using a semi-permanent is easy to do. No matter your DIY hair dye skill level, all it takes is the right prep and a little know-how (and, of course, the directions on your dye) to master using a semi-permanent hair color at home.


Step 1: Prep Your Hair
While you don't want to color your hair freshly washed, you don't want your strands to be oily or completely dirty. A day before coloring, clean your hair with the L'Oréal Paris EverPure Sulfate-Free Scalp Care + Detox Shampoo which will cleanse your scalp of any dirt, oil, and product build-up. Be sure to follow up with the L'Oréal Paris EverPure Sulfate-Free Scalp Care + Detox Conditioner, for soft strands.

Step 2: Apply The Dye
Next, wearing the enclosed gloves, apply the L'Oréal Paris Colorista Semi-Permanent Hair Color onto desired areas as directed in the instruction sheet. Leave the dye to sit for about 15 to 30 minutes, and then rinse out and style as usual. No matter which type of semi-permanent hair dye you use, make sure to carefully follow all directions.

Step 3: Take Care Of Your Newly Colored Strands
Your brand new color can last between four to ten shampoos, depending on your hair's porosity. The color will fade gradually and may shift in tone each time you shampoo, so start considering which shade you'll try next. Of course, even though the color is semi-permanent, you'll want to develop a proper hair care routine to extend the lifespan of your color for as long as possible. Try swapping out your everyday hair care products for the L'Oréal Paris Everpure Sulfate-Free Moisture Shampoo and L'Oréal Paris Everpure Sulfate-Free Moisture Conditioner, which will help replenish your hair with moisture and won't strip away the color from your hair.


Next: 6 Tips to Help Prevent Your Hair Color from Fading
Edited by: Lauren Paige Richeson, Photo Credit: Sarah Duvivier
{ "@context": "https://schema.org/", "@type": "WebPage", "speakable": { "@type": "SpeakableSpecification", "cssSelector": ["speakable-content"] }, "url": "https://www.lorealparisusa.com/beauty-magazine/hair-color/hair-color-application/how-to-use-semi-permanent-hair-color" }
Discover more tips & tricks
Keep your skin happy
See all articles
Shop Featured Hair Color products
Discover More
{ "@context": "http://schema.org", "@type": "BreadcrumbList", "itemListElement": [ { "@type":"ListItem", "position": 1, "item": { "@id": "/", "name": "Home" } } , { "@type":"ListItem", "position": 2, "item": { "@id": "https://www.lorealparisusa.com/beauty-magazine", "name": "Beauty Magazine" } } , { "@type":"ListItem", "position": 3, "item": { "@id": "https://www.lorealparisusa.com/beauty-magazine/hair-color", "name": "Bold Ideas From Hair Color Pros" } } , { "@type":"ListItem", "position": 4, "item": { "@id": "https://www.lorealparisusa.com/beauty-magazine/hair-color/hair-color-application", "name": "Hair Color Application" } } , { "@type":"ListItem", "position": 5, "item": { "@id": "https://www.lorealparisusa.com/beauty-magazine/hair-color/hair-color-application/how-to-use-semi-permanent-hair-color", "name": "how-to-use-semi-permanent-hair-color" } } ] }