hair color application
How Long Are You Supposed to Leave Bleach On Your Hair?
February 14, 2020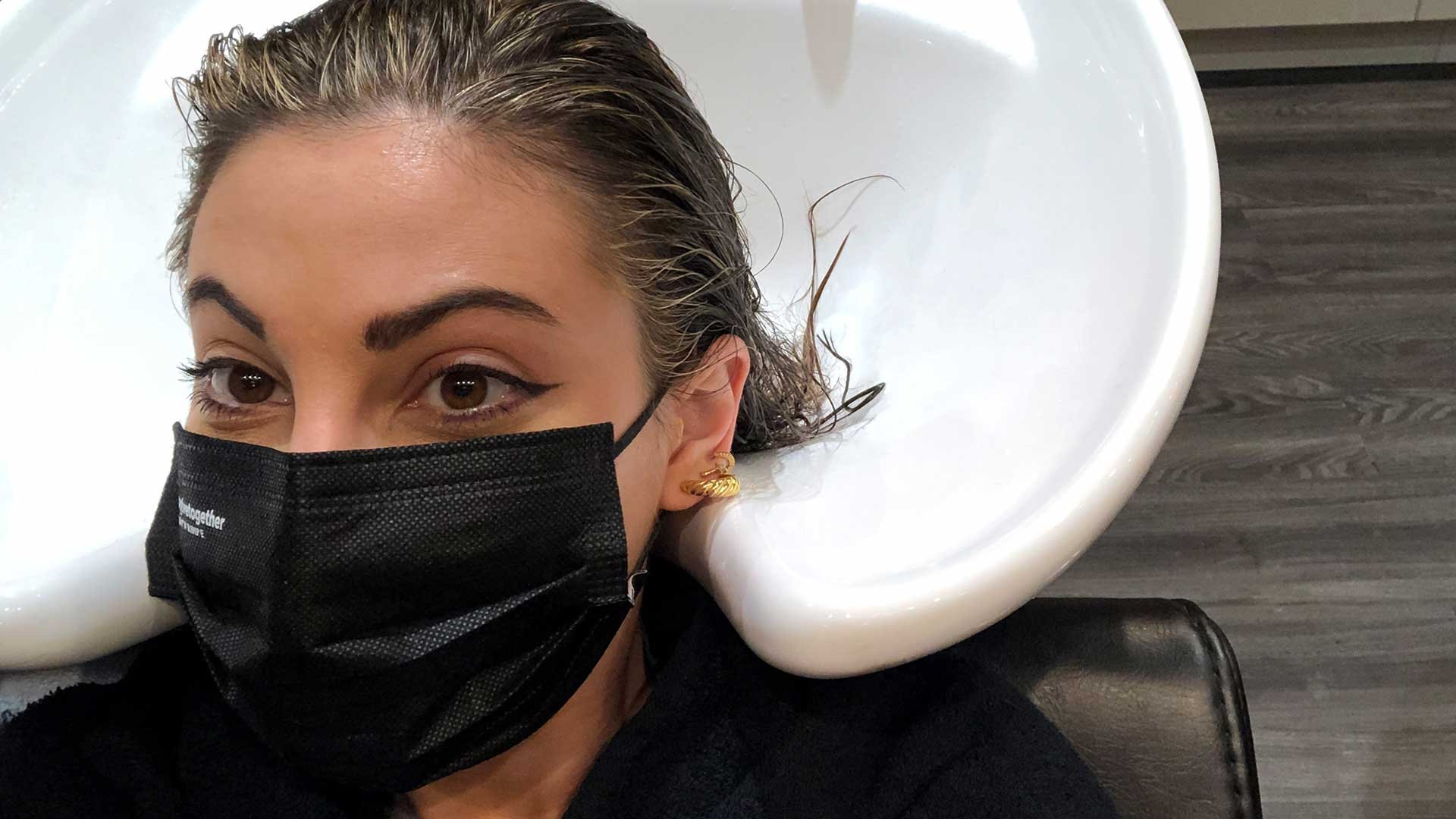 When it comes to hair coloring, you might already know how to use permanent,semi-permanent, and temporary hair colors. But are you familiar with the rules of bleaching your strands? Bleaching is definitely not something you want to play around with as it can drastically change the texture and health of your hair. But don't be alarmed, there are many resources you can use to learn the right techniques. And when it comes to using bleach, one of the most popular questions centers around how long bleach should be left in the hair. Below, we're sharing the answer to that question as well as what happens if you exceed the recommended time.
Can You Leave Bleach In Your Hair Too Long?
The simple answer is yes. Leaving bleach on your strands for more than the recommended time can lead to damaged hair. This is why it's essential to follow the directions on the box, as well as wait at least 14 days between bleaching sessions.
How Long Are You Supposed To Leave Bleach On Your Hair?
There's no one-size-fits-all rule on the amount of time you should leave bleach on your hair. As a general rule of thumb, it's always a good idea to follow the instructions included with the hair bleaching kit you're using. And be sure not to leave it on for longer than recommended.
Looking for a new hair bleaching kit? Try using the L'Oréal Paris Feria Hyper Platinum Advanced Lightening System Bleach, which can lighten your hair up to eight levels, making it ideal for anyone starting with a darker base color. It also includes an anti-brass purple conditioner that minimizes brass with each use while conditioning and reinforcing care for strong hair.
Various elements can impact how you bleach your hair or how long it should be left on. So, we've gathered a few factors to consider when determining how long to leave bleach in your hair.
Factor #1: Your Hair Type
Different hair types, such as virgin hair, tend to lighten quicker than others since it has never been color-treated or chemically processed in any way. First-timers will want to be especially careful not to leave bleach on for too long.
Factor #2: Your Starting Color
If you're starting with a dark brown or black base, you'll likely need to leave bleach on your hair for longer in order to achieve the lightness you want. According to the American Academy of Dermatology (AAD), you should choose a dye within three shades of your natural hair color. Lightening your hair more than three shades requires higher volumes of peroxide, which causes more hair damage.
Editor's Note: Once the bleach starts to dry, it stops processing your hair, and your strands won't get any lighter from that point on. So, don't assume that leaving bleach on longer than recommended will get you to that white blonde shade you're dreaming of.
Factor #3: Your Desired Color
Of course, your hair color goals play a role in how long you should leave bleach on your hair. The longer you leave it on, the more your natural hair color will lift, and the lighter your strands will become. If you only want a subtle change, the amount of time necessary may be less than if you're looking to make a dramatic change, like going from a dark base to platinum blonde.
Editor's Note: Darker base colors can also turn orange if bleach is left on for too long. Check out our article, What Color Can You Use to Cover Orange Hair? for your hair color fix.
Factor #4: The Type Of Developer
If you're using a hair color kit, you can easily follow the instructions on the box, including details on how long to leave the bleach on. If your hair is being lightened at a salon, your colorist will mix bleach and a developer. How long the bleach sits on your hair will be impacted by the type of developer they use. Developer comes in different volumes, and a lower volume will typically require leaving the bleach mixture on for longer.
How To Tell When It's Time To Remove Bleach
So, how do you know when you should go ahead and wash the bleach out? Set timers and periodically look at your hair to see how it's lightening and whether it needs more time. Another option is to do a test strand before you bleach your entire head. This way, you can get an idea of how your mane handles bleach and how long it takes to lighten without experimenting on your whole head. Apply bleach to a few hidden strands from the underneath layer of your hair and time how long it takes to lighten.
Photo Credit: Alanna Martine Kilkeary
Discover more tips & tricks
Keep your skin happy
See all articles
Improve your routine
Show your new look more love:
makeup