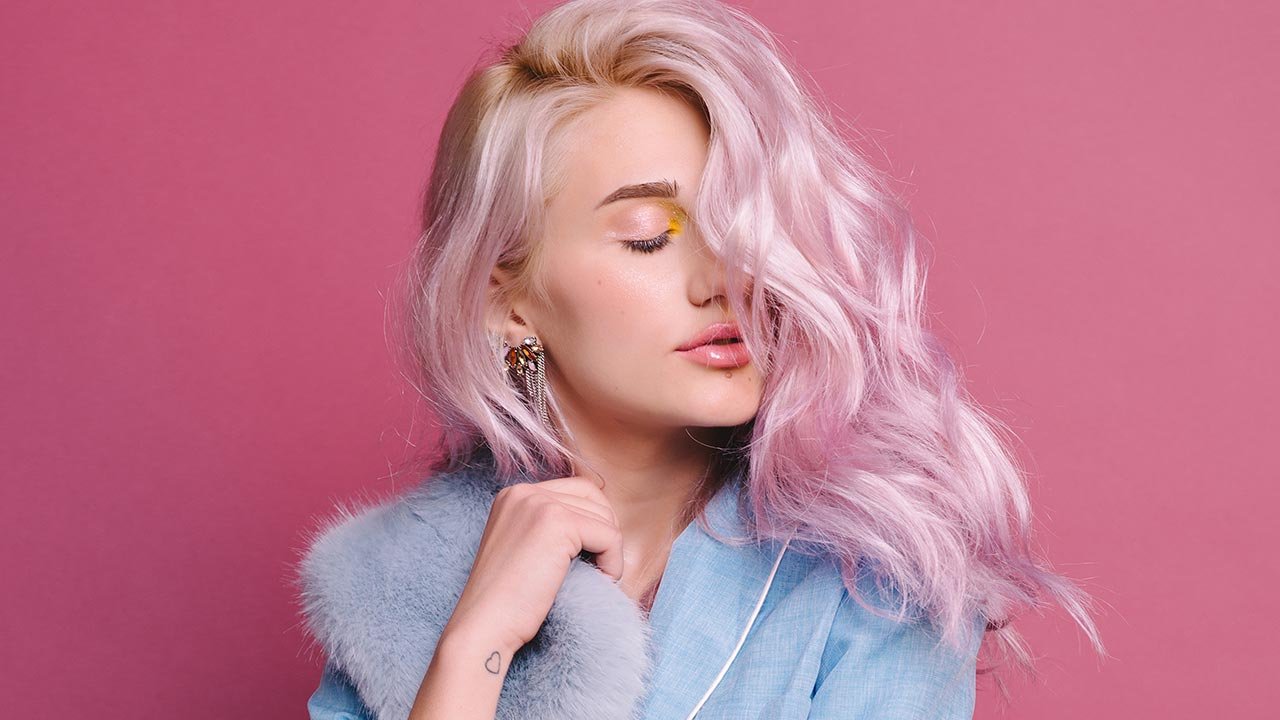 hair color ideas
Pretty in Pink: Learn How to Pull Off Pastel Pink Hair
When you think of winter hair colors, shades like burgundy and espresso likely come to mind. But what if you don't want to go dark? We have a light hair color trend that you're going to love: pastel pink hair. You can use a light pink hair dye to give yourself a total mane makeover—one that's in season year-round. Here's everything you need to know about pretty pink tresses—from how to get pastel pink hair to how to take care of it.
HOW TO GET A PASTEL PINK HAIR COLOR
From light pink to deep, soft rose, there is a range of pastel pink hair dyes you can choose from if you're interested in being pretty in pink. Consider picking a pastel shade that will match your skin tone. If you have fair to medium skin, try a light pastel pink. If you have medium to deep skin, experiment with a darker pastel pink color.
Once you've decided on your hue, you'll need to determine how long you want to have a pastel pink color. Are you ready to make a commitment, or are you looking for something more short-term? Basically, should you use a temporary or permanent hair color?
If you want temporary pastel pink hair…try the L'Oréal Paris Colorista air Makeup Temporary 1-Day Hair Color Spray in Rose Gold. This hair color spray washes out in just one shampoo.
If you want semi-permanent pastel pink hair…try the L'Oréal Paris Colorista Semi-Permanent Hair Color in SoftPink or Pink. This hair color fades in four to 10 shampoos.
If you want permanent pastel pink hair…try the L'Oréal Paris Féria in Smokey Pink. This hair color will give your mane multi-faceted shimmering color that lasts.
Once all the big decisions are made, it's time to color your locks! If you have dark brown or black hair, keep in mind that you'll likely have to use a hair color bleach to lighten your hair before applying a pastel pink hair color. This is something you may want to leave to the pros. If you have a light hair color, you're all set to start coloring! Use the light pink hair dye of your choice, being sure to follow the directions that came with your hair color kit.
HOW TO TAKE CARE OF PASTEL PINK HAIR
Once you have your new fun hair color, you'll need to make sure you're taking the proper steps to ensure your hair color lasts. Swap your go-to shampoo, conditioner, and hair treatment for a hair care line that's safe for color-treated hair. Try the L'Oréal Paris EverPure Repair & Defend Shampoo, L'Oréal Paris EverPure Repair and Defend Conditioner and L'Oréal Paris EverPure Repair Remedy Balm.
HOW TO STYLE PASTEL PINK HAIR
Of course, with a trendy hair color like light pink hair, you'll want an equally on-trend hairstyle for showcasing your new 'do. Here are a few of our favorite hairstyles for freshly colored hair:
HAIRSTYLE #1: BEACHY WAVES
Loose, beachy waves are a carefree, romantic hairstyle that will do any new hair color justice. The soft shape of this hairstyle particularly complements the romantic vibes of a pastel pink hue. To get the look, use a wide-barreled curling iron to create large, loose waves. Don't forget to apply a heat protectant prior to curling your locks! Once you've finished curling your mane, gently comb through your hair with a wide-tooth comb to loosen your curls even more for a soft, girly look.
Editor's tip: If you'd rather skip the heat, use a wave hairspray to define your hair's natural shape and create effortless waves.
HAIRSTYLE #2: MESSY BED-HEAD
Don't want to spend time on your hair but still want a hairstyle that's worthy of your new color? Rock a messy bedhead style! Simply apply the L'Oréal Paris Studio Line Overworked Hair Putty throughout your hair to quickly add texture and body before heading out the door.
HAIRSTYLE #3: FISHTAIL BRAID
Like it or not, strands hanging in your face can get pretty annoying. To keep your hair out of your face, we suggest sporting a fishtail braid. Practical and pretty! If you're rusty on your fishtail braid skills, head over to our article, How to Do a Fishtail Braid.
Love the idea of light pink hair dye? You may want to consider another popular soft pink hue: rose gold. Read our article, How to Get Rose Gold Hair, for everything you need to know.
Discover more tips & tricks
Keep your skin happy
See all articles
Shop Featured Hair Care products
Discover More