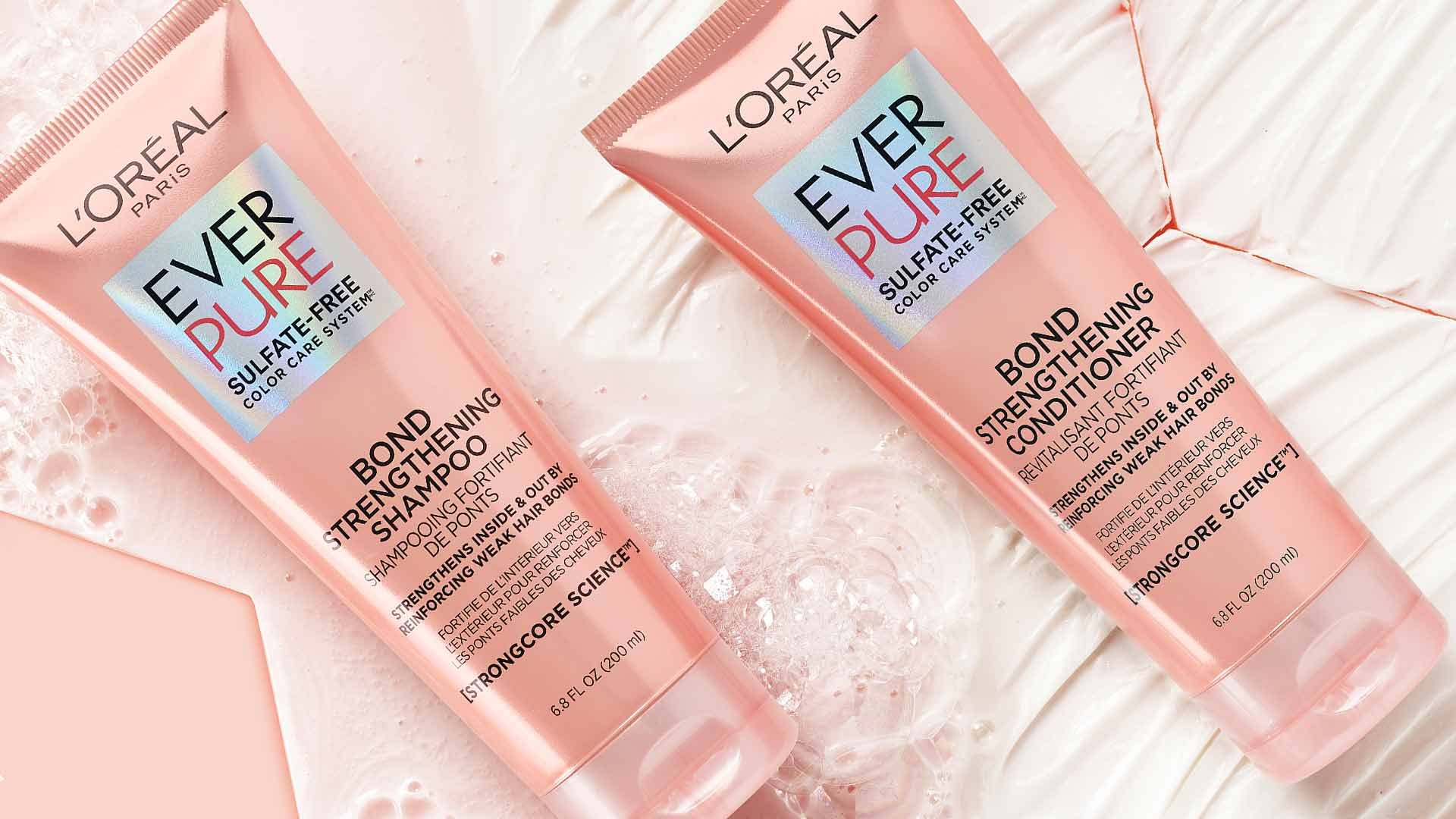 damaged hair
What Is Bonding Technology And How Can It Change Your Hair?
There's no denying that hair looks amazing after a fresh color or that just-left-the-salon perfect blowout. But there's also no denying that hair styling and coloring can affect the structure of your hair over time. You might love your pretty new platinum hue, but if you're not taking proper care of your tresses, you can be doing major damage to your 'do. Luckily, repairing damaged and over-processed hair from the inside out can be done easily using bond strengthening technology. And with the L'Oréal Paris EverPure Sulfate Free Bond Strengthening System, it can also be done right from home. Keep reading to get the basics on this bonding technology and to find out how to add it to your hair care routine to show your locks the love they need.
What Are Hair Bonds?
Let's start with a quick and simple refresher on hair bonds before we dive into the technology of this hair care system. Hair is made up of protein, linked together by chemical bonds that create the structure for your hair. They're what make your hair strong, give your hair its texture and overall luster. You've probably heard of hydrogen bonds being the culprit for your hair curling up on a humid day—that's just one of the types of bonds found in the hair.
Some of the hair's bonds are strong and some are weak. The weak bonds (yes, hydrogen is a weaker hair bond) are typically responsible for styling. Those are the ones that can be penetrated by water, heat and chemicals. It's perfect when you want voluminous curls, but over time, continued hair manipulation such as coloring (especially lightening), keratin treatments and heat styling, can break weak bonds, resulting in damaged hair that looks dull, rough and unhealthy. That's why products created with bond strengthening technology are a must in your hair care routine.
What Is Bond Strengthening Technology For Hair?
The L'Oréal Paris EverPure Sulfate Free Bond Strengthening System consists of bond strengthening shampoo and conditioner formulated to reinforce weak hair bonds from the inside out. This sulfate-free regimen strengthens hair from the inside out by reinforcing weak hair bonds, and conditions and fortifies hair while remaining gentle on color. Each product contains sunflower seed oil, rosemary leaf extract and aloe—good-for-you ingredients that nourish the hair. Not only is the hair softer and smoother after just one use, but those weak bonds are also protected from future damage. So you can indulge in a new color with the confidence that your hair strands will stay strong.
In a recent consumer study 96 percent of women said that their hair felt moisturized and hydrated after immediately using the Bond Strengthening shampoo and conditioner together, and that their hair looked smooth and felt healthy. Looks like a great way to strengthen your friend bonds is to help your favorite girls strengthen their hair bonds. After all, gorgeous hair is a gift that never goes out of style!
How To Use The EverPure Bond Strengthening System In Your Hair Care Routine
Ready to get your damaged hair back to a lustrous shape? Check out our easy-to-follow tips on how to incorporate the L'Oréal Paris EverPure Sulfate Free Bond Strengthening System into your hair care routine to restore your hair.
STEP #1: SWAP YOUR SHAMPOO
The L'Oréal Paris EverPure Sulfate Free Bond Strengthening Color Care Shampoo is exactly what you need to bring your dull, over-processed mane back to a timeline-worthy state. Perfect for all hair types and textures, it deeply moisturizes and nourishes damaged hair. Apply to wet hair and massage gently into a thick later. Rinse thoroughly with warm water and then condition.
STEP #2: CONDITION THE RIGHT WAY
Follow up your shampoo with the L'Oréal Paris EverPure Sulfate Free Bond Strengthening Color Care Conditioner. Apply to wet hair an inch down from the roots and massage gently from the lengths to the tips. Leave for approximately three minutes then rinse with warm water. Avoid adding conditioner directly to your scalp to avoid buildup that can weigh your hair down and congest the skin on your head.
STEP#3: STYLE WITH CONFIDENCE
Now that your hair is strong and stable, move on to styling as usual. If you're reaching for your hot tools you always want to protect your strands by spritzing with a heat protectant first. The L'Oréal Paris EverPure Sulfate Free Bond Strengthening system protects from future damage so that you can color and style your hair without worry. It's salon level hair care right from your home. It just doesn't get any better than that!
Photo Courtesy of L'Oréal Paris
Discover more tips & tricks
Keep your skin happy
See all articles