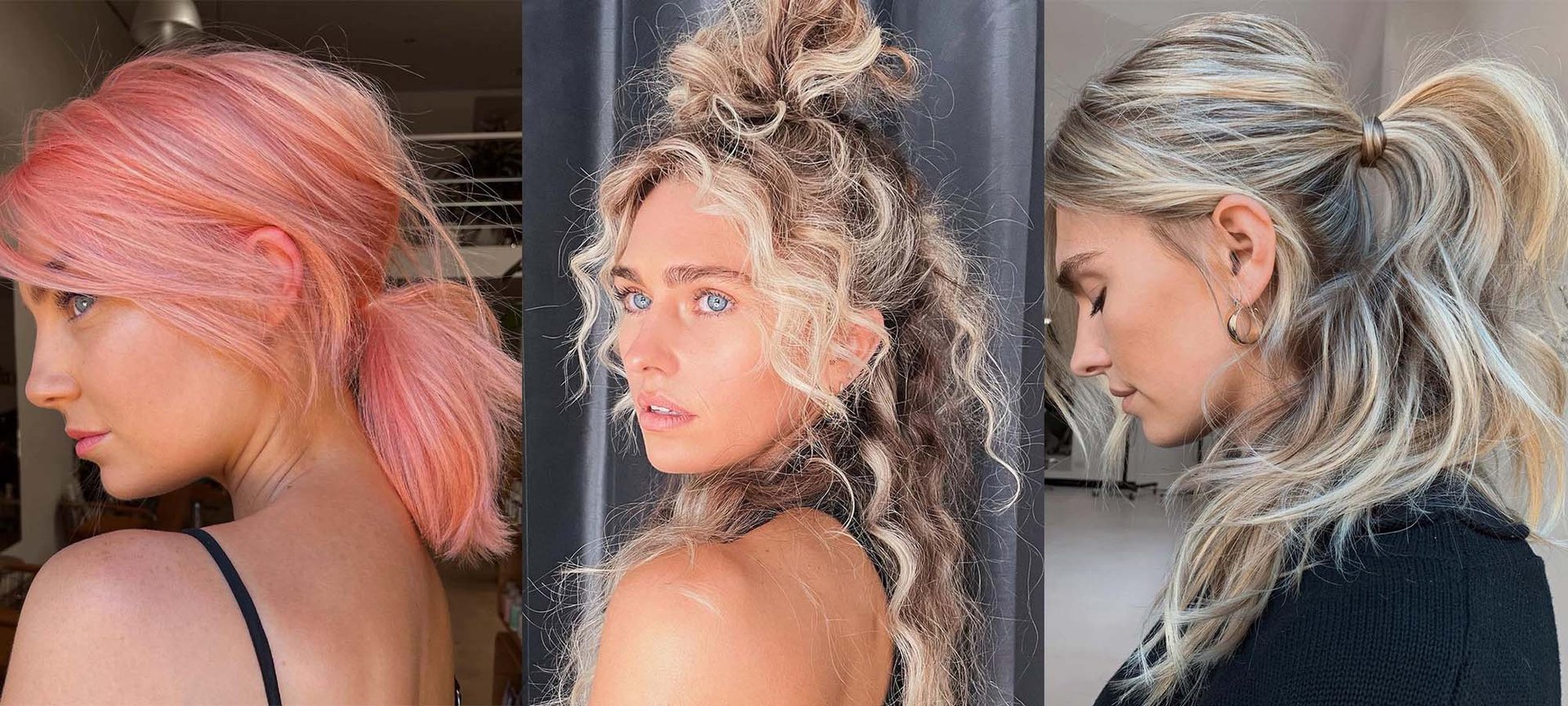 hairstyle trends
How To Make Your Flyaways Work For You
They don't have to ruin your hair day.
If you're sick of flyaways ruining your cute hairstyle, you've probably gone to great lengths trying to tame them and perhaps to no avail. You might even be wondering: What causes flyaways in the first place? Are flyaways a sign of unhealthy hair? Can I somehow blend them in with my hairstyle? Here, we're answering your questions about these frustrating frizzy bits, as well as sharing tips for how to make flyaway hairs work for your style.

What Causes Flyaways?
If you're searching for the culprit of those frustrating strands that stick out at your hairline, take a look at your hair care routine and styling habits. Flyaways can occur as a result of chemical and heat damage. So if you consistently color your hair or use hot tools often, you may notice a lot more flyaway hairs. However, flyaways can also be signs of regrowth, so they're not always a bad thing. While you can prevent them by limiting the use of heat and bleach, we understand that this isn't always an option. Instead, you may be better off figuring out how you can make your flyaways work for you and your 'do.
How To Style Your Flyaways So They Work For You
The reality is that taming or improving flyaways isn't always easy. So, we're sharing how to work with your flyaways and incorporate them into your hairstyle so they appear like a natural part of your look.

1. Try A Tousled ponytail
A tousled ponytail is a great, casual hairstyle that was pretty much made for rocking your flyaways. Pull out a couple of strands of hair in the front and let your flyaways do their thing. Because it's a messy, lived-in style, the flyaways will blend in and look like they're meant to be there. If you feel like there are a bit too many stray strands, slick a few back with a hair gel like the L'Oréal Paris Advanced Hairstyle LOCK IT Extreme Style Gel.

2. Opt For A Loose Fishtail Braid
Contrary to a style like a Dutch braid which is often meant to look sleek and perfected, a loose fishtail braid doesn't need to look so neat. Create a fishtail braid and pull out some strands along the braid to give it a relaxed look. This casual style pairs well with flyaways because they'll look intentional along with the loose strands throughout the braid. Think: a perfectly imperfect braid that can go from casual to formal with the addition of accessories.

3. Blend Them Into Your Wispies
Pay homage to the 90's by opting for a style that features wispies. Throw your hair into a ponytail and leave out a few strands at the front to create the wispies. Then, twist your flyaways into the wispies in order to add volume and make the flyaways look like a natural part of your hairstyle.
Editor's Tip: If you have lots of flyaways throughout your head, add some wispies near your ears and at the nape of your neck to blend in more of those pesky flyaway hairs.

4. Try Brushed Out Curls
If you have the combination of frizzy hair, flyaways, and curls, embrace your volume and opt for a brushed out style. When you brush out your curls for a fluffy texture, your flyaways will blend right in. You can totally make this style appear intentional by adding a fun hair accessory to put an editorial spin on the look.
Next: How To Do A Twist Out In 7 Steps

Written by: Alyssa Kaplan, Photo Credit: IG/@bel_pipsqueekinsaigon
Discover more tips & tricks
Keep your skin happy
See all articles
Shop Featured Hair Style products
Discover More