all hair types
6 Benefits of Using a Hair Serum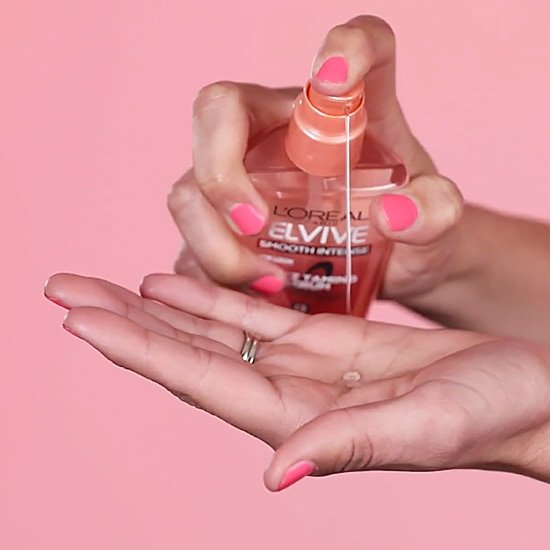 Some beauty trends come and go (we're looking at you, frosted eye shadow), but it's safe to say that using hair serum is here to stay. That's because when used after shampoo and conditioner, but before styling, hair serums can have some pretty cool hair care benefits. Never used a hair serum before—and not exactly sure what one can do? Well, you've come to the right place! Keep reading to learn all about the top six benefits of using a hair serum, plus get the scoop on our best hair serums for every hair type, from frizzy hair to dry hair.
HAIR SERUM BENEFIT #1. TAME FRIZZ AND FLYAWAYS
Frizz and flyaways are never fun—in fact, we're tempted to say they're the bane of our existence—but before reaching for your trusty hair spray, consider that using a hair serum can help nourish and tame frizzy hair.
HAIR SERUM BENEFIT #2. ADD SHINE
Besides their ability to help manage frizz and flyaways, using a hair serum can also help boost your hair's shine. And shiny hair is basically the ultimate hair goal, right? Use a shine-boosting hair serum before you shampoo for luxurious nourishment, before styling to control hair and polish strands, and as a lightweight finishing touch for silky softness and luxurious shine.
Editor's note: All about having high-shine strands? In that case, the glass hair trend is for you! Check out How to Get Glass Hair.
HAIR SERUM BENEFIT #3. NOURISH DRY HAIR
Dry hair can be really annoying to deal with, we know. Not only does dry hair feel rough, but when your hair is parched, it can often look dull and lifeless, which isn't exactly great for your confidence. What can you do? Get familiar with hair serum. A good serum can provide humidity protection and deliver a silky finish, luminous shine, and touchable softness without leaving hair looking greasy.
HAIR SERUM BENEFIT #4: PROTECT AGAINST HUMIDITY
Does your hair poof up the minute you walk outside on days when the weather is anything less than perfect? We totally feel your pain. While you can't change your specific hair type—which certainly plays a part in this—you can help change the way it responds to environmental elements like humidity and artificial heat. Using the right hair serum can do just that!
HAIR SERUM BENEFIT #5: SOFTEN YOUR STRANDS
When hair becomes dry or damaged, it can also feel brittle to the touch. Nobody wants to run their hands through that! Using a bit of hair serum can help bring life back to your strands, making your mane softer and suppler.
HAIR SERUM BENEFIT #6: HELP WITH DAMAGE
When hair is colored or over-styled with hot tools, or simply endures too much daily wear and tear without the right care regimen, it can become damaged. Using a hair serum is a great way to bring moisture back to your strands when they've lost their natural oils.
HOW TO USE HAIR SERUM
Now that you know all about the beauty benefits of hair serum, you're probably ready to use it. But how? It's not quite the same as using a hair mousse or hair cream. There are actually a few different ways to use any given hair serum, but generally, it should be applied to damp hair, focusing mainly on the lengths and ends. Use about one to two pumps of a serum, and be sure to distribute the product evenly throughout your locks, then you can style as usual. Another way to use hair serum is to apply it directly onto dry hair to help smooth down flyaways and add shine. In this case, use a little less product and run it through dry strands, focusing on frizzy areas.
OUR BEST HAIR SERUMS
Don't tell us: We were right—you want to add a hair serum to your routine! If that's the case, take your pick from our three best hair serums, below.
OUR BEST SERUM FOR FRIZZY HAIR
The L'Oréal Paris Elvive Smooth Intense Frizz Taming Serum instantly polishes and smooths frizz, strand by strand, while creating a humidity barrier to help block out frizz and lock in shine. This hair serum helps tame even the most out of control frizz. Try incorporating this serum into a routine that includes the L'Oréal Paris Elvive Smooth Intense Shampoo and L'Oréal Paris Elvive Smooth Intense Conditioner.
OUR BEST SERUM FOR DRY HAIR
The L'Oréal Paris EverSleek Frizz Finish Oil-In-Serum is a lightweight hair serum that can help tame frizz and flyways, detangle, and smooth each strand. Use this serum after cleansing and conditioning with the L'Oréal Paris EverPure Frizz Defy Shampoo and L'Oréal Paris EverPure Frizz Defy Conditioner—which are a perfect match.
OUR BEST SERUM FOR DULL HAIR
The L'Oréal Paris Elvive Extraordinary Oil Treatment is a lightweight hair serum that instantly transforms dull hair strand by strand into nourished, silky, shiny locks. Pair it with the L'Oréal Paris Elvive Extraordinary Oil Shampoo and L'Oréal Paris Elvive Extraordinary Oil Conditioner for a well-rounded routine.
Next up: Loved learning about hair serum? Consider educating yourself on hair spray, too. Our article, How to Use Hairspray Like a Pro, will shed a whole lot of light on this other hair care must-have.
Discover more tips & tricks
Keep your skin happy
See all articles
Shop Featured Hair Care products
Discover More