all hair types
7 Hair Serum Benefits You Need to Know
It goes beyond taming frizz.
February 02, 2022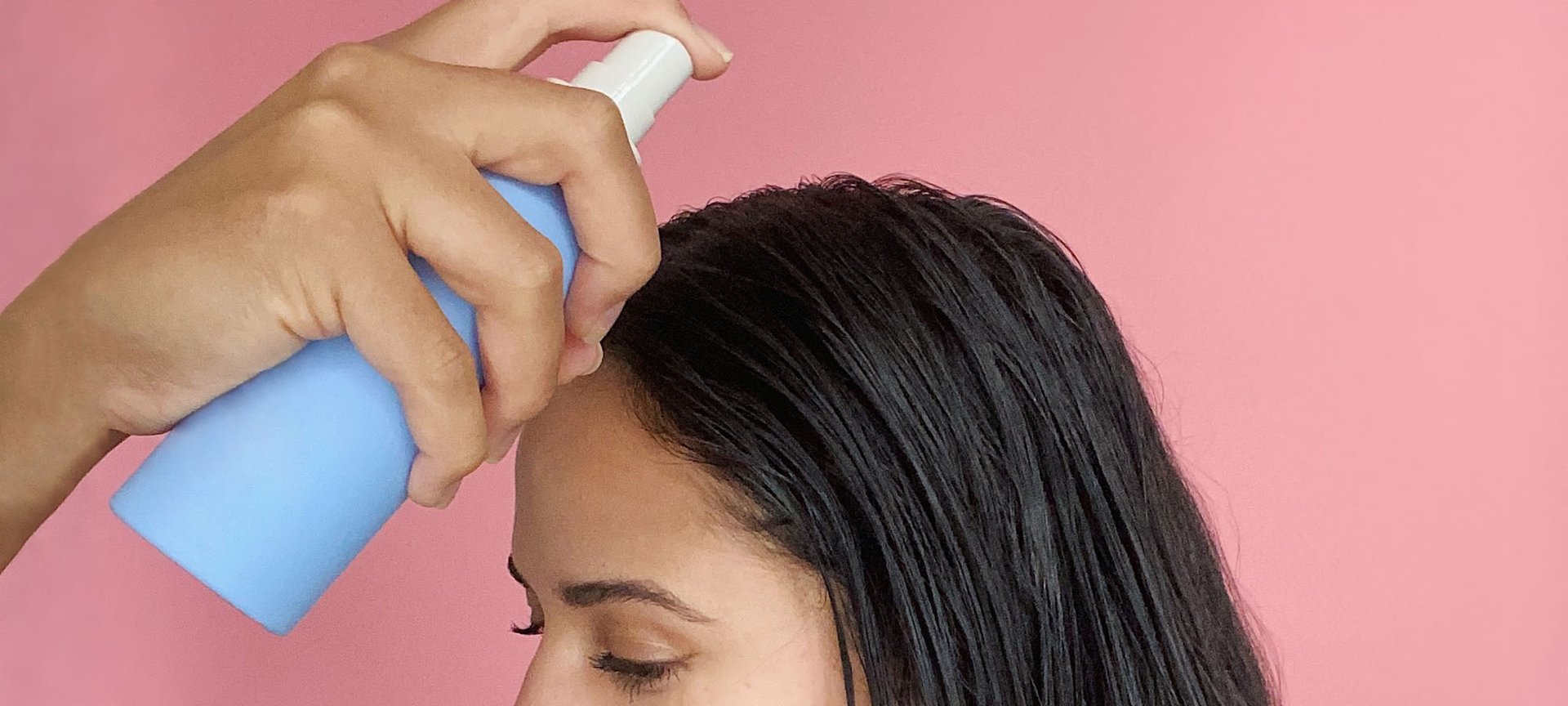 If you think that you've got your hair care routine down pat but you're neglecting to use a hair serum, you're missing out. That's because when used after shampoo and conditioner, but before styling, hair serums can have some pretty cool hair care benefits.
If you've never used a hair serum before then it's understandable if you're not exactly sure what one can do. Perhaps you have oily hair and thought hair serum would only add to the grease 一 but that's not necessarily the case. Maybe you've even used a hair serum and you liked it but it just feels like yet one more step in your hair care routine so you tend to skip it. But you're missing out on some wonderful benefits that using a hair serum can afford you.
To learn all about the top seven benefits of using a hair serum, plus get the scoop on some of our best hair serums for your healthy hair journey, based on your hair type and needs, read on.

What Are the Benefits Of Hair Serum?
1. Tame Frizz And Flyaways
Frizz and flyaways are never fun. In fact, we're tempted to say that when it comes to hairstyling, they're the bane of our existence. But before reaching for hair spray, consider that using a hair serum can help nourish and tame frizzy hair. Think of hair serum as your first line of defense, and hairspray as the finishing touch. You can apply a pump or two to your hands, rub it between your palms and run it through the lengths of your hair to tame any stray hairs.

2. Add Shine
Besides their ability to help manage frizz and flyaways, hair serums can also help boost your hair's shine. Use a shine-boosting serum before you shampoo for nourishment, before styling to control hair and polish your strands, and as a lightweight finishing touch for silky softness and a luxurious, glassy shine.

3. Nourish Dry Hair
In addition to dry hair feeling rough, when your hair is parched, it can often look dull and lifeless, which isn't exactly a confidence boost. A good serum formulated with nourishing ingredients can give the hair a hydration boost while also camouflaging obvious signs of dryness and damage, such as frizz, breakage and split ends.

4. Shield Against Humidity
If your hair poofs up the minute you walk outside on days when the weather is anything less than perfect, we totally feel your pain. While you can't change having thick or poofy hair, you can help change the way it responds to environmental elements like humidity and artificial heat. Using the right hair serum can help you do just that.

5. Soften Your Strands
When hair becomes dry or damaged, it can also feel brittle to the touch (not to mention suffer from breakage). Nobody wants to run their hands through that! Using a pump of hair serum can help bring life back to your strands, making your mane softer and easier to manage.

6. Help With Damage
When hair is colored or over-styled with hot tools, it can become damaged. Using a hair serum is a great way to bring moisture back to your strands when they've lost their natural oils, and help to seal the hair cuticle which is disrupted by damage.

7. Aid In Detangling
Working to remove tangles from your hair after washing it can be a real pain. But applying a few drops of hair serum to towel-dried hair can help make the detangling process easier. The slip from the serum helps your fingers or brush glide through your strands more easily.

Shop the L'Oréal Paris Hair Serums
If you're ready to add a hair serum to your routine, we've got you covered. Take your pick from our four best hair serums, below.

Our Best Hair Serum For Frizzy Hair
The L'Oréal Paris Elvive Dream Lengths Frizz Killer Serum Leave-In polishes the hair and smooths frizz while combating static. It has a lightweight formula that doesn't weigh down the hair, and it's made with glycerin and castor oil to provide nourishment.
To use it as part of a cohesive routine, apply it to your hair after washing and conditioning with the L'Oréal Paris Dream Lengths Restoring Shampoo for Long, Damaged Hair and L'Oréal Paris Dream Lengths Conditioner for Long, Damaged Hair. It's a "long hair, don't care" system that restores hair health and fights damage. While hair serums are often applied on damp hair, if you're trying to combat frizz, you can apply one to two pumps into the palm of your hand and work it through your dry hair.

Our Best Hair Serum For Dull Hair
The L'Oréal Paris Elvive Extraordinary Oil Treatment is a lightweight hair serum infused with flower oils that instantly transform dull hair into nourished, silky, shiny hair strand by strand. Apply a few pumps to the lengths of your damp hair after using the L'Oréal Paris Elvive Extraordinary Oil Shampoo and L'Oréal Paris Elvive Extraordinary Oil Conditioner for a well-rounded routine.
Next: 10 Products To Tackle Dry, Damaged Hair
Edited by: Alyssa Kaplan, Photo Credit: Jasmine Burnside
Discover more tips & tricks
Keep your skin happy
See all articles
Shop Featured Hair Care products
Discover More