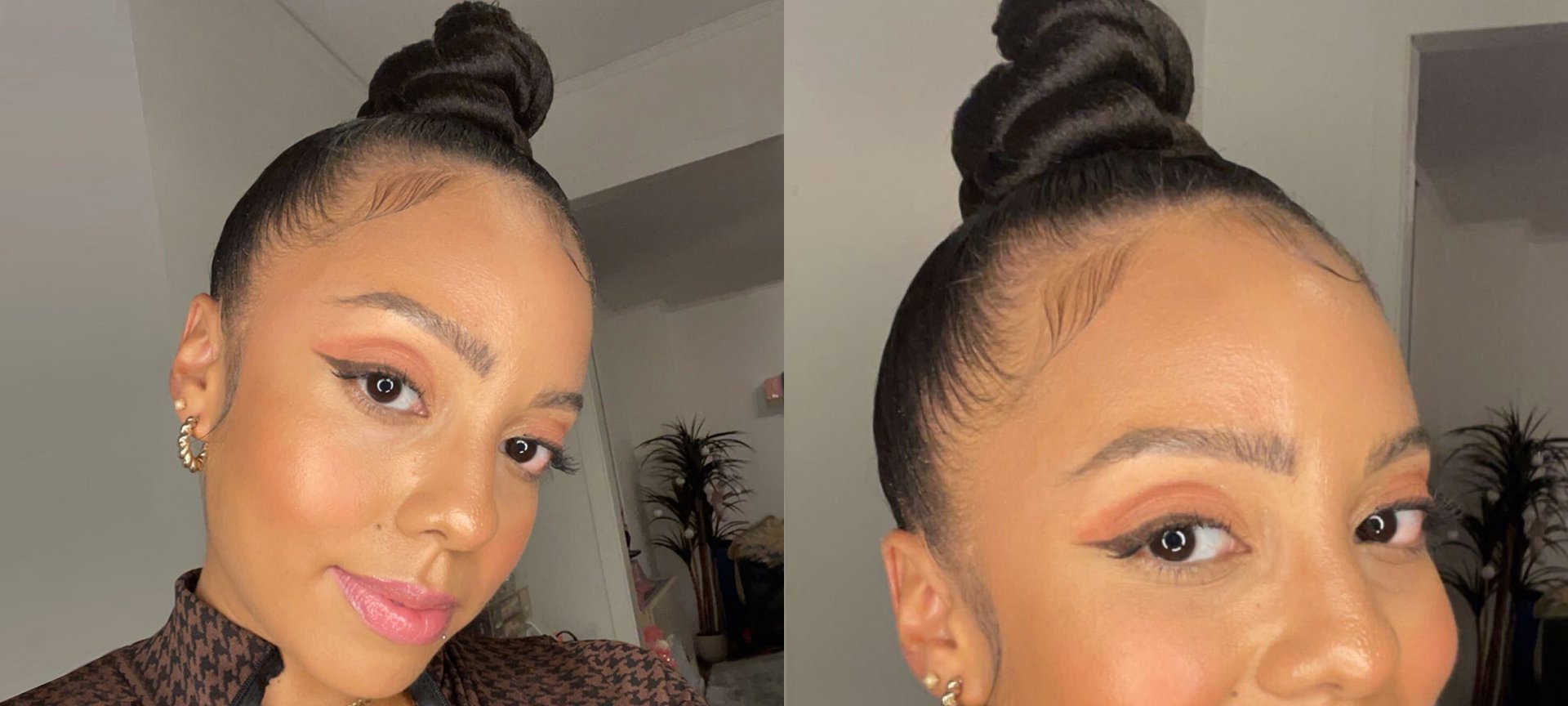 hairstyle trends
5 Hairstyles That Help to Hide Your Flyaways
If you can't get rid of them, mask them.
If you struggle with flyaways or frizzy strands of hair surrounding your hairline, then you know just how quickly they can ruin a good hair day 一 not to mention how difficult they can be to fix. And while more drastic measures like keratin treatments or a faithful commitment to opting for heatless hairstyles can help fix flyaways, these options aren't always practical. So when you're in need of more instant gratification, carefully selecting a hairstyle that will help you mask them is key. Ahead, five different hairstyles that will come to your rescue.

1. A Slicked Back Ponytail
A sleek ponytail or bun is a classic hairstyle that makes for a polished look while getting your strands out of your face. It's also a great style when you have flyaways because combing your hair back with a gel like the L'Oréal Paris Advanced Hairstyle LOCK IT Extreme Style Gel will blend them in with the look and lock them in place. Seriously 一 hair flyaways have nothing on a great hair gel.
Editor's tip: If you want a sleek hairstyle while still wearing it down, you can also achieve one by creating a slicked back, half-up half-down hairstyle.

2. Opt For a Fishtail Braid
Braids in general can be a great option for keeping your hair in place, but fishtail braids are especially effective for masking flyaways. Contrary to a French braid where the hair is pulled up or back from the roots, a fishtail braid can be pulled down from your part which can help to cover the flyways. Simply pull the hair down from your part towards your ears laying on top of the flyaways. Then, secure your strands by weaving them into a fishtail braid to create a gorgeous style that keeps stray hairs at your roots tame.

3. Give A Crown Braid A Go
A crown braid is another perfect style for when you're working with flyaways. Because the braid is wrapped across your head like a headband, it will lay flat on top of flyaways keeping them in place while looking intricate and beautiful.

4. Try Laying Your Edges
If you have natural hair and you want to make flyaways or baby hairs work for you, try laying your edges. To lay your edges, use an edge control product like a gel, and an edge brush to smooth and shape the baby hairs into place. Laid edges pair well with any hairstyle, and you'll be left with a gorgeous look that also works to tame these stray strands.

5. Create A Hairstyle Featuring Hair Accessories
Hair accessories like headbands and hair clips are a great way to manage flyaways. If you just have a few stray hairs that you want to tame, a small clip or barrette will do the trick. Just add one to whatever hairstyle you're rocking in order to keep the flyaways tame. If you're sporting mermaid waves, a blowout or other styles with your hair down, and flyaways are distracting from the rest of your look, throwing on a headband to keep them in place will help without messing with your hairstyle.
Editor's tip: Chunky headbands are totally on trend right now, so they're a great option if you're looking to hide your flyaways while adding an effortless and trendy component to your look.
Next: How To Do A Twist Out In 7 Steps

Written by: Alyssa Kaplan, Photo Credit: Jazmine Ortiz
Discover more tips & tricks
Keep your skin happy
See all articles
Improve your routine
Show your new look more love:
makeup