frizzy hair
The Best Shampoos for Frizzy Hair
Banishing frizz starts with the right shampoo.
January 13, 2023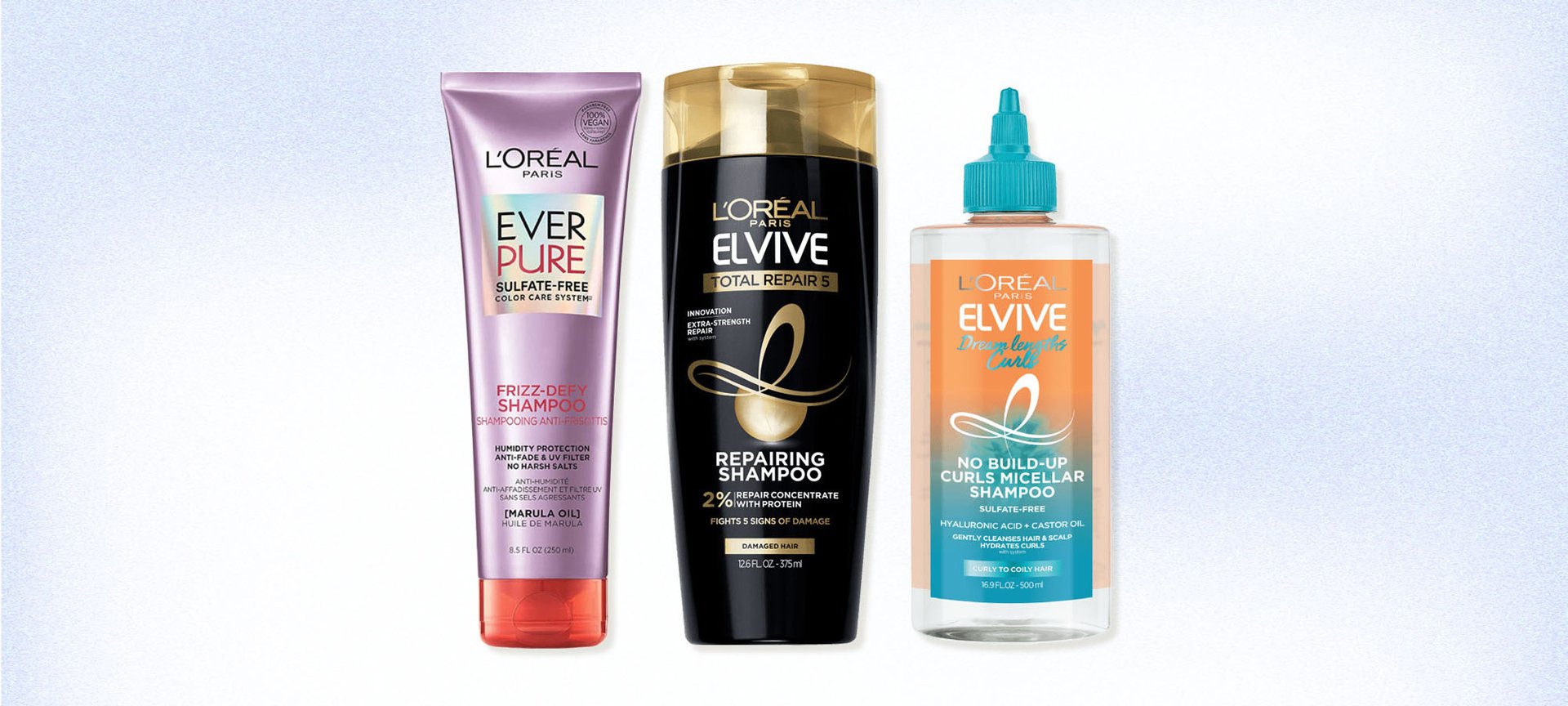 If you struggle with frizzy hair, then you know how absolutely frustrating and difficult it can be to tame. If you've tried anti-frizz serum, experimented with taming your flyaways and even tried to alter your hairstyle to make flyaways work for you — all to no avail — then perhaps you need to change your shampoo.
The truth is, shampoos and their benefits, oftentimes, go well beyond cleansing the hair and scalp. So, if you're looking for a shampoo to tame your unkempt strands, keep reading because we're sharing five of the best shampoos for frizzy hair, plus tips to make your hair more manageable.
What Causes Extremely Frizzy Hair?
Extremely frizzy hair can be caused by a myriad of factors, including hair type, porosity, weather, lack of moisture and hair damage. For starters, curly and wavy hair types tend to be dry and lacking moisture, making them more prone to frizz than those with fine and naturally straight hair. Hair porosity is a measure of how well your hair can absorb and retain moisture.
Low porosity hair has a hard time absorbing moisture but can retain it well once it does due to its tightly packed cuticles that make up the outer layer of hair. High porosity hair has an easy time absorbing moisture, but a hard time retaining it, thanks to its widely spaced-out cuticles. High porosity hair tends to be more frizz-prone because it easily lets outside moisture in, but low porosity hair can also experience frizz because it has a hard time keeping hydrated.
Hot, humid weather is another factor that can lead to frizzy strands. Along with that, if your hair is damaged from constant coloring and heat styling or simply lacks moisture, this can be yet another cause for an excess of frizz and flyaways.
How Do I Get My Hair to Stop Frizzing Up?
The first step to taming your frizzy strands is to identify the cause of it. Is your hair frizzy because you have curly hair and you're not using the proper products to tend to it? Do you have high porosity hair or is your hair frizzy because it's dry and damaged? If any of these factors sound like the root of your constant frizz (pun intended), it's time to switch up your hair care routine.
Start by looking for products that are suited for your unique hair type. If you have curly hair, look for a system that can nourish and hydrate your curls while shaping them. If you have perpetually dry hair, look for a nourishing hair system with a weekly treatment that can deeply hydrate your parched strands. Ultimately, the right arsenal of hair products, including shampoo, conditioner and specialty treatments, along with healthy hair practices is going to make the biggest difference in taming your frizz.
Is Hydrating Shampoo Good for Frizz?
If you have high porosity hair or if your strands are damaged and lacking moisture, a hydrating shampoo is a great addition to your frizz-fighting hair care routine. Enveloping your strands with moisture will help to seal the hair cuticle, leading to healthier hair that's easier to manage.
Which is the Best Shampoo for Frizzy Hair?
If you're ready to wave goodbye to frizz and flyaways, check out five shampoos that are worth your while.
One of the biggest contributors to frizz is humidity, which is why this shampoo is a great option if you live in a humid climate. It's gentle on color while providing frizz and humidity protection for up to 24 hours. Plus, it's formulated with marula oil 一 a nourishing oil packed with antioxidants and fatty acids that help to lock in moisture 一 to nourish the hair and tame frizz.
Follow it up with its conditioner counterpart, the L'Oréal Paris Sulfate-Free Frizz Defy Conditioner With Marula Oil, to provide extra hydration and smoothness.
Curly hair is prone to frizz because it tends to be dry (because it's harder for the natural oils on your scalp to move down the length of your hair ), which as we mentioned, is a major cause of frizzy strands. If you struggle with frizzy curls, this shampoo was made for your exact hair type. It has an ultra-creamy formula which contains castor oil and hyaluronic acid to deeply moisturize curls for up to 72 hours. It nourishes and defines your curls without weighing them down or making them look or feel greasy.
To give your curls the extra boost of moisture they crave, use the shampoo in combination with the L'Oréal Paris Dream Lengths Curls Moisture Push Conditioner which adds extra nourishment and softness to your hair.
If you find that your curly hair is prone to build-up, let this clarifying shampoo be your go-to. The unique water-to-foam formula works like a magnet to lift grease, oils and stubborn product build-up from your scalp without stripping your hair. Plus, its precision applicator makes for easy and quick delivery to your scalp.
Use it once a week to reset your curls and follow up with the aforementioned, L'Oréal Paris Dream Lengths Curls Moisture Push Conditioner to hydrate your curls.
If your frizzy strands are a byproduct of high porosity hair and constant dehydration, this shampoo is just the thing you need to address that. Formulated with hyaluronic acid, this shampoo replumps dry hair for up to 72 hours, infusing it with bounce, body and shine.
Follow up with the corresponding conditioner, the L'Oréal Paris Elvive Hyaluron Plump Hydrating Conditioner, Paraben-Free to seal in moisture and instantly detangle.


Another big contributor to frizzy hair is damage, including split ends and hair breakage. If you're dealing with frizzy hair as a result of hair damage, try this shampoo formulated with a repairing concentrate and protein to address breakage. In addition to helping improve the health of your hair, it leaves your strands looking shinier and smoother while reducing frizz.
After washing your strands, finish with the corresponding conditioner, the L'Oréal Paris Elvive Total Repair 5 Repairing Conditioner, to lock in moisture without weighing down your hair.
Next: The Best Products to Help You Embrace Your Natural Hair Texture
Photo Design: Sarah Duvivier
{ "@context": "https://schema.org/", "@type": "WebPage", "speakable": { "@type": "SpeakableSpecification", "cssSelector": ["speakable-content"] }, "url": "https://www.lorealparisusa.com/beauty-magazine/hair-care/frizzy-hair/anti-frizz-shampoo" }
Discover more tips & tricks
Keep your skin happy
See all articles
Improve your routine
Show your new look more love:
makeup
{ "@context": "http://schema.org", "@type": "BreadcrumbList", "itemListElement": [ { "@type":"ListItem", "position": 1, "item": { "@id": "/", "name": "Home" } } , { "@type":"ListItem", "position": 2, "item": { "@id": "https://www.lorealparisusa.com/beauty-magazine", "name": "Beauty Magazine" } } , { "@type":"ListItem", "position": 3, "item": { "@id": "https://www.lorealparisusa.com/beauty-magazine/hair-care", "name": "All Things Healthy Hair" } } , { "@type":"ListItem", "position": 4, "item": { "@id": "https://www.lorealparisusa.com/beauty-magazine/hair-care/frizzy-hair", "name": "Frizzy Hair Care" } } , { "@type":"ListItem", "position": 5, "item": { "@id": "https://www.lorealparisusa.com/beauty-magazine/hair-care/frizzy-hair/anti-frizz-shampoo", "name": "anti-frizz-shampoo" } } ] }