damaged hair
10 Ways to Stop Hair Breakage
June 13, 2019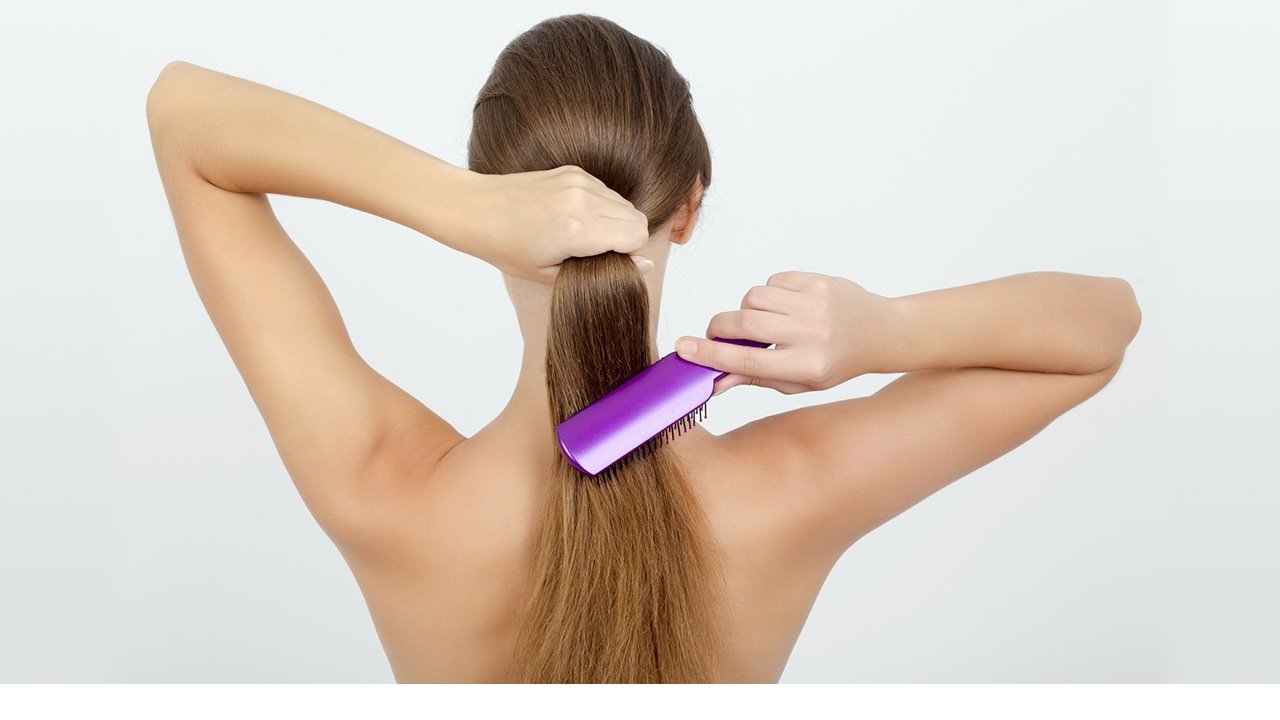 No matter your hair type—curly hair, color-treated hair, thin hair, et cetera—hair breakage can happen to you. If you've ever had uncontrollable frizz or noticed your ends starting to split, then you've probably experienced hair breakage firsthand. It's all too common, and sometimes it can feel too difficult to fix, depending on your level of hair damage. When it comes to getting (and maintaining) gorgeous-looking locks, it's all about taking steps to stop hair breakage as much as you can. And that means there are certain habits—like aggressively brushing your hair and flat ironing it without using a heat protectant—that you'll need to avoid in order to help keep your locks in tip-top shape. If you're wondering how to stop hair breakage, it's best to start with the basics, including learning what causes hair breakage. Below, we're answering just that, as well as naming our best hair breakage treatments and outlining 10 hair care tips to help stop breakage. We're wishing you many good hair days ahead!
WHAT IS HAIR BREAKAGE?
Like we said, hair breakage is very common. It can also have many forms. Frizzy hair, for starters, can be a sign of hair breakage. Split ends are another. When hair is healthy, the scales on each strand's cuticle line up together, which creates smoothness and shine (what we all strive for, basically). When hair becomes dry or damaged, the scales can splay apart in every which way, resulting in frizz, brittle texture, and eventually, breakage.
WHAT CAUSES HAIR BREAKAGE?
Unfortunately, there are many daily things that can contribute to and cause hair breakage. Below we're digging into three of the most common causes.
HAIR BREAKAGE CAUSE #1: TOO MUCH HEAT STYLING
Yes, it's true—too much heat styling can cause your hair to become damaged and eventually break. So, if you suspect your hair is close to breaking, try to avoid hot tools as much as possible and let your hair air dry when you can. When you do have to blow-dry your hair or use another heat tool, be sure to protect your strands with a heat protectant spray, such as the L'Oréal Paris Advanced Hairstyle SLEEK IT Iron Straight Heatspray, beforehand.
HAIR BREAKAGE CAUSE #2: DRIED-OUT STRANDS
Dry hair, beware. Just like the rest of your body, your hair needs moisture to stay healthy. When hair becomes overly dry it can feel stiff and straw-like to the touch. Because they're furthest from the scalp, the length and ends of your hair are most likely to show signs of dryness first. If your hair feels dry, switch to a hydrating shampoo and conditioner system, such as the L'Oréal Paris EverPure Moisture Shampoo and the L'Oréal Paris EverPure Moisture Conditioner.
HAIR BREAKAGE CAUSE #3: STRESS
Stress doesn't do you any good in pretty much any situation, and according to research published by the American Academy of Dermatology (AAD), stressing out also won't do your hair, skin, and nails any favors. We know—having someone telling you outright not to feel stressed doesn't exactly fix the situation. Instead, may we suggest treating yourself to some much-deserved self-care. Even just a few minutes a week can help with keeping calm. Why not try introducing a luxurious face mask, such as the L'Oréal Paris Pure-Clay Exfoliate and Refining Face Mask, into your life as a way to start a self-care routine.
How to Stop Hair Breakage
Now you know the dirt on what causes hair breakage, but there's more to preventing breakage than simply avoiding those three things. Ready to show your strands some love? We're breaking down how to stop hair breakage 10 different ways.
TIP #1: DON'T TUG TANGLES
According to the AAD, hair breaks more easily when it's wet, so heed this golden rule: Never pull on wet tangles with a hair brush. Instead, slowly work a wide tooth comb through damp strands, starting from the bottom and working your way up the hair shaft. If you hit a tangle that you can't delicately work through, apply conditioner or a detangling spray (like the L'Oréal Kids Burst of Sweet Pear Tangle Tamer for All Hair Types) to help loosen the knot before trying to comb through your hair again.
Need a conditioner rec? We suggest Our Best Shampoo and Conditioner for Damaged Hair.
TIP #2: LIMIT HOW MUCH YOU BRUSH
You know how your mom used to tell you that you should brush your hair 100 times a day? Well, that's not necessarily the case. According to the AAD, 100 daily brush strokes can actually lead to the formation of split ends. So, put that brush down!
TIP #3: PROTECT HAIR FROM HEAT
Like we mentioned earlier, heat protectant is a must! Before picking up your blow-dryer, flat iron, or curling wand, make sure to apply a heat protectant. Apply from root to tip, and distribute evenly by brushing through hair so that no section goes uncovered. When you do go to use one of your heat tools, put it on the lowest heat setting that you possibly can while only having to pass through each section of your hair once. The AAD suggests limiting the number of times you blow-dry your hair each week and when it comes to flat irons, they recommend using them on dry hair on a low or medium heat setting, every other day at the most. With curling irons, the AAD says to only leave one in place for one to two seconds.
TIP #4: TREAT YOUR HAIR TO A LITTLE TLC
Adding a deep conditioner to your hair care routine can make a huge difference. Try the L'Oréal Paris Elvive Total Repair 5 Rapid Reviver Deep Conditioner, a deep conditioner formulated with almond and protein to repair and prevent breakage. After shampooing, apply the deep conditioner and leave it on for just one minute, then rinse thoroughly with lukewarm water. Super-hot water can strip strands of essential oils, which can leave hair feeling drier—so always rinse off in lukewarm water. While it might not feel quite as enjoyable to wash your hair in lukewarm water, your hair will definitely thank you! Use this deep conditioner daily, in place of your usual conditioner, when your strands are in need of some extra love.
TIP #5: TRY A DIFFERENT HAIRSTYLE
According to the AAD, continuously wearing hairstyles like braids and ponytails can pull on hair and cause tension, which can lead to breakage. Try switching things up—there are plenty of hairstyles for you to try that'll allow you to show off your gorgeous hair without tying it up (or using heat). One suggestion: Take a break from heat styling and tight elastics while embracing your natural texture by creating beachy waves with the L'Oréal Paris Advanced Hairstyle AIR DRY IT Wave Swept Spray. Spritz the hair spray onto damp hair, then let your hair air dry.
TIP #6: PUT DOWN YOUR TOWEL AND PICK UP A TEE
After hopping out of the shower with soaking strands, your first instinct is probably to rub your hair with a towel to sop up any excess water. But that wouldn't be our suggestion; towels can be rough, so reach for an old cotton T-shirt instead. Your technique matters, too. Be gentle—carefully blot your hair instead of rubbing.
TIP #7: WAIT A WHILE BEFORE YOU START BLOW-DRYING
Want to give yourself a smooth, sleek blowout? Give your hair a while to dry on its own before picking up your blow-dryer. When you try to blow-dry your hair immediately after stepping out of the shower, it can take what feels like forever to fully dry your hair. Since excessive use of heat tools can cause damage, it's a good idea to wait until your hair is about halfway dry before you start using the blow-dryer. That way you'll ensure you spend less time exposing your strands to heat.
TIP #8: STOP PULLING YOUR PONYTAIL SO TIGHT
Remember: Your hair deserves to be treated gently! So, the next time you sweep it up into a ponytail—whether to hit the gym or a fancy party—don't pull it so tight. Why not take this as an opportunity to rock a low, loose side ponytail?
TIP #9: SLEEP ON A SILK PILLOWCASE
How fancy! Silk can be gentle on your locks, so consider investing in a pillowcase made of it so that you're not roughing up your hair while you sleep. As an alternative, if you happen to have one on hand, you can wrap your hair up in a silk scarf before bed.
TIP #10: GET REGULAR TRIMS
Sometimes, the only way to deal with breakage is by having it snipped off. Yep—it could be time to go in for a trim. Of course, you could also opt to make a more dramatic cut. Pixies are super-popular these days and they look seriously chic. Another option? The lob! This low maintenance hairstyle looks pretty on just about everyone.
OUR BEST HAIR BREAKAGE TREATMENTS
As you could probably guess, using the right hair products is extremely important in preventing hair breakage and taking care of your mane. Here are some of our best hair breakage treatments to do just that.
L'Oréal Paris EverStrong Break Proof Lotion: This fortifying formula will help strengthen weak and fragile strands and protect against breakage. (That's right, you can use this hair breakage treatment as a preventative treatment, too!) It works by forming a protective shield around the strand to defend against damaging factors like heat styling and UV rays. To use it, apply a dime-sized amount of lotion to damp, towel-dried hair, working it through your lengths and ends. Brush through to make sure the product is evenly distributed, then go about the rest of your hair styling routine as usual.
L'Oréal Paris EverPure Repair Remedy Balm: This hair treatment restores strength and brilliance to your locks. The formula, which contains acai palm and our exclusive antioxidant complex, deeply cares for damaged hair. Apply it to damp hair after shampooing, leave it on for three to five minutes, then rinse.

L'Oréal Paris EverPure 10-in-1 Elixir: The formula of this treatment contains Indian lilac and helps hair grow stronger. The multi-tasking beauty solution will keep your hair healthy, nourished, and hydrated. Apply it to your towel-dried hair and scalp before styling as usual.
Next up: As we mentioned, some hairstyles are better for hair breakage than others. Take the low pony, for example! If you're in need of more ideas, check out our 20 Hairstyles for Damaged Hair.
Discover more tips & tricks
Keep your skin happy
See all articles
Shop Featured Hair Style products
Discover More