gray hair coverage
Your Guide to Root Touch-Up for Blondes
May 08, 2020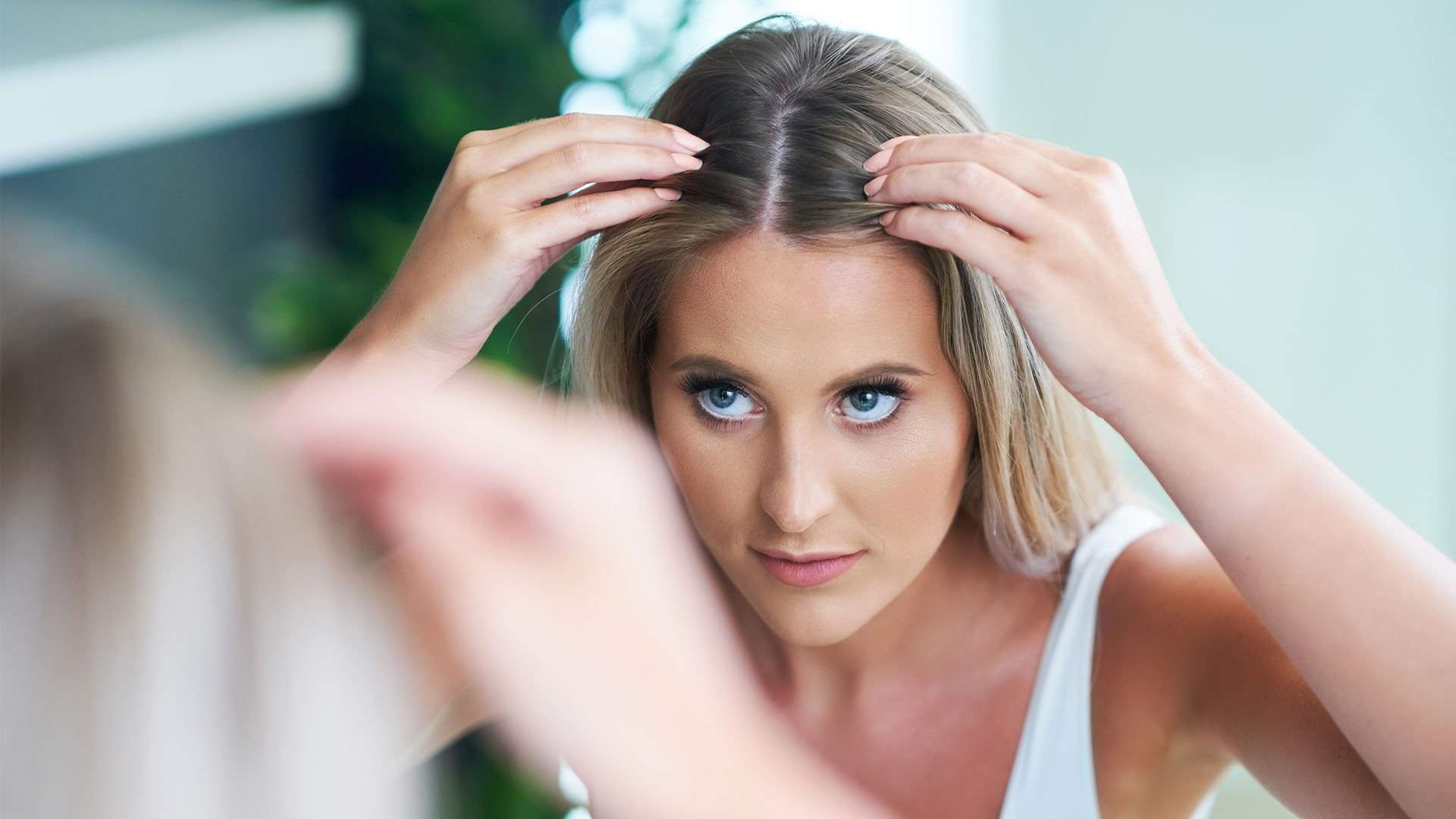 If you've colored your hair blonde, you likely know that this hair color isn't the most low-maintenance. Unless you've opted for a lived-in look like blonde hair with dark roots, it can be difficult to keep up with the constant touch-ups needed to maintain bleached blonde strands. Dealing with exactly this issue? We've got you covered! Below, we're sharing everything you need to know about blonde root touch-up, from permanent dye jobs to temporary fixes. Let's get to it!
YOUR GUIDE TO PERMANENT BLONDE ROOT TOUCH-UP
If you have a bit of grow-out you need to cover, or simply want your roots to be out of sight for good, you'll want to opt for a permanent root touch-up. This means using permanent hair dye to hide your roots until the color grows out. While you can book an appointment at the salon for this, it's totally possible to DIY your blonde root touch-up—with the help of the right at-home hair coloring kit. Enter the L'Oréal Paris Magic Root Rescue 10 Minute Root Hair Coloring Kit.
This permanent root touch-up kit comes in four blonde shades: Dark Blonde, Medium Blonde, Medium Golden Blonde, and Light Blonde. The low ammonia color gel is formulated with a built-in conditioning treatment and it has an aromatic scent. With its quick precision applicator, you can easily conceal 100% of your grays and grown-out roots in just a few minutes without having to worry about an uneven application. Need we say more?
To use, be sure to follow the instructions inside the box to apply your color expertly.
YOUR GUIDE TO TEMPORARY BLONDE ROOT TOUCH-UP
If you prefer to go to the salon to get your roots touched up but can't get an appointment in time or simply can't get your hands on a permanent root touch-up kit, there's no need to stress! You can temporarily conceal roots with a root cover-up spray. Pick the right spray based on the color of your roots.
If you have gray roots…use the L'Oréal Paris Magic Root Cover Up. This temporary hair color spray is available in two blonde shades—Light to Medium Blonde and Dark Blonde—and conceals grays in seconds for flawless roots. The lightweight formula won't smudge or leave a sticky residue when dry, not to mention it's ammonia and peroxide free.
This quick-fix will last until your next shampoo, so you can apply it daily until your next salon visit. To apply, shake the can well, hold it four to six inches from your hair, and spray the color onto new growth and partly through the length of your hair to blend it in for a seamless look.
If you have dark roots…use the L'Oréal Paris Magic Root Concealer Spray, Blondes with Dark Roots. As you likely know, new growth is especially noticeable when you're a blonde with naturally dark hair—making the right root touch-up product an absolute must. This root concealer is specifically formulated for blondes with dark roots so you can conceal grown-out roots instantly.
The color spray has a lightweight formula that won't smudge or leave a sticky residue on your strands. It naturally blends with your hair color, dries quickly, and lasts until your next shampoo. Oh, and did we mention it's ammonia-free and peroxide-free? The spray comes in two shades: Light Blonde and Medium Blonde. To use, first shake well. Keep the product upright and apply on dry, clean hair. Hold the can four to six inches from your hair and spray your roots in a light stream—don't overspray! A little goes a long way. Soon, you'll be saying, "Roots? What roots?"
BONUS HACK FOR BLONDES IN NEED OF A ROOT TOUCH-UP
Besides going the traditional root cover-up route, you can also turn your grown-out roots into a trendy statement. What do we mean? Go over your roots with a bright semi-permanent or wash out hair color, and your mane will look like it's worthy of a pop star. Green roots are a prime pick!
Next up: Tired of blonde root touch-ups? We don't blame you. If you're interested in parting with your all-over blonde mane in favor of a more low-maintenance blonde 'do, here are 30 Ideas for Beautiful Blonde Ombré Hair.
Discover more tips & tricks
Keep your skin happy
See all articles
Shop Featured Hair Color products
Discover More