thin hair
How Much Hair Loss in The Shower Is Normal?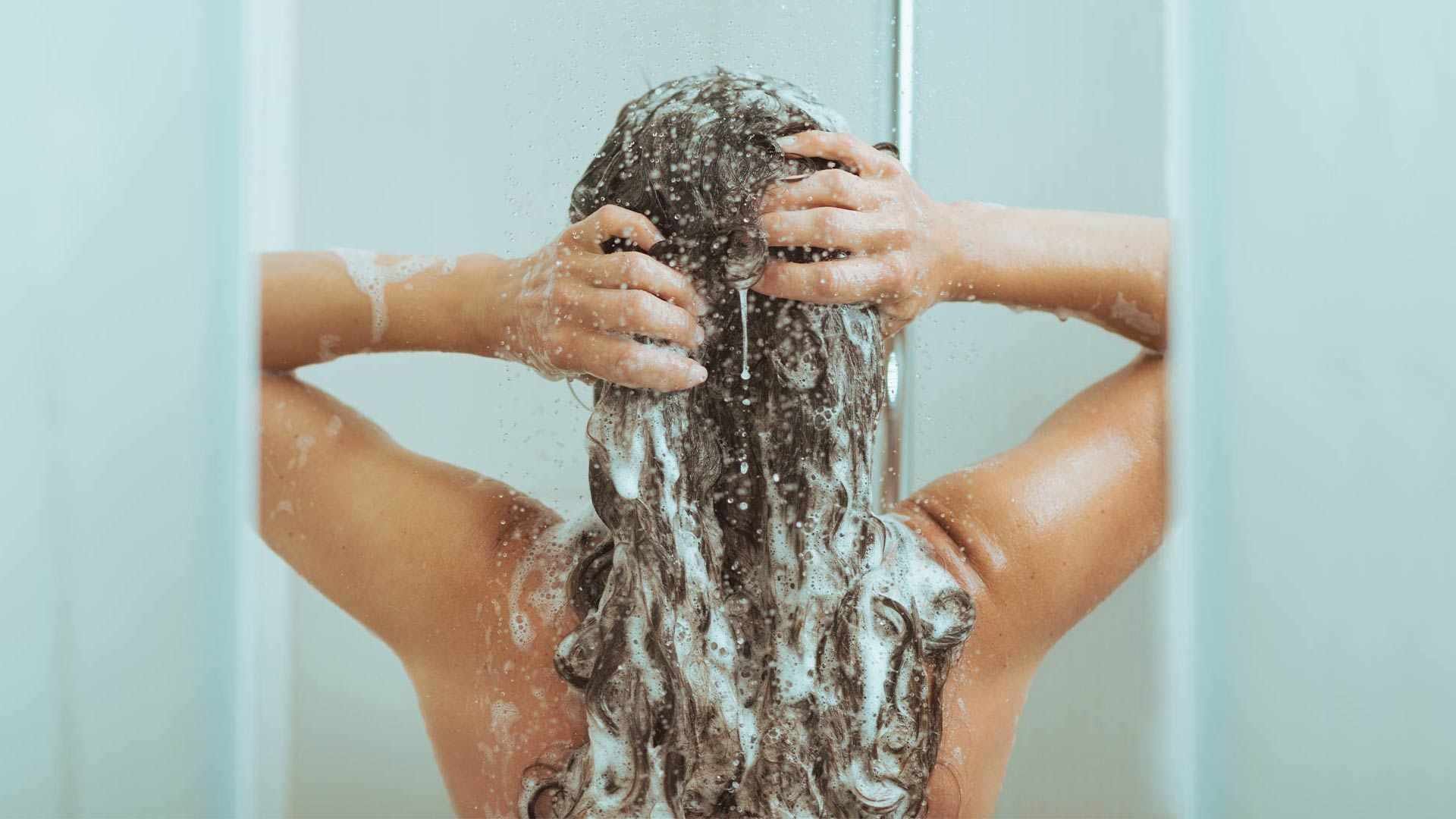 Realizing that you have a clump of hair sitting on top of your shower drain can be alarming. After all, no one likes the idea of hair falling out in the shower (or anywhere else). While this may be a common occurrence, you could actually have nothing to worry about. The truth is: A certain amount of hair loss in the shower is totally normal (exactly how much, we'll touch on soon). However, if it seems as if you're losing too much hair and balls of hair between your soapy fingers have become your new normal, it may be time to pay extra attention to your strands and consult with your doctor.
In case you're not too sure about the hair loss you're experiencing, we're here to help. Keep reading to learn about how much hair loss in the shower is normal and find hair-care tips for shedding and hair loss.
HOW MUCH HAIR LOSS IS NORMAL?
According to the Cleveland Clinic, the average person naturally loses between 50 to 100 hairs a day, depending on the length and thickness of your hair. Those working with long or thick hair can expect to shed between 150 to 200 strands. If you tend to wash your locks more than once a week, that amount can quickly increase. While most shedding typically happens in the shower, the Cleveland Clinic also reveals that it's common to experience additional hair loss when you comb your hair post-shower.
WHAT CAN CAUSE EXCESSIVE HAIR LOSS?
It's important to know that hair shedding is a normal phase of your hair's life cycle, per the Cleveland Clinic. With that being said, if you notice that hair falling out in the shower has become excessive, there are a few causes you may want to keep in mind. The Cleveland Clinic shares that the possible reasons for chronic hair loss include stress, hormonal changes, weight loss or diet, and medication.
Since various illnesses can also be a factor, visit your doctor to help find out what is specifically causing your hair loss. Your doctor will also be able to help you manage it.
EXCESSIVE HAIR SHEDDING VS. HAIR LOSS: WHAT'S THE DIFFERENCE?
While it's common to confuse hair loss and excessive hair shedding, there are key differences. According to the American Academy of Dermatology, excessive hair shedding generally occurs when your hair sheds more than the standard 50 to 100 hairs a day. It can last between six to nine months, and then your hair should regain its normal fullness. This may occur after a stressful event, such as giving birth or recovering from an illness.
On the other hand, hair loss, a.k.a., anagen effluvium, is when something stops your hair from growing. Hair loss has plenty of causes that include hereditary hair loss, using harsh hair care products, medications, and high-tension hairstyles. If you're not sure if you're experiencing hair loss or excessive hair shedding, a dermatologist can help differentiate between the two and determine what you may be experiencing.
WHEN SHOULD YOU WORRY ABOUT HAIR LOSS IN THE SHOWER?
As we noted above, hair loss in the shower is a fact of life. However, the Cleveland Clinic notes that if you continue to experience shedding long after your wash routine, you may be dealing with a more severe problem. Finding shed hair all over your clothes is also a sign that there may be an underlying issue.
4 TIPS TO HELP REDUCE HAIR LOSS IN THE SHOWER
Now that you're more educated on hair falling out in the shower, it's time to take action. Consider these four tips, courtesy of the Cleveland Clinic, to help reduce the risk of excessive shedding.
1. USE A WIDE-TOOTH COMB WHEN DETANGLING
One of the biggest contributors to experiencing more hair falling out in the shower than you'd like is using the wrong detangling tools. Make it a point to detangle your hair with a wide-tooth comb, and start from the ends, working your way up to the roots. It's also helpful to use a hair detangler, such as the L'Oréal Kids Burst of Sweet Pear Tangle Tamer for All Hair Types.
2. AVOID RUBBER HAIR ELASTICS
Rubber hair elastics may be a must for your hair-styling routine, but according to the Cleveland Clinic, this popular beauty essential can lead to hair loss. Elastics can grip your hair tightly, causing hair loss over time. Switch things up, and use hair ties that are gentle on your strands such as ones made of silk or cotton.
3. LIMIT HEAT STYLING
This is your chance to embrace your natural hair texture. According to the Cleveland Clinic, using excessive heat on your hair can cause breakage and eventually lead to hair loss. So, as much as you may want to blow-dry or flat iron your locks, it's wise to cut back. Instead, opt for heat-free styling alternatives such as the L'Oréal Paris Advanced Hairstyle CURVE It Elastic Curl Mousse.
Editor's tip: For occasions when you plan on using your heat tools, always kick things off by using a heat protectant. We love the L'Oréal Paris Advanced Hairstyle SLEEK IT Iron Straight Heatspray, which seals in shine, calms frizz, and protects your hair from heat damage.
4. PROTECT YOUR HAIR FROM THE SUN
Protecting your skin from the sun is a must, but you shouldn't leave your hair out of the equation. The Cleveland Clinic notes that sun exposure can damage your hair and lead to shedding just as using too much heat can take a toll on your strands. Play it safe and read Your Summer Hair Guide: Chlorine and Sun Protection, to take the proper sun-care precautions for your mane.
Discover more tips & tricks
Keep your skin happy
See all articles
Shop Featured Hair Care products
Discover More