all hair types
8 Ways to Protect Your Hair While You Sleep
Say goodbye to breakage.
November 04, 2022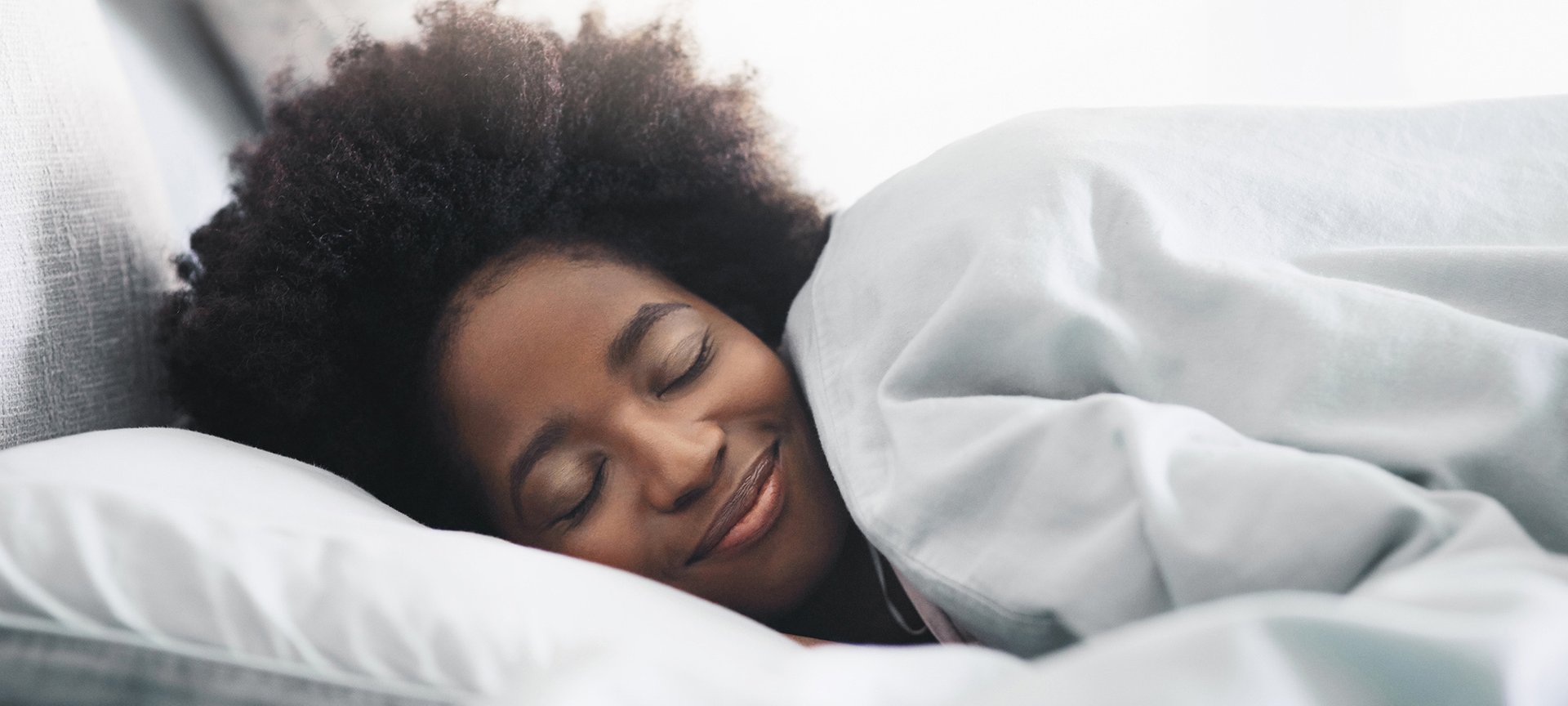 If you think that the only way to cause hair damage is through bleaching or excessive heat styling, think again. The way you care for your hair while you sleep can have an effect on the appearance and health of your hair too, so it's important to consider what to do (and what not to do) while sleeping on your strands. Consider it an extension of your hair care routine.
Whether you're braiding your hair to get waves, nourishing damaged hair, or trying to
preserve the look of a sleek blowout
, there are many steps you can take to ensure that your strands stay in place throughout the night. Read on as we share our favorite pre-sleep hair care tips and product recommendations so that you can preserve the look and feel of your hair while you sleep — no sitting up on propped pillows here.
1. Detangle Your Hair Before Bed
One of the simplest ways to protect your hair at night is by brushing your strands thoroughly. This will help detangle your hair and evenly distribute its natural oils from the roots to the ends. Use a wide-tooth comb to remove knots and tangles on damp hair, which will help prevent breakage.
2. Apply a Nourishing Hair Treatment
Hair treatments are often touted for their moisturizing benefits, and using one as a leave-in product at night is an effective way to give your hair some love while you sleep. Try the L'Oréal Paris EverPure Sulfate-Free 21-in-1 Color Caring Spray, Leave In. The sulfate-free formula uses ingredients like almond milk and rose extract to moisturize hair, add silkiness to your strands and reduce breakage. To use, mist the spray through clean, damp hair and comb through to make sure it touches all of your strands.
Editor's Tip: Sleep with a humidifier on while you do your overnight treatment in order for the product to further penetrate your strands.
3. Use a Lightweight Hair Serum
Managing frizz and flyaways can be frustrating, and these annoyances can occur as we sleep due to friction as hair rubs against our pillowcase. To help minimize the amount of frizz you wake up with, try applying a hair serum before heading to bed.
The L'Oréal Paris Elvive Dream Lengths Frizz Killer Serum Leave-In is formulated with castor seed oil, which supports the keratin in your hair and makes each strand stronger and smoother.
4. Sleep on a Satin or Silk Pillowcase
Speaking of your pillowcase, it's true that pillowcases made from cotton tend to be rougher on the hair and can cause breakage. Switching to a satin or silk pillowcase can help to keep your hairstyle from getting tangled while you toss and turn since they're smoother than other fabrics. Plus, sleeping on silk adds a luxurious element to your nighttime routine.
5. Try a Hairstyle That Can Protect Hair While Sleeping
You might be wondering if it's better to sleep with your hair up or down, and the answer actually lies in the length of your hair. If you have short hair, sleep with it down since tying it up would cause too much friction and pressure on your scalp. If you have long hair, you're going to want to tie it up to protect your strands, especially the ends, from getting snagged or pulled as you sleep.
Good hairstyles for sleeping with long hair include ponytails, braids, twists, and low buns. Whichever style you choose, the key here is to make sure that it's loose and not too tight, because tension can pull on your roots and cause damage.
6. Choose Braids Over Heat Tools
As we mentioned above, braids are a great hairstyle for sleeping. They're also great because you can create heatless waves by braiding your hair before bed and letting it set overnight.
Apply a curl cream like the L'Oréal Paris Elvive Dream Lengths Curls Non-Stop Dreamy Curls Leave-in Conditioner throughout your hair before braiding and cover your head with a silk scarf to keep the braids in place overnight. Undo your braids in the morning to reveal gorgeous curls.
If you do decide to use a heat styling tool, always use a heat protectant like the L'Oréal Paris EverPure Sulfate-Free Weightless Blow Dry Primer to prevent any damage or breakage.
7. Give Yourself a Scalp Massage
There's no denying that one of the best parts of going to the salon is when your hairstylist massages your scalp, and you can recreate that relaxing feeling before bedtime with a quick scalp massage.
According to the National Center for Biotechnology Information, doing so stimulates blood flow to your hair follicles — which keeps the scalp healthy and aids in producing thicker strands. A quick scalp massage can also be relaxing and can help lull you into a deep sleep.
8. Sleep in a Bonnet or Scarf
Using a hair cap, bonnet, or wrapping your hair with a silk or satin scarf at night will shield your hair from rubbing against your pillowcase. This will also help you protect your ends at night and make your hairstyle last longer, and you don't have to worry about any friction or loss of moisture as you rest.
Next: Does Lack of Sleep Affect Hair?
Edited by: Témi Adebowale, Photo Credit: iStock
Discover more tips & tricks
Keep your skin happy
See all articles
Shop Featured products
Discover More