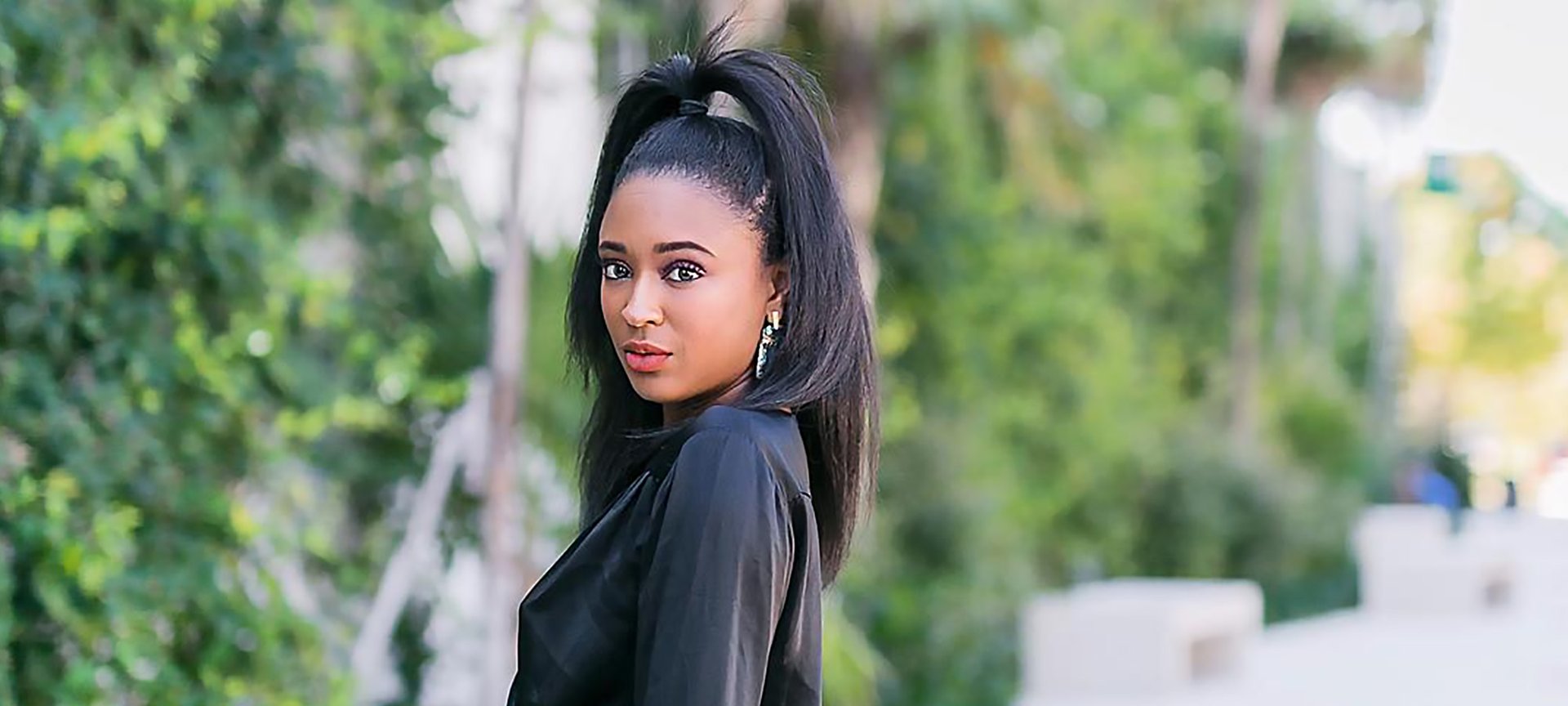 updo and bun hairstyles
How To Find The Perfect Ponytail For Your Face Shape
Swing your hairstyle in the right direction.
The ponytail is a simple look that simply never goes out of style. We love a good ponytail because the style requires little effort but offers maximum versatility. From fast and messy to seriously chic, ponytails are our go-to for the gym, work, parties, and everywhere in between. While we've found a ponytail for every occasion, your next favorite ponytail style might be based on your face shape. To help you decide on the best updo for you, we've compiled a list of the best ponytail hairstyles for every face shape.


The Best Ponytail For Your Face Shape
If you have a round, square, heart, or oval face shape, consider this your guide to finding the best ponytail that looks flattering on you.



The Best Ponytail For A Round Face: The High Ponytail
If you have a round-shaped face, having a ponytail that's placed high on your head will give the illusion of a more elongated face. To take the look up a notch, add some volume to your crown and wear a middle part or with a few loose strands to lengthen your face even more.
The first step of this hairstyle involves adding some volume to your strands. Spritz the L'Oréal Paris Elvive Dream Lengths Air Volume Dry Shampoo on your roots and gently backcomb to tease your hair. Use a comb to part your hair, making sure not to brush out the volume you just created. To help decide which part to try, here's How To Find the Best Part for Your Face Shape and Hair Type.


Then, pull your hair to the crown of your head, making sure to leave a few strands loose to frame your face. Secure your ponytail high on your head with a hair tie. Feel free to accessorize with a hair scarf or wrap your hair around your ponytail for added flair.



The Best Ponytail For A Square Face: The Romantic Ponytail
For those with a square-shaped face, your ideal ponytail is centered around softening your features. A romantic, wispy ponytail is perfect for you.


To create this ethereal look, you'll want to curl your locks. Make sure to use a heat protectant like the L'Oréal Paris Elvive Dream Lengths Heat Slayer Pre-Iron Spray Leave-In to keep your strands from getting damaged when you use hot tools. If you would rather skip the heat, opt for a heat-free ponytail curls option to add soft waves to your mane.
Next, put your hair into a high, mid-height, or low ponytail. To finish the look, pull some curls loose from the front of your hair to create a soft, face-framing look. Make sure to finish your ponytail with the L'Oréal Paris Elnett Precious Oil Satin Hairspray so your curls and pony stay in place throughout the day.
The Best Ponytail For A Heart-Shaped Face: The Messy Ponytail
If you have a heart-shaped face, the goal of your ponytail is to balance out the largeness of your forehead with the tapered bottom of your face—a messy ponytail will do just that. Wear it mid-height to further balance your face shape.
To give your strands the messy, piece-y, textured style you're going for, use a hair texturizing product. Apply the L'Oréal Paris Studio Line Overworked Hair Putty to dry hair, tousling to create your perfect mess. To even out your face shape and add some volume to this messy ponytail, backcomb the roots of your hair. Make sure not to stress about smoothing out your strands or creating the perfect ponytail as stray strands and errant bumps are all part of the look.

The Best Ponytail For An Oval Face: The Sleek Braided Low Ponytail
If you have an oval-shaped face, your symmetrical face shape can pull off virtually any ponytail hairstyle. A sleek low braided ponytail is a stylish 'do that will switch things up.


Create your slicked-back ponytail by applying a bit of hair gel, like the L'Oréal Paris Advanced Hairstyle LOCK IT Clean Style Gel to your hair. Brush back any flyaways and pull all your hair to the back or the side of your choice. You can either weave it into one tight, neat braid or add some texture by adding a few small braids throughout. Spray your hair with a lightweight hairspray like the L'Oréal Paris Advanced Hairstyle LOCK IT Weather Control Hairspray to lock your sleek style in place.
Next: The Best Braided Ponytail Hairstyles to Try in 2021

Written by: Lauren Paige Richeson, Photo Credit: Ria Michelle, IG/@riamichelle
{ "@context": "https://schema.org/", "@type": "WebPage", "speakable": { "@type": "SpeakableSpecification", "cssSelector": ["speakable-content"] }, "url": "https://www.lorealparisusa.com/beauty-magazine/hair-style/updo-and-bun-hairstyles/best-ponytail-for-every-face-shape" }
Discover more tips & tricks
Keep your skin happy
See all articles
Shop Featured Hair Style products
Discover More
{ "@context": "http://schema.org", "@type": "BreadcrumbList", "itemListElement": [ { "@type":"ListItem", "position": 1, "item": { "@id": "/", "name": "Home" } } , { "@type":"ListItem", "position": 2, "item": { "@id": "https://www.lorealparisusa.com/beauty-magazine", "name": "Beauty Magazine" } } , { "@type":"ListItem", "position": 3, "item": { "@id": "https://www.lorealparisusa.com/beauty-magazine/hair-style", "name": "Find Your Next Hot Look" } } , { "@type":"ListItem", "position": 4, "item": { "@id": "https://www.lorealparisusa.com/beauty-magazine/hair-style/updo-and-bun-hairstyles", "name": "Updo & Bun Hairstyle" } } , { "@type":"ListItem", "position": 5, "item": { "@id": "https://www.lorealparisusa.com/beauty-magazine/hair-style/updo-and-bun-hairstyles/best-ponytail-for-every-face-shape", "name": "best-ponytail-for-every-face-shape" } } ] }