short hairstyles
18 Flattering and Stylish Short Hairstyles for Round Faces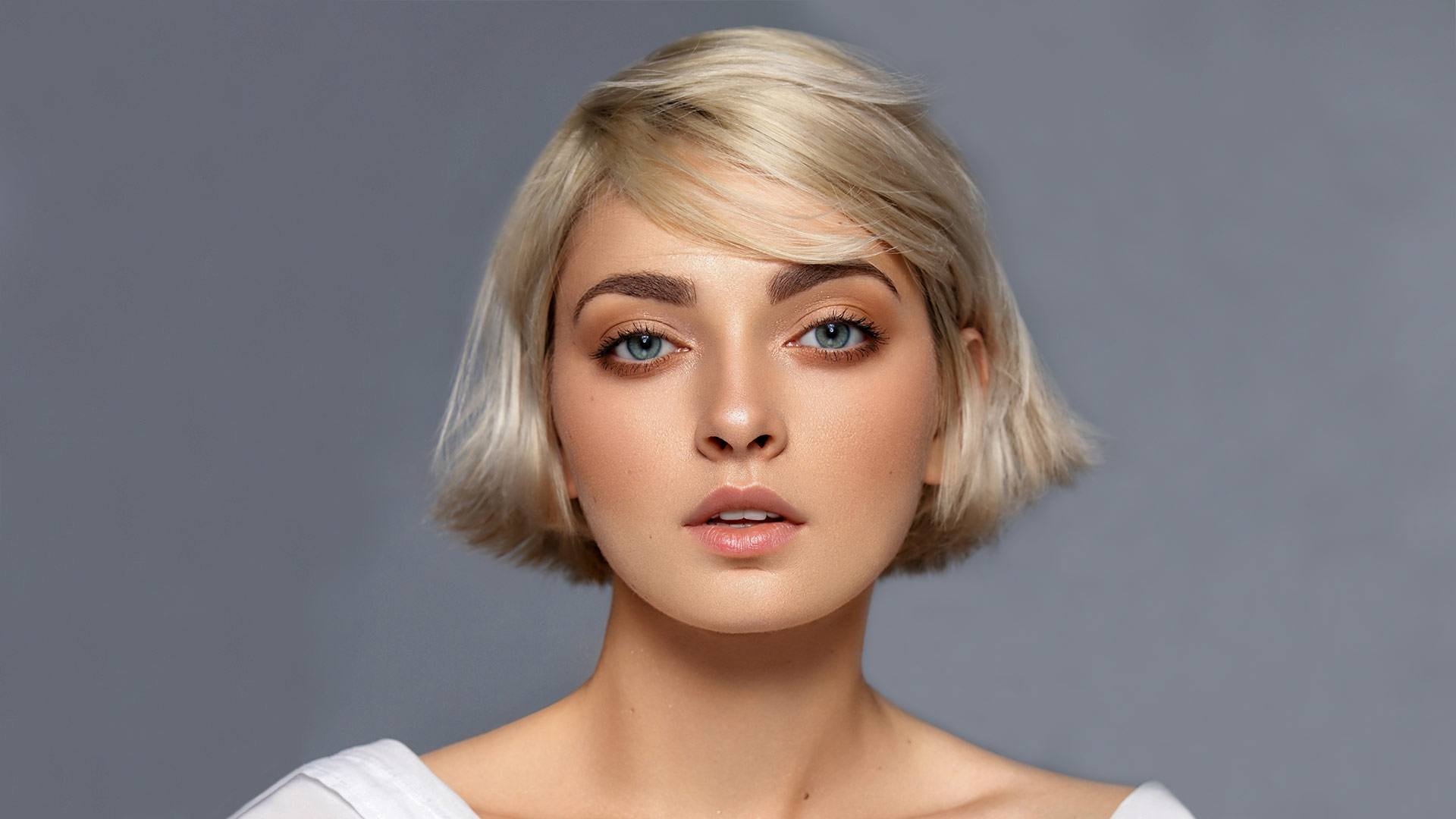 We can all agree that round faces are too cute to boot, especially when paired with the right short hair for a round face. That's right, you can totally rock short strands without making your face look overly full or cherubic, in fact, some for the best short hairstyles for round faces can help define your features and upgrade your overall beauty look in an instant.
Whether you're working with a curly mane or thin strands, there is a myriad of short haircuts for women with round faces that can pretty much transform you into a new person. Ready to test that theory? Here are 18 of the best short haircuts for round faces, including pixie cuts, bobs, and undercuts that will help slim and elongate your face for a gorgeous finish.
1. CROPPED CUT
There is no better way to hop on the short hair for round faces trend than with the help of a cropped cut. This trendy haircut accentuates your face while adding a bit of edge and sass to your look for a sophisticated finish. We also dig that this haircut is super easy to maintain, making it a no-brainer!
2. BOY CUT
Gone are the days when boys cornered the market on short haircuts! The classic boy cut is definitely one short hairstyle for women with round faces that's worth a try. Calling attention to the eyes and lips, this haircut works wonders to highlight your features for a flirty finish. Not to mention, this hairstyle is perfect for those who love low maintenance styles since little to no product is required to pull off the look. How could you not swoon over this cut?
3. TEXTURED POMPADOUR
While this look once was reserved for men, women have been rocking this style to perfection for years now. A nice play on angles, this haircut sports short sides with textured length at the top that beautifully complements your face shape. To get the look, simply add a touch of texturizing spray, like the L'Oréal Paris Advanced Hairstyle BOOST It High Lift Creation Spray to create a voluminous look that won't go unnoticed.
4. NATURAL CURLS WITH SIDE-SWEPT BANGS
Attention all natural-haired girls! Prepare to turn heads with natural curls and side-swept bangs! Worn by beauty gurus and A-listers alike, this chic 'do features trendy bangs that work to add dimension and movement to balance out the shape of your face. Simply add an egg-sized amount of curl mousse, like the L'Oréal Paris Advanced Hairstyle CURVE IT Elastic Curl Mousse to damp strands, scrunch from the roots to ends, and let air dry.
5. TAPERED NATURAL CURLS
Prefer to go super short with your textured strands? Well, tapered natural curls are a great place to start. Flaunting short sides that gradually build to fluffy curls on top, it's no surprise that this hairstyle made the cut when we were rounding up the best short hairstyles for round faces.
6. ASYMMETRICAL BOB
If you can't get enough of angled haircuts, the asymmetrical bob will meet your needs. Boasting long length on one side and short strands on the other, this haircut helps to slim the face and provide movement and body for a fresh out of the salon look. If you really want to elevate this haircut, consider adding a touch of color with the L'Oréal Paris Colorista Temporary Makeup 1-Day Hair Color Sprays.
7. CURLY SIDE-SWEPT BOB
Love a classic hairstyle with a modern touch? That's what you get when you try the side-swept bob on for size! This haircut works to cover the fullness of your visage while playing up your texture for a chic mane. All you need is a touch of curl mousse, and your look is complete.
8. CHOPPY BOB WITH STRAIGHT BANGS
For individuals who love to combine edge and sass for the ultimate short hair looks, the choppy bob with straight bangs will surely make a statement. Providing your mane with straight-across bangs and choppy strands that work to contrast the round shape of your face, this look allows you to flaunt a faux-contoured look for a slim-looking visage.
9. SHAG BOB
One thing we love about the shag haircut is the abundance of layers it offers. Since you're working with a round face, these layers actually work in your favor to give you a more angular and structured look. Amp up your 'do with a bit of texturizing spray for a boost of fullness.
10. A-LINE BOB WITH LAYERS AND WAVES
Want to step outside of your comfort zone with your next bob style? The A-line bob with layers and waves will stylishly rise to the occasion. Boasting longer strands at the front and shorter strands at the back, this haircut provides movement and body while adding a bit of length to your face. Basically, it's everything that's needed from a short haircut for round faces. Simply add a dollop of wave-enhancing mousse to your strands, scrunch, and call it a day!
11. SHORT BOB WITH ROSEGOLD HIGHLIGHTS
Short hair with highlights is a great way to flatter your round face. Highlights can help to contour the roundness of your face and bring attention to your favorite features. Grab the L'Oréal Paris Colorista Hair Makeup Temporary 1-Day Hair Color Spray in Rosegold and add highlights throughout your mane for a shimmery finish you'll love.
12. ASYMMETRICAL CROP CUT
This angled cut works to soften the roundness of your face shape and give your overall look a more chiseled finish. Whether you're working with straight, curly, or wavy texture, this short hair for round faces option looks amazing on everyone.
13. WAVY LOB
There is no denying that the lob haircut deserves a spot on the list of short hairstyles for round faces. With a little more length than a traditional bob, this haircut gives the illusion of a longer face.
14. LAYERED LOB
Why not take the lob hairstyle a step further with a layered style? Layers help to add movement and angles for a well-rounded look—no pun intended.
15. LONG PIXIE CUT WITH ANGLED BANG
If you can't resist the trendy pixie cut, get ready to put your own spin on the classic style with the long pixie. Featuring cropped strands and long angled bangs that help balance your features, this look will do your round face justice.
16. WAVY PIXIE WITH UNDERCUT
Fancy the idea of a pixie cut, but don't have the time to spend styling your strands? It's time to put a wavy pixie with an undercut on your radar! Offering the best of both worlds, this haircut allows you to embrace the ultimate cool-girl aesthetic without adopting a high-maintenance style.
17. SHORT RAZORED PIXIE WITH A SIDE PART
The side-parted razored pixie is an undeniably stylish option. This haircut provides height at the back of your head, contrasting lengths, and a side part, all of which come together to give your face visual length for a super flattering look. This is also a great option for anyone with fine hair as it can liven up flat strands.
18. JAW-LENGTH BEACHY WAVES
Beachy waves are a go-to hairstyle for a reason. They're flirty, easy to create, and super flattering on all hair types. For that reason, it should come as no surprise that cropped beach waves qualify as an amazing short hairstyle for round faces. See, the wavy texture gives your face a slimmer look, and the length of your strands is just perfect. To get the look, simply apply a generous amount of mousse to your strands, scrunch, and let your mane do its thing!
Discover more tips & tricks
Keep your skin happy
See all articles
Shop Featured Hair Style products
Discover More