hairstyle trends
Why Marley Twists Are One of Our Favorite Natural Styles Right Now
September 25, 2020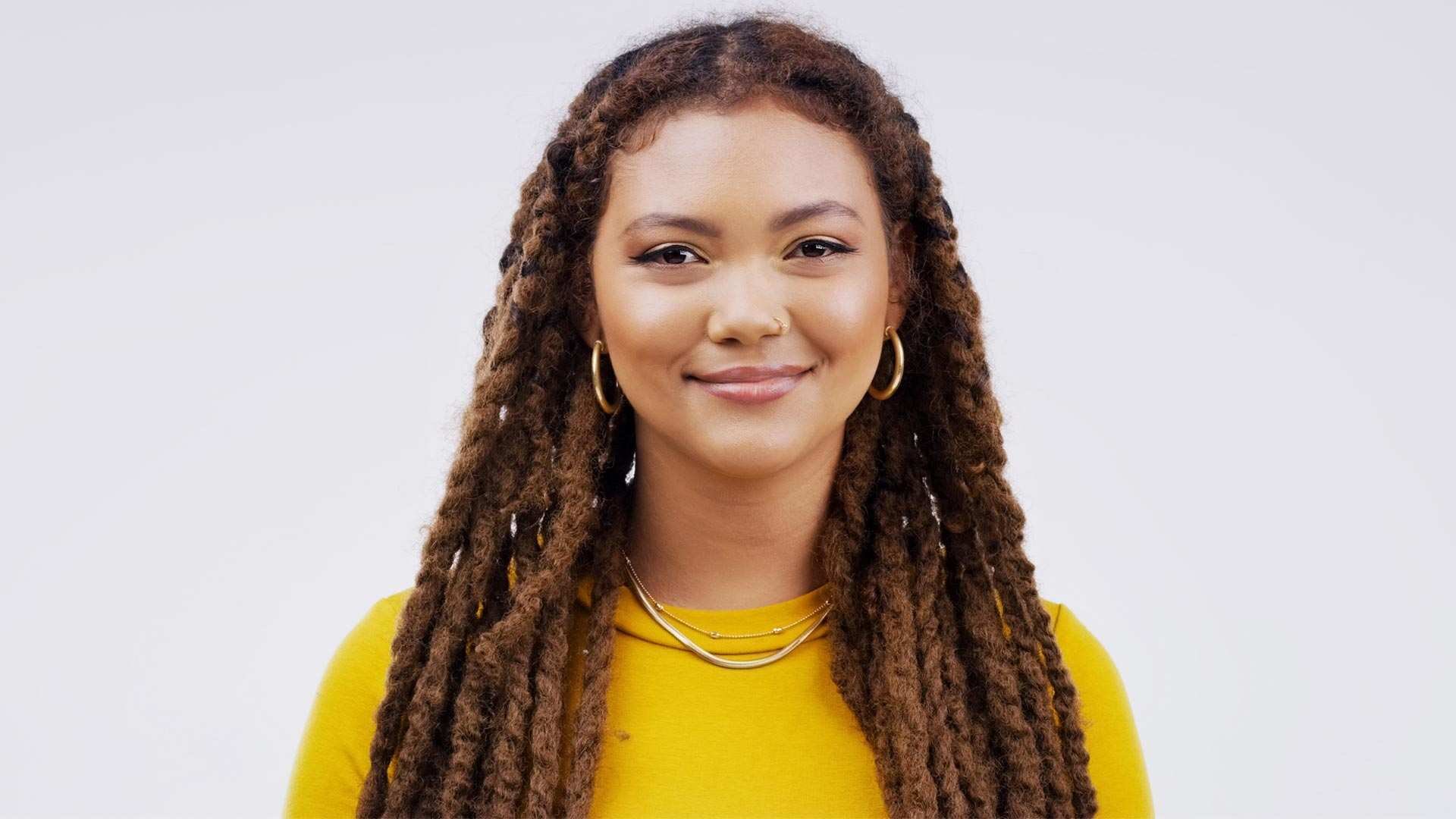 Protective hairstyles are in high demand for those with natural hair. They shield your locks from the elements and provide versatile flair that can't be beat. You may be familiar with knotless box braids or Fulani braids, but there is one style that's been getting major attention in the hair-styling world. And we're talking all about Marley twists.
Marley twist hair allows you to flaunt a gorgeous pattern throughout your mane while keeping your natural strands tucked away. Not to mention, the #marleytwists hashtag has almost 300K beauty-lovers sharing their unique takes on the style. So, it's definitely an on-trend look you should explore. If you're ready to spice up your mane, you've come to the right place. Follow along as we share everything you need to know about Marley twists.
WHAT ARE MARLEY TWISTS?
Marley twists (a.k.a. kinky twists) are all about wrapping your hair over and under itself with Marley braid extensions to create a two-strand look. These extensions boast a coarse and natural appearance and provide your mane with a fluffy, textured finish. They're fairly similar to dreadlocks and serve as a versatile, low maintenance style. Marley twists are also a fabulous way to play with length. You can rock short marley twists or long marley twists to suit your fancy. In other words, the possibilities are vast and seriously fashionable.
WHAT IS THE DIFFERENCE BETWEEN HAVANA TWISTS AND MARLEY TWISTS?
If you're hip to the protective style game, you may have noticed that some people believe that Havana twists and Marley twists are one and the same. We're here to bust that myth—they have subtle differences. Havana twists have two-strands created with Havana braiding hair, which flaunts a rough and kinky texture. They're larger in size and tend to sport a fuller and thicker look. Since Havana twists tend to be less dense than other styles, they have a lightweight feel.
On the other hand, Marley twists are created with synthetic Marley braiding hair that sports a thin, coarse texture. Unlike the Havana style, these twists are thinner in size and can feel heavy on your head. Marley twist hair is also cheaper than the extensions used to create Havana twists. As we mentioned, Marley twists offer a similar appearance to dreadlocks. In turn, the style has become a popular alternative for those who want to emulate the look of locs without the long-term commitment.
HOW LONG DO MARLEY TWISTS LAST?
Marley twists are meant to go the distance. Like many protective styles, these twists last between six to eight weeks with proper care. You'll also want to make sure that you take them out at the appropriate time to keep your natural strands in mint condition. After all, these styles are designed to leave you with healthy-looking locks.
HOW TO DO MARLEY TWISTS
One thing we love most about Marley twists is that you can DIY the look. Therefore, you can save some money and go at your own pace—something you can't do at the salon. Follow our step-by-step routine below to bring your new look to life.
STEP #1: DIVIDE YOUR HAIR
Starting with freshly washed and conditioned hair, part your locks down the middle and clip one side out of the way. Next, split the other side into bottom- and top-half sections and clip one of them away. If you have small Marley twists in mind, create an inch-wide part. For jumbo Marley twists, part your hair into two- to three-inch sections.
STEP #2: APPLY HAIR GEL
Next, you'll need to apply a tiny amount of hair gel, such as the L'Oréal Paris Advanced Hairstyle LOCK IT Clean Style Gel. This step will ensure that you can properly grip all your strands and keep flyaways at bay.
STEP #3: BUILD YOUR MARLEY TWISTS
Now it's time to create Marley twists. Wrap a one-inch piece of Marley twist hair (two to three inches for bigger twists) around your locks at the scalp. Hold it firmly in your hands. Split your natural strands into two equally-sized parts. You should now have two thick strands of braiding hair to match the sections of your natural hair. Combine your extensions with your locks and twist one side in a downward motion three to four times, then repeat on the other side. Next, tightly wrap the twists you created around each other. Continue twisting your hair until you reach the ends.
STEP #4: REPEAT THE TWISTING PROCESS
Following the previous steps, part and twist your hair until you're left with a mane full of Marley twists. Be sure to take your time. Slow and steady always wins the race.
STEP #5: CUT OFF STRINGY ENDS
You're almost at the finish line. Once your Marley twists are complete, you'll want to carefully snip off the extra ends for a clean look.
STEP #6: LAY YOUR EDGES
Grab a clean toothbrush or small boar-bristle brush to lay your edges. Place a small amount of hair gel or pomade on your brush and curl your baby hairs toward your hairline. You can opt for a classic curved look or get creative with a wave shape.
STEP #7: SECURE YOUR TWISTS WITH HOLDING SPRAY
Top it all off with a few spritzes of holding spray. Mist the L'Oréal Paris Studio Line Mega Spritz over your twists to help your hair bond to the synthetic hair and prevent everything from unraveling.
HOW DO YOU WASH MARLEY TWISTS?
Learning how to keep your Marley twists clean is easier than you may think. Since rubbing and massaging your hair can disturb the style, you'll need to use a different approach when washing your locks. Here's how to cleanse your hair the right way.
STEP #1: APPLE CIDER VINEGAR RINSE
One of the easiest ways to remove buildup and impurities from your Marley twists is with an apple cider vinegar (ACV) rinse. ACV cleansers work wonders to refresh your strands without ruining the twists. Apply the rinse to your hair and leave it in for 10 minutes. Rinse out with lukewarm water.
STEP #2: LEAVE-IN CONDITIONER
Now that you're done with cleansing, it's time to hydrate your mane. Grab a leave-in conditioner, like the L'Oréal Paris EverStrong Break Proof Lotion, which moisturizes and provides your strands with luminous shine. Gently massage the leave-in conditioner onto your scalp and let your hair air dry.
3 OTHER TIPS TO CARE FOR MARLEY TWISTS
Washing your Marley twists are only the beginning of this specific hair-care journey. Consider these three tips below to maintain your style.
#1. PROTECT YOUR HAIR AT NIGHT
Just because you're working with a protective style doesn't mean you shouldn't protect your strands as you normally would. Always make sure to sleep on a silk pillowcase or cover your Marley twists with a silk or satin bonnet. This will reduce friction as you toss and turn at night, which helps minimize the chance of frizz. It also helps to keep your style moisturized and intact.
#2. OIL YOUR SCALP REGULARLY
Your strands require consistent moisture to look and feel their best. This is where hair oil can save the day. Make sure to oil your scalp at least once a week to maintain proper hydration levels.
#3. DON'T KEEP YOUR TWISTS IN FOR TOO LONG
Even if you've done a fantastic job of caring for your twists, the time will come when you have to take them out. It's a simple fact of protective styles: If you leave the style in for longer than required, you can experience hair matting that can lead to breakage. Play it safe and remove your twists when necessary—right after the eight-week mark to prevent a hair fiasco.
Next: 21 Crochet Braids Hairstyles That Will Bring On The Texture
Discover more tips & tricks
Keep your skin happy
See all articles
Shop Featured Hair Style products
Discover More