braid hairstyles
9 Beautiful Fulani Braid Hairstyles for 2021
June 05, 2020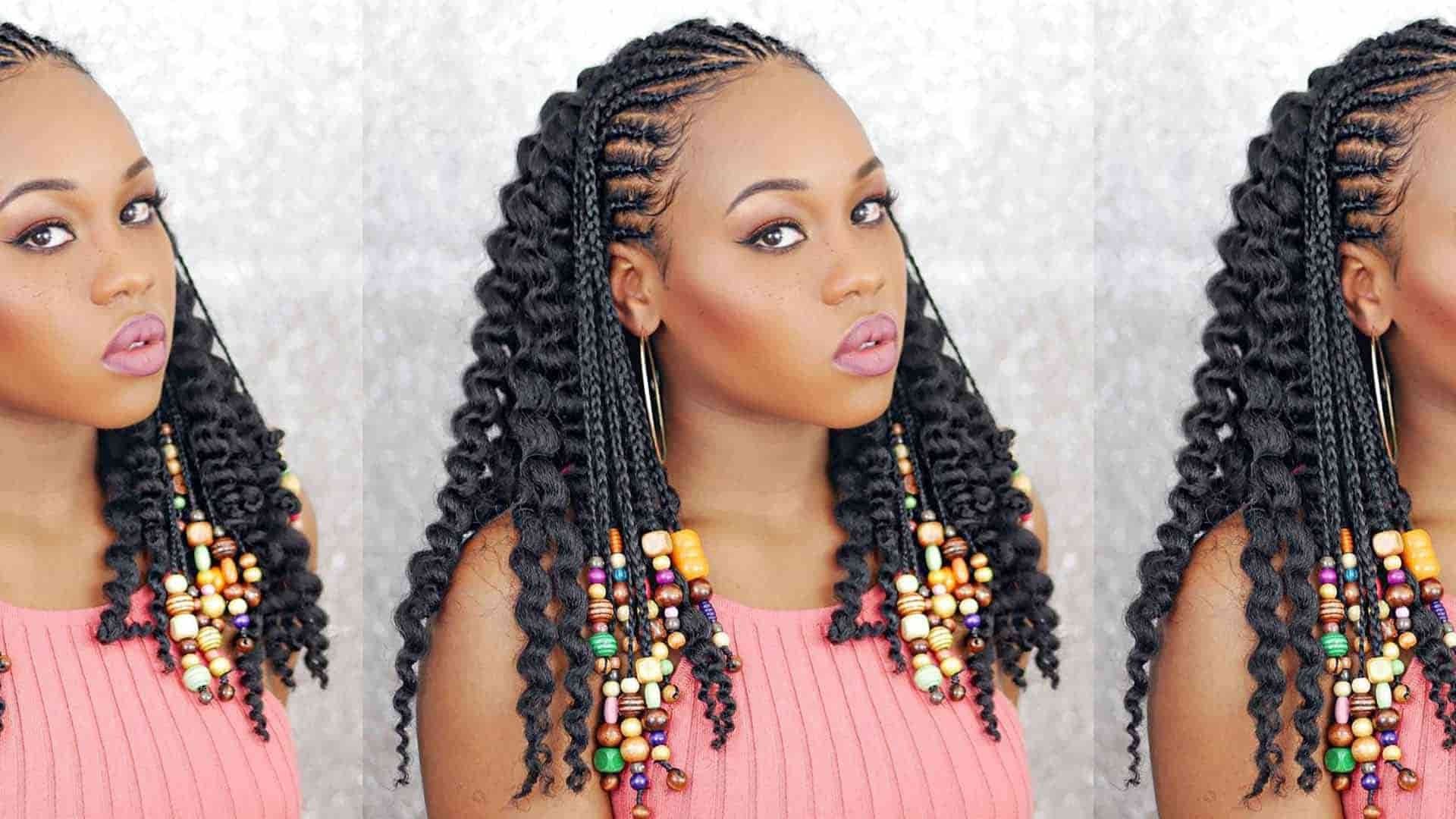 If protective hairstyles have become a saving grace for your natural hair, then you're most likely familiar with Fulani braids. Known as one of the popular braiding styles in the hair world, these tribal West African braids make up a versatile and detailed hairstyle that sports a few cornrow braids down the center of the head and several cornrows braided in a row going out towards the temples on either side. It's a stunning braided look that pairs well with beads and metallic hair accessories. And with so many Fulani braided styles to choose from such as chic updos to straight-back plaits and geometric patterns—it's easy to make this look your very own. Check out these nine Fulani braid hairstyles that will take your protective style game to the next level.
Hairstyle #1: Straight-Back Fulani Braids
For those who love to make a classic yet elegant statement, straight-back Fulani braids are the way to go. This style consists of cornrow braids that fall towards the back of the head. It also features two braids facing forward near the ears. Top things off by placing multiple beads throughout the ends of the braids for a winning look.
Hairstyle #2: Two-Toned Fulani Braids With High Bun
Add some color to your hairstyle by going for two-toned Fulani braids with a high bun. To get the look, incorporate braiding hair in a shade that doesn't match your natural color while creating the classic center braid as well as the perimeter cornrow braids. Gather everything into a bun, securing it with a hair tie, and you're all set!
Editor's Tip: You can also experiment with color by spritzing individual braids with a temporary hair color spray. Take your pick from the various shades in the L'Oréal Paris Colorista Hair Makeup Temporary 1-Day Hair Color Spray line.
Hairstyle #3: Fulani Crown With Horizontal Braids
With Fulani braids, it all comes down to the details and a crown-style with horizontal cornrows is no exception. This look features a center braid with two curved braids along the crown of your head. Small vertical cornrow braids are then weaved along the perimeter of your head and accessorized with shell beads and rubber bands for a stylish twist.
Hairstyle #4: Half Fulani Braids With Curls
There's no denying that a gorgeous set of curls can add flair to any style and Fulani braids make the perfect case for it. Try it out yourself by sectioning your hair into two parts and cornrow the front section of your head. You can leave out the bottom section and rock your natural texture. We recommend using the L'Oreal Paris Elvive Dream Lengths Super Curls Leave-In Cream to give your curls some definition or use flexi rods to create bouncy styled curls that will tie the look together.
Hairstyle #5: Fulani Braids With Ponytail
Fulani braids with a ponytail will become your go-to in no time. This style requires braiding your hair up towards the crown of your head so that you can easily gather them. You can also add in a few forward-facing braids near the ears. Complete the look by pulling all the braids into a high ponytail and secure them with a statement hair tie.
Hairstyle #6: Geometric Fulani Braids With Baby Hairs
If you're game for adding a show-stopping element to your 'do, try this style. Sporting cornrows with intricate geometric patterns surrounding the center braid, this look is definitely worth the hype. We recommend booking an appointment with a stylist since it requires very technical braiding skills.
Editor's Tip: Lay down your edges in the front to complete the look. Use a small edge brush and apply a dime-size amount of the L'Oréal Paris Lock It Extreme Style Gel Lock It Clean Style Gel to your baby hairs to keep them in place.
Hairstyle #7: Fulani Braids With An Afro
For those who prefer to leave out some of their natural hair to show off the texture, try going for a style that will allow you to sport both braids and your natural hair. This look features a center braid with an accent hair clip and braids woven around the front part of your head that leads to a beautiful natural blowout in the back.
Hairstyle #8. Knee-Length Fulani Braids
If length is what you're after, you'll definitely want to add feed-in braiding hair to this style. Next time you're at the salon, have your stylist add some hair to your mane, creating cornrows that are braided with the traditional front-to-back method and a few back-to-front pieces. Just be sure they are delicate around the hairline so that there isn't too much tension on your roots (which can happen with extra long braids).
Hairstyle #9: Fulani Braided Bob
Braided bobs are certainly here to stay, and they are perfect for those looking to up the ante on a classic style. Go for a shorter hairstyle that will still add depth and movement to your look. Check out some online tutorials to DIY at home.
Photo Credit: Teshna, @queenteshna
Next: 10 Jumbo Braided Hairstyles That Are Perfect For Any Season
Discover more tips & tricks
Keep your skin happy
See all articles
Shop Featured products
Discover More