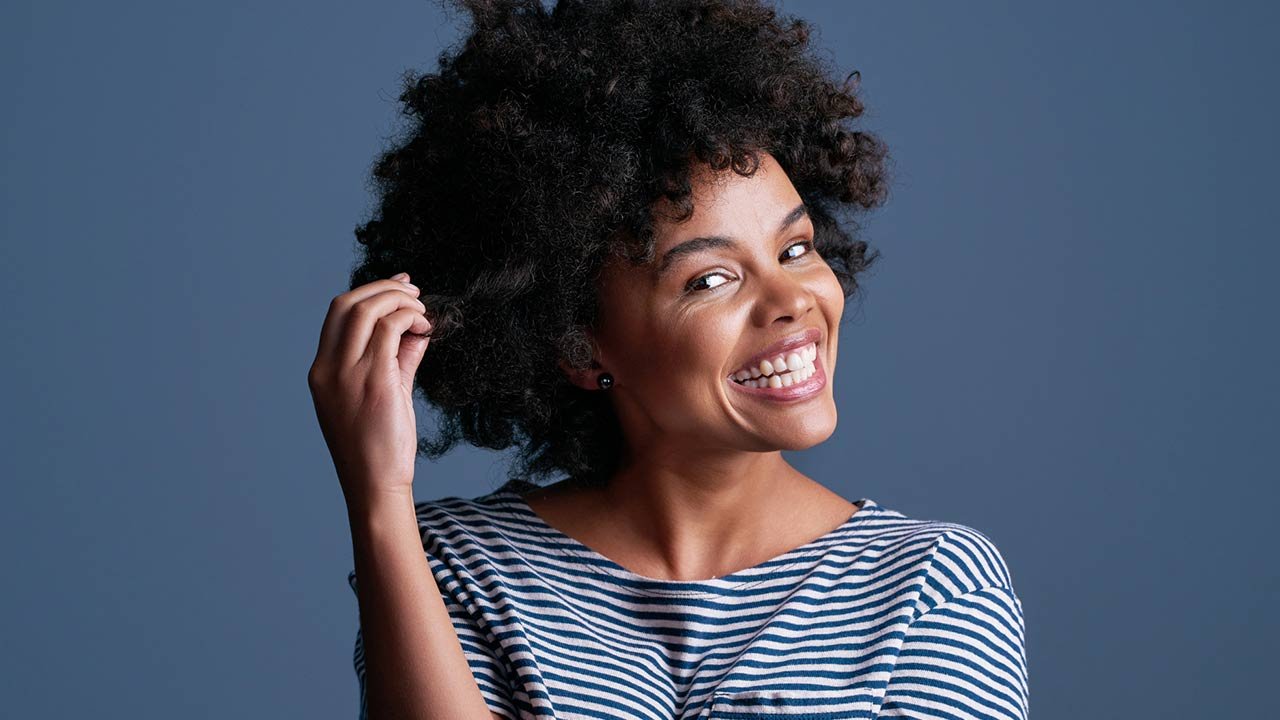 hairstyle trends
How to Do a Twist Out on Natural Hair
If you have natural hair, then you're likely familiar with the various hairstyles that suit your hair type, such as Bantu knots, wash and go styles, top knots, and more. While there are plenty of styles to choose from, there is one hairstyle that continues to be a top choice: a twist out. A natural hair twist out serves as a great protective style (a type of style that promotes hair growth and keeps your hair safely tucked away) that always looks amazing on curly and coily hair textures. If you're ready to put a twist on your hairstyling game, look no further! Below, we're sharing what a twist out is and how to create it, plus tips for achieving a twist out on long hair.
WHAT IS A TWIST OUT?
A twist out hairstyle refers to installing twists all throughout your hair, allowing them to set overnight, and unraveling the next day. This technique provides a beautiful, wavy pattern throughout your mane. It's perfect for natural African American hair, those who are transitioning from permed hair or relaxed hair, and even those who have relaxed hair that want to achieve heatless waves.
HOW TO CREATE A TWIST OUT ON NATURAL HAIR
Forget about all the twist out tutorials you've read; we're sharing a simple way to get a twist out style.
STEP #1: SELECT THE RIGHT PRODUCTS
Hair products work differently depending on your hair texture, and it's essential to use the right products so your style can go the distance. If you want your twist out to have a soft hold, we recommend using the L'Oréal Paris Advanced Hairstyle Curve It Taming Curl Cream. This hair cream helps to soften, tame, and define your tresses for a moisturized finish.
Want a tighter hold and more defined waves? The L'Oréal Paris Advanced Hairstyle LOCK IT Clean Style Gel provides a lasting hold (which still isn't stiff) that will smooth your style and add shine to your hair.
STEP #2: SECTION YOUR HAIR
Section your hair into four sections, clip in place, and leave out whichever section you'll work on first.
STEP #3: HYDRATE
When styling a twist out, it's easier to work on damp hair. Grab a spray bottle, fill with water, and mist evenly over your hair.
STEP #4: DETANGLE
To ensure that your twist out hairstyle is bouncy and wavy, you have to detangle your mane. Use a leave-in conditioner with a touch of slip like the L'Oréal Paris EverStrong Break Proof Lotion. Formulated with goji, rosemary leaf oil, and peppermint leaf extract, this sulfate-free leave-in conditioner will strengthen, protect, detangle, and provide softness. Apply a dime-sized amount to damp hair, evenly distribute through your hair, and use a wide-tooth comb to detangle.
STEP #5: TWIST
Now it's time to create the twist out! Separate a section of hair from the strands that are already left out, clip the rest up and away, and work your hair cream or hair gel through the hair from root to tip. Brush your hair out, and get ready to build your twist out. What you do from here will depend on the type of twists you want. Here are three options:
Twist out option #1: Single strand twists. Starting from the root of your hair, twist your hair in either an inward or outward direction until you form a coil. While this look is way more time consuming than the variations that follow, the results are beautiful. This method works well on short and medium lengths.
Twist out option #2: Two strand twists. Known as the most common twist out method, this technique is easy to follow. Grab a mini section of your hair, separate into two strands, stretch the hair out and start twisting the hair over and under until you reach the ends. Using a bit of hair cream or gel, twirl the ends into a curl with your finger.
Twist out option #3: Flat twists. If you're interested in defining your waves, flat twists are the way to go. Think of the flat twist as a two-strand cornrow. Part a row at the front of your hair and end at the back of your head. Separate the row of hair into two strands, start twisting over and under, and collect more hair into both strands until you reach the ends.
STEP #6: GIVE YOUR HAIR TIME TO DRY
If your hair is still wet or damp, your twist out will not hold. Enjoy your new set of twists and allow your hair to air dry. If you decide to dry your hair overnight, use a silk or satin scarf to keep your mane smooth and moisturized.
STEP #7: UNTWIST
Now you're at the finish line. It's time to take out your twists, but you need to use a hair oil like the L'Oréal Paris Elvive Extraordinary Oil Treatment to eliminate frizzy waves. Oil your fingertips with four to five drops of oil, and unravel your twists based on the technique.
If you created single strand twists…the key to sporting luscious waves is to untwist your hair with patience. Unravel your coils by twisting them in the opposite direction, split into two strands, and re-twist each strand back in the original direction.
If you created two strand twists…carefully untwist your hair starting from the bottom and working your way up. If you want a voluminous mane, apply oil to your fingertips to separate your curly strands into thinner waves. Now that's what we call volume!
If you created flat twists…just as you would untwist your two-strand twists, start undoing your flat twists from the bottom and work your way up.
CAN YOU DO A TWIST OUT ON LONG HAIR?
Twist out styles are not only reserved for short hair; you can also get in on the fun if you have long hair. For the most part, you can even still follow the tutorial above. While this style may take a little longer to achieve, all you need is patience, a positive attitude, and a bit more product to bring this look to life. Select your products, section your hair, hydrate, detangle, create your twist out, and give your hair time to dry—that's all the same as creating a twist out on short hair. Next, things will be a little different. Once your hair is dry and ready to untwist, start with oiled fingertips and unravel your twists. As you unravel your hair, reapply four to five drops of oil to your fingertips to ensure that your long tresses won't result in a frizzy mane. Voila!
5 TWIST OUT STYLES TO TRY
Now that you know how to do a twist out, there are quite a few ways you can put that knowledge to use. We're sharing five twist out styles to try below.
TWIST OUT HAIRSTYLE #1: HALF SHAVED TWIST OUT
Edgy and stylish, this hairstyle is great for those with short and medium lengths. The top of the hair highlights your texture while the sides and back sport a line-up that allows you to play with different designs. Since this style requires a precise cut, we recommend booking an appointment with your barber or stylist. Finish up with a humidity-resistant hairspray like the L'Oréal Paris Elnett Precious Oil Satin Hairspray for added shine.
TWIST OUT HAIRSTYLE #2: SIDE PART TWIST OUT
If you're looking for a hairstyle that will boost your hair with volume, the side part twist out checks all the boxes. This popular trend can be seen all over your social media feed on both Hollywood A-listers and influencers. Get the look by using a hair gel like the L'Oréal Paris Studio Line Clean Gel. Start with a side part and use a dime-sized amount of hair gel to smooth the front section of your part. Separate the rest of your twist out mane with oiled fingertips to amp up the volume.
TWIST OUT HAIRSTYLE #3: TWIST OUT UNDERCUT
For those who love short hairstyles, the twist out undercut is just what you need. The top works to provide height while the sides and back are cut short. All you need to achieve this style is a stronghold hair spray, like the L'Oréal Paris Advanced Hairstyle Lock It Bold Control Hairspray, to lock your waves in place.
TWIST OUT HAIRSTYLE #4: TWIST OUT PIXIE CUT
Pixie cuts are popular for a reason. They're chic, trendy, and look amazing with little to no effort. If you love a chic style, the twist out pixie cut may be worth a try. This style plays with texture and height to give you a chic finish. Get the look by leaving a bit of length on the top and cutting down the sides and leaving the back short. Top off your look with a touch of hairspray to complete your hairstyle.
TWIST OUT HAIRSTYLE #5: TWIST OUT FAUX HAWK
The twist out faux hawk is a popular hairstyle for natural hair, because it's easy to style and super flattering. Best of all, all you need to pull this look together are a few bobby pins, hair putty, and a touch of hairspray. To get the look, brush your hair at the sides, slick with hair putty, and pin your hair in place. Fluff your hair waves and mist some hairspray evenly over your mane. That's it!
Next up: Twist out styles can be a key part of caring for a natural mane, but they certainly don't account for a complete hair care routine. For that, head over to our article, Your Natural Hair Care Routine.
Discover more tips & tricks
Keep your skin happy
See all articles