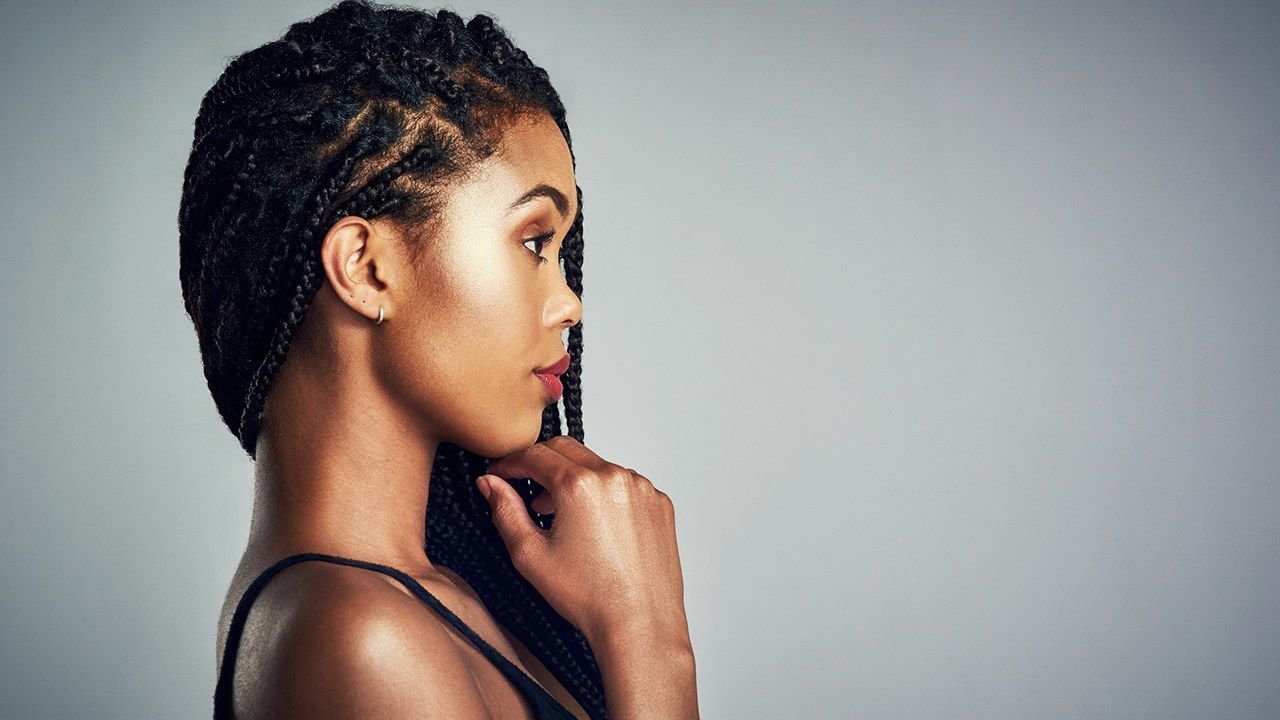 braid hairstyles
What Are Knotless Box Braids?
If protective styles are your forté, then you've likely heard of knotless braids. This hairstyle trend has been gaining major traction in the beauty world, and for good reason. A variation of box braids, knotless box braids are versatile, super easy to style, and serve up the right amount of sass. Not to mention, this hairstyle is a great way to give your tresses a stylish break. If you're ready to take your braid game to the next level, below, we'll give you all the details on this braided hairstyle option, including how to do knotless braid on your own.
WHAT ARE KNOTLESS BRAIDS?
Knotless braids are a traditional three-strand braid with a beneficial twist. Like box braids, your hair is divided into square parts (or sometimes triangle-shaped divisions). However, knotless braids do not include the small knot that starts at the root of traditional box braids. Traditionally, this knot is used to attach braiding hair. With knotless braids, the hairstyle is created with a feed-in braid technique instead. This involves adding small amounts of braiding hair to your natural hair as you go, making for a braid that sports a flatter appearance. As a result, your braids also aren't as heavy on your scalp, which can help minimize the risk of hair breakage.
HOW TO DO KNOTLESS BRAIDS
Now that we've covered what knotless braids are, it's time to learn how to create knotless braids all on your own! Follow our step-by-step tutorial to create a knotless braid masterpiece with ease.
STEP #1: PREP YOUR STRANDS
Before styling your hair into any braided look, you should always kick things off with freshly washed and conditioned strands. The key is to provide your hair with long-lasting moisture since your mane will be woven into braids. Use the L'Oréal Paris EverPure Moisture Shampoo and the L'Oréal Paris EverPure Moisture Conditioner to start things off on the right note.
STEP #2: DETANGLE LIKE A PRO
Next, you'll want to free your hair of any knots or tangles. Reach for the L'Oréal Paris EverStrong Break Proof Lotion, which adds slip and additional moisture to your strands. Using a wide-tooth comb, detangle your hair starting from the ends and working up to the root.
STEP #3: BLOW DRY YOUR STRANDS
Once your hair is tangle-free, it's time to blow dry your strands. Make sure to use a heat protectant, like the L'Oréal Paris Advanced Hairstyle SLEEK IT Iron Straight Heatspray, to protect your strands against heat damage.
STEP #4: PART YOUR HAIR
Divide your hair into four even sections. Use a lobster clip to pin three of those sections out of the way.
STEP #5: APPLY HAIR CREAM
Next, you'll want to give your strands a little bit more moisture to protect your hair for the duration of wearing your knotless braid style. Apply a nourishing hair cream to your strands, and be sure to show your ends some love.
STEP #6: CRAFT YOUR KNOTLESS BRAIDS
Using a rattail comb, part your hair to create a one-inch piece (either in a box or triangle shape). Apply a bit of hair gel or pomade, like the L'Oréal Paris Studio Line Clean Gel, on the roots of the section to help keep the braid in place. Just like feed-in braids, split the section into three strands and weave your braid. After three braided links, add a new piece of synthetic hair as you work your way down. Once you reach the ends, secure with a hair elastic.
STEP #7: MIST YOUR BRAID WITH HOLDING SPRAY
Once the braid is complete, mist a holding spray, like the L'Oréal Paris Studio Line Mega Spritz, onto your braid from the root to the ends. This will help your hair bond to the synthetic hair and prevent your braid from unraveling.
STEP #8: REPEAT
Repeat the process on your remaining sections of hair until you have a mane full of knotless braids.
STEP #9: SEAL THE DEAL
Apply an egg-sized amount of hair mousse, like the L'Oréal Paris Advanced Hairstyle BOOST IT Volume Inject Mousse, to your braids from the root to the ends. This will provide your braids with extra hold for a long-lasting look.
STEP #10: THE FINISHING TOUCH
Once your braids have fully absorbed the mousse, it's time to finish things off with a mist of shine-boosting hairspray. Pick up the L'Oréal Paris Elnett Precious Oil Satin Hairspray to give your braids natural shine. Fin!
HOW TO MAINTAIN YOUR KNOTLESS BRAIDS
Congratulations on your new set of knotless braids! Follow our three tips below to help keep your braids in proper shape.
1. OIL YOUR SCALP EVERY WEEK
While you should have taken steps to provide your hair with moisture, after a while, your strands will need more hydration. Using your favorite hair oil, oil your mane once a week to keep your scalp and hair properly moisturized.
2. PROTECT YOUR BRAIDS AT NIGHT
While you may be tempted to hit the hay without covering your hair, we'd advise against it. Covering your braids with a silk scarf or bonnet can help protect your hair from frizz and keep your braids intact. After all of your hard work, you wouldn't want to see your knotless braids unravel!
3. KNOW WHEN TO TAKE YOUR BRAIDS DOWN
As beautiful as knotless braids look, after six to eight weeks, it's time to take your braids down. You can run the risk of your natural hair matting at the roots, which can lead to breakage when you try to detangle your hair. So, play it safe and take down your braids at the appropriate time.
Discover more tips & tricks
Keep your skin happy
See all articles