braid hairstyles
How To Do Knotless Box Braids
The easy-to-follow tutorial you need.
February 20, 2020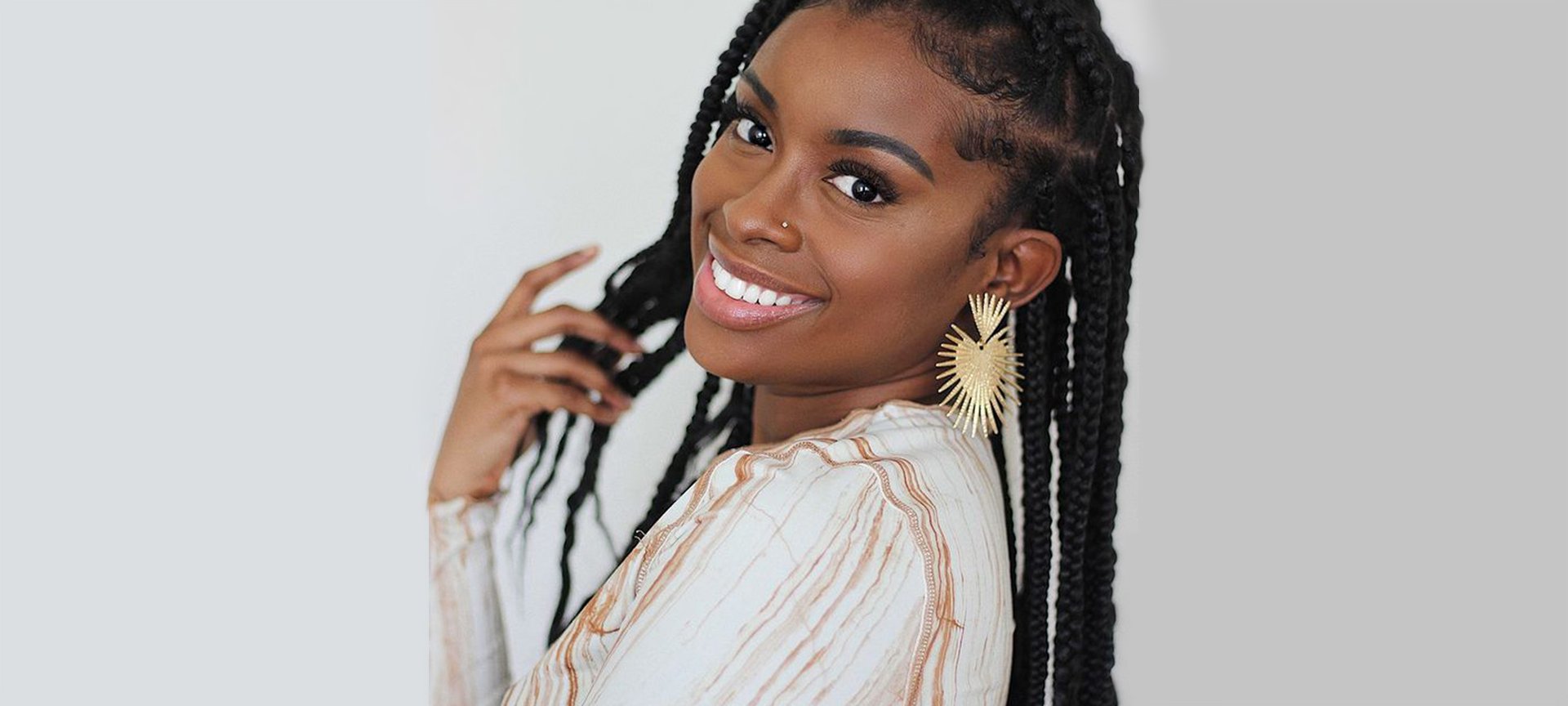 We've learned to master so many protective hairstyles in the past two years — mainly out of need. Fewer available trips to the salon has forced us to learn how to do many of the styles we love and once thought were too complex for us to execute. But one that still evades many is knotless box braids. This low-tension version of our beloved box braids may look easy to do, but takes some level of skill and know-how. If you haven't quite perfected your knotless box braids skill and you've made a resolution to grasp this style, take notes from this easy-to-follow tutorial. Grab your comb, your gel and get ready to enter hair braiding heaven.
What Are Knotless Box Braids?
Knotless braids are just like your traditional three-strand box braids. They can be done in various sizes and lengths. The biggest difference is that knotless braids do not include the small knot that starts at the root of traditional box braids. Traditionally, this knot is used to attach braiding hair. With knotless braids, the hairstyle is created with a feed-in braid technique instead. This involves adding small amounts of braiding hair to your natural hair as you go, making for a braid that sports a flatter appearance. As a result, your braids also aren't as heavy on your scalp, which can help minimize the risk of hair breakage.
How To Do Knotless Box Braids
Follow our step-by-step tutorial to create a knotless braids masterpiece with ease just like a pro braider, right from the comfort of your own home.
Step 1. Prep Your Hair
Before braiding your hair into any style, you should always kick things off with freshly washed and conditioned strands. The key is to provide your hair with long-lasting moisture since you'll have your braids in for weeks. Use the L'Oréal Paris EverPure Sulfate-Free Moisture Shampoo and the L'Oréal Paris EverPure Sulfate-Free Moisture Conditioner no more than a day before you journey into knotless box braids.
Step 2. Detangle Your Strands
Next, as always, make sure your hair is free of any knots or tangles. Reach for the L'Oréal Paris Elvive Dream Lengths Curls Non-Stop Dreamy Curls Leave-In Conditioner, which adds slip and additional moisture to your strands. Using a wide-tooth comb, detangle your hair starting from the ends and working up to the root.
Step 3. Divide Your Hair Into Sections
Breaking up the braiding process will make the overall task feel less overwhelming. To help you do that, divide your hair into four even sections. Use hair ties and claw clips to pin three of those sections out of the way while you start on one.
Step 4. Add Your Hair Cream
Next, you'll want to give your hair a bit more moisture to protect it for the duration of wearing your knotless braids. Apply a nourishing hair cream or a little more leave-in conditioner to your strands, and be sure to show your ends some love too.
Step 5. Perfect Your Parts
Using a rat tail comb, create your parts. You can choose to go with box parts or triangle parts — but make a decision at the start. Creating precise parts will help you avoid borrowing hair from outside of each individual braid and it will give your knotless braids a more polished look in the end.
Editor's tip: Your parts should be sized one to one for the size of braids you desire. In other words, don't use a one-inch part of hair for a two-inch sized braid. It will cause unnecessary tension on your scalp even with a knotless braid.
Step 6. Craft Your Knotless Braids
Once you have your parts decided and the size of your braids confirmed, create a small part and apply some hair gel, like the L'Oréal Paris Advanced Hairstyle LOCK IT Extreme Style Gel, on the roots of the section to help keep the braid in place. Split the section into three strands and start weaving your braid. Once you're three braided links in (or as far down as it makes sense for the length you want for your braids), add some braiding hair and continue to work your way down. Once you reach the ends, add a little gel for hold.
Editor's tip: The type of braiding hair you buy will make all the difference in how well your ends stay in place, so be sure to choose exactly what you need for a fuss-free experience.
Step 7. Use Holding Spray For Extra Staying Power
Once the braid is complete, mist a holding spray, onto your braid from the root to the ends. This will help your hair bond to the synthetic hair and prevent your braid from unraveling while you continue to work. This extra step does add some time and work to the process, but it can make all the difference in how long your knotless box braids stay intact.
Step 8. Repeat In Each Section
Repeat the process on your remaining sections of hair until you have a head full of knotless braids.
Step 9. Seal Your Style
Apply an egg-sized amount of hair mousse, like the L'Oréal Paris Advanced Hairstyle BOOST IT Volume Inject Mousse, to your braids from the root to the ends. This will provide your braids with extra hold for a long-lasting look.
Step 10. Add The Finishing Touch
Once your braids have fully absorbed the mousse, it's time to finish things off. If you've ever had your hair professionally braided you may recall the braider dipping your braids in hot water to seal in the mousse. Unless you know exactly what to do you may want to skip this step at home. Instead, spritz your braids with a mist of shine-boosting hairspray, like the L'Oréal Paris Elnett Precious Oil Satin Hairspray, to give your braids natural shine.
How To Maintain Your Knotless Box Braids
Congratulations on your new set of knotless braids! Now, follow our three tips below to help keep your braids looking flawless for weeks (while you protect your natural hair too).
1. Oil Your Scalp Every Week
While you should have taken steps to provide your hair with moisture, after a while, your strands will need more hydration. Using your favorite hair oil, oil your mane once a week to keep your scalp and hair properly moisturized.
2. Protect Your Braids At Night, No Exceptions
While you may feel like having a protective style means less maintenance, you still need to protect it at night so that it lasts. Covering your braids with a silk scarf or bonnet can help protect your hair from frizz and keep your braids intact. After all of your hard work, you wouldn't want to see your knotless braids unravel.
3. Take Them Down When It's Time
As beautiful as knotless braids look, after six weeks, it's time to take your braids down. If you leave them in too long you run the risk of your hair matting at the roots, which can lead to breakage when you try to detangle it. So, play it safe and take down your braids at the appropriate time.
Next: 10 Yarn Braid Hairstyles To Try In 2022


Edited by: Shalwah Evans, Photo Credit: Tynece Juanita, IG/@necenita
Discover more tips & tricks
Keep your skin happy
See all articles
Shop Featured Hair Care products
Discover More