short hairstyles
Men, Try These Hair Gels to Get Your Hair Under Control
August 16, 2019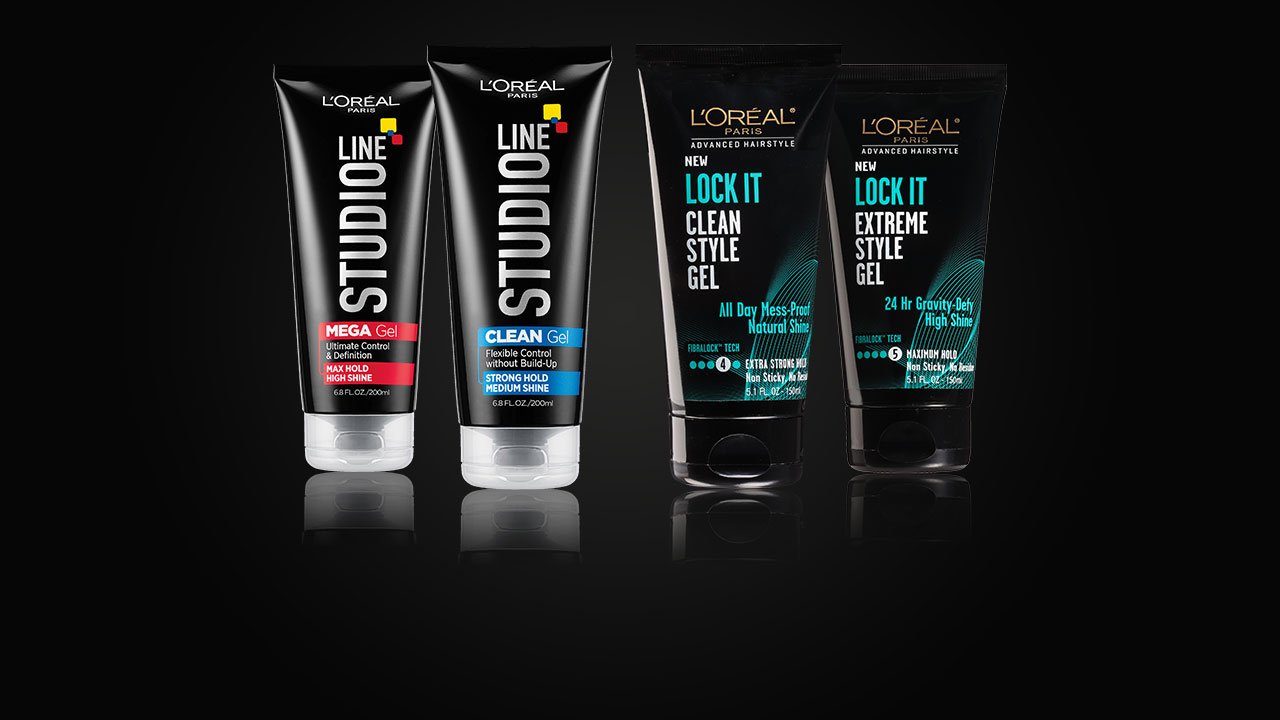 Calling all men—are you a victim of unruly strands? While messy hair may be an on-trend look at the moment, we can understand the frustration behind taking the time to style your hair—only to have the elements put your locks into disarray shortly after. This is where a good hair gel for men comes into play. You see, in our book, hair gel is a must-have hairstyling product for men. With its strong hold and flexible styling options, it's a bit of a holy grail for styling men's hair. Think you need to add one to your grooming kit ASAP? We think so, too. If you're looking for the best hair gel for men, consider taking your pick from one of our four favorites below. Then, learn how to use a hair gel to perfect your hairstyle. Let's get to it!
OUR BEST HAIR GELS FOR MEN
No need to be overwhelmed by the array of products at the drugstore. We'll help you narrow down your search—any of the following four gels will make for a great pick.
L'Oréal Paris Advanced Hairstyle LOCK IT Clean Style Gel: This hair gel is specially formulated for daily grooming, so you can have a style that's mess-proof. The high-performance gel delivers a clean look and feel with extra strong hold and natural shine—not to mention no unwanted stickiness or residue.
L'Oréal Paris Advanced Hairstyle LOCK IT Extreme Style Gel: Want a hair gel that's even more heavy-duty? This high-performance hair gel helps sculpt your most extreme style and lock it into place with maximum hold and high shine for up to 24 hours—talk about long-lasting! Noted for its gravity-defying hold, it's an ideal hairstyling product for those who want confidence that their locks can stay put all day and night.
L'Oréal Paris Studio Line Mega Gel: Another reliable hair gel, the formula of this hairstyling product provides long-lasting control, structure, and definition for hard-to-hold styles.
L'Oréal Paris Studio Line Clean Gel: Want a clean, sleek style sans buildup? This is the hair gel for you. The formula will keep your style firmly in line with clean definition and structure—without the buildup baggage that often comes with using excess product.
HOW TO USE HAIR GEL FOR MEN
Now that you know all about our best hair gels for men, you're probably wondering how to put them to use in your daily grooming routine. Well, there isn't a single answer. Rather, you can use hair gel to create so many hairstyles—including some of this season's trendiest options. Below, find three different ways to style your hair and put your hair gel to use.
HAIR GEL HAIRSTYLE #1: SPIKED HAIR
Want to give spiky hair a try? This hairstyle for men has been making a comeback as of late, and it's best done with a hair gel.
Step #1: Grab your hair gel. Reach for a hair gel that'll provide long-lasting hold. Squeeze a small amount of hair gel into the palm of your hand, then rub your palms together to distribute product.
Step #2: Spike it up. Begin to spike your hair upward using your fingers. Customize the shape to your liking, adding more hair gel as needed. Keep in mind that less is more when it comes to using product—you don't want your style to look stiff! Adding as you go is a foolproof solution for using just the right amount of product.
HAIR GEL HAIRSTYLE #2: SLICKED BACK QUIFF
Do you have a quiff haircut? If you're sporting this on-trend cut, you can use a hair gel to style it!
Step #1: Part your hair. Starting with damp hair, use a fine-tooth comb to create a deep side part. Comb the rest of your hair backward to begin your slick style.
Step #2: Apply your hair gel. Squeeze a small amount of hair gel onto your comb, then work it through your mane to perfect and style it. Comb it as you wish to form a sleek, slicked-back look. Add more product as needed.
HAIR GEL HAIRSTYLE #3: FAUX HAWK
Feeling daring enough to give a faux hawk hairstyle a try? Another on-trend look for 2019, it's perfect for those who prefer an edgier 'do.
Step #1: Create your hawk. Apply a bit of hair gel to your palms, rub them together, then work it throughout the top section of your mane. It's OK if this part is messy! You want to create as much texture and volume up here as possible.
Step #2: Slick down your sides. Grab a bit more hair gel and use it to slick the sides of your hair toward the back of your head, keeping them as flat as possible. You can use a fine-tooth comb to help you do this. Be sure to keep lots of volume up top, and when you're happy with the height of your hawk—you're done.
Inspired to keep mixing up how you style your strands? If you need more ideas, we can help. Here are 4 Trendy Men's Hairstyles to Try This Year.
Discover more tips & tricks
Keep your skin happy
See all articles
Shop Featured Hair Style products
Discover More