hairstyle trends
How to Create Box Braids
October 12, 2018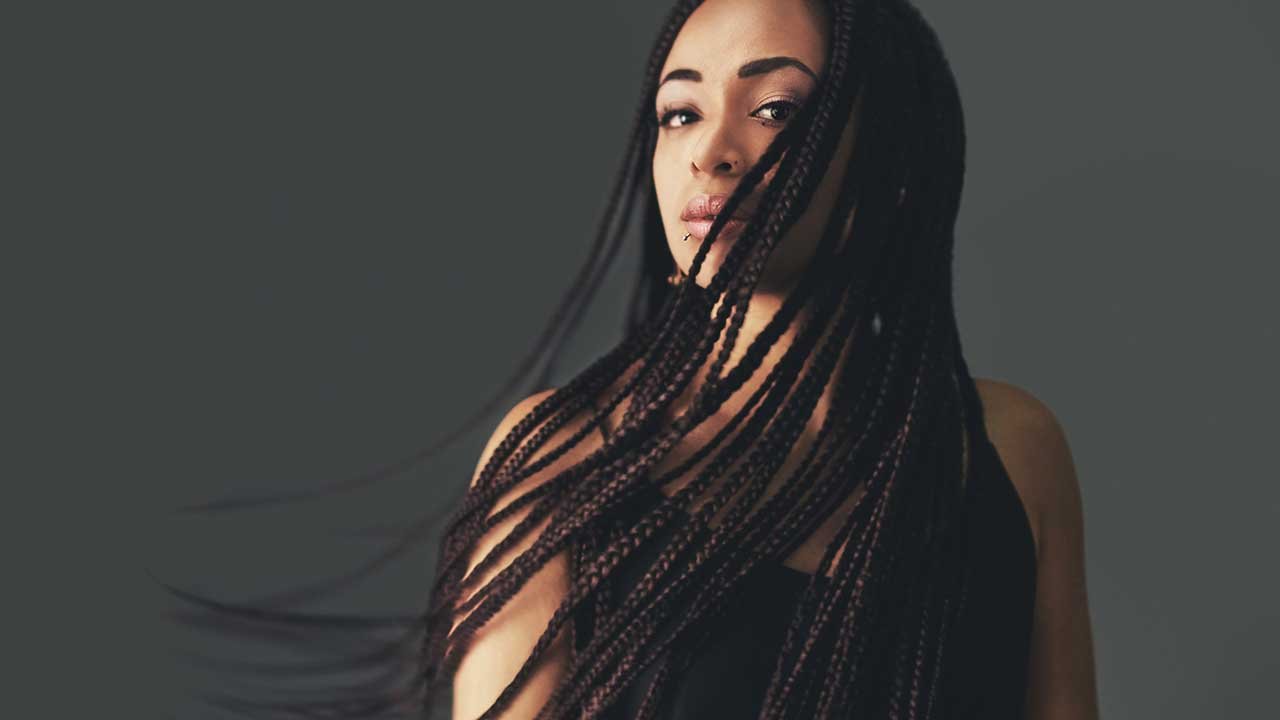 Braids of all shapes and sizes, from the zipper braid to the fishtail braid to waterfall braids, aren't just having a moment—they're officially here to stay, and we couldn't be happier about it. Because aside from being comfortable, easy to wear, and relatively easy to learn how to do, braids are a great way to elevate any look. There's also a seemingly endless amount of braid options to choose from, whether you have long hair, short hair, or anything in-between. Today we'd like to introduce you to one of our favorite braided hairstyles: box braids.
Per their name, box braids are characterized by square-shaped hair divisions (i.e. boxes) and while they're not at all a new hairstyle—women of color have been wearing them for centuries—they've experienced somewhat of a renaissance as of late, especially with celebrities often rocking them on the red carpet. Whether you've been wearing box braids for years and want to brush up on your technique or have only recently been inspired to bring a new element of your culture into your beauty routine, today, we're going to walk you through how to create box braids.
What you'll need:
L'Oréal Paris EverPure Moisture Shampoo
L'Oréal Paris EverPure Moisture Conditioner
Wide-tooth comb
L'Oréal Paris Advanced Hairstyle SLEEK IT Frizz Vanisher Cream
Claw clips
Small hair elastics
L'Oréal Paris Advanced Hairstyle LOCK IT Clean Style Gel
L'Oréal Paris Advanced Hairstyle SLEEK IT Iron Straight Hairspray
Get the look:
Step 1: Cleanse and Condition
Wash your hair—and don't skimp on the conditioner. Since box braids are typically a more permanent look, you'll want to keep your hair as hydrated as possible.
Step 2: Tame Your Mane
Detangle your wet hair using a wide-tooth comb. If you have hair with less texture, you can let your locks air dry. If your hair is super curly, you may want to blow dry your hair in order to make it easier to braid. Before blow-drying, remember to spritz on a heat protectant.
Step 3: Separate Hair into Sections
Next, divide your hair into four sections using your comb, making sure your locks are evenly distributed between each section.
Step 4: Minimize Frizz
Apply a bit of leave-in hair cream or hair serum to the lengths of your hair. A little bit of product can go a long way in keeping your strands protected, hydrated, and frizz-free. Using a claw clip, pin back three of the four sections you created earlier to keep them out of the way when you begin to braid.
Step 5: Braid
Using about a one-inch by one-inch piece of your first section, braid your hair and secure it at the top and at the bottom with a small elastic. You'll want to make sure that your part at the top of the one-inch section is a straight line. For bigger braids, use a two-inch piece instead. When braiding, keep things tight but not too tight—you don't want to damage the hair in any way. If you have naturally frizzy hair, you may want to also coat this smaller section with a bit of light-hold hair gel to keep things in place.
Step 6: Keep going!
We have a feeling you aren't looking for a style that only consists of a single box braid, so don't stop yet. Keep braiding until the entire section is complete with small box-shaped braids, then move on to section two, then three, and finally four. When you're finished, your entire head should be covered in dozens of box-braids! Yes, it's a long process, so don't forget to stock up on podcasts or TV shows that can keep you entertained.
HOW TO CARE FOR YOUR BOX BRAIDS
Because box braids can be kept in for up to two months, they require their own hair care plan—one that's likely different from what you're used to. Below, find our top tips for keeping your box braids looking fresh, clean, and gorgeous.
TIP #1: Sleep in a silk scarf
Before you go to bed each night, wrap your head full of beautiful braids in a silk scarf. This will help keep your braids smooth and can also help your hair retain moisture.
TIP #2: Keep it loose!
This tip is touched on above but it cannot be said enough: there's no need to make your box braids overly tight. If you do, it can cause you to develop damaged hair over time and even make your hairline recede. No thanks!
TIP #3: Trim split ends
Dry split ends don't have any spot in your new 'do. Your braids will look so much better with healthy tips, so trim away split ends before you braid.
TIP #4: Keep your braids—and your scalp—clean
Box braids are especially time-consuming to wash and they weigh extra-heavy on your head when they're wet. Not to mention, they do not dry quickly. Basically, keeping box braids clean is a bit of an undertaking. Still, you'll want to be consistent with washing to keep your style feeling (and looking) fresh.
Ready to try another braided hairstyle? We've got plenty of ideas! Read our articles How to Get a Braided Headband Hairstyle and How to Create a Skeleton Braid to learn more.
Discover more tips & tricks
Keep your skin happy
See all articles
Shop Featured Hair Care products
Discover More