hair color tutorials
How to Get Natural-Looking Strawberry Blonde Highlights
Spice up your color with a sweet addition.
January 19, 2022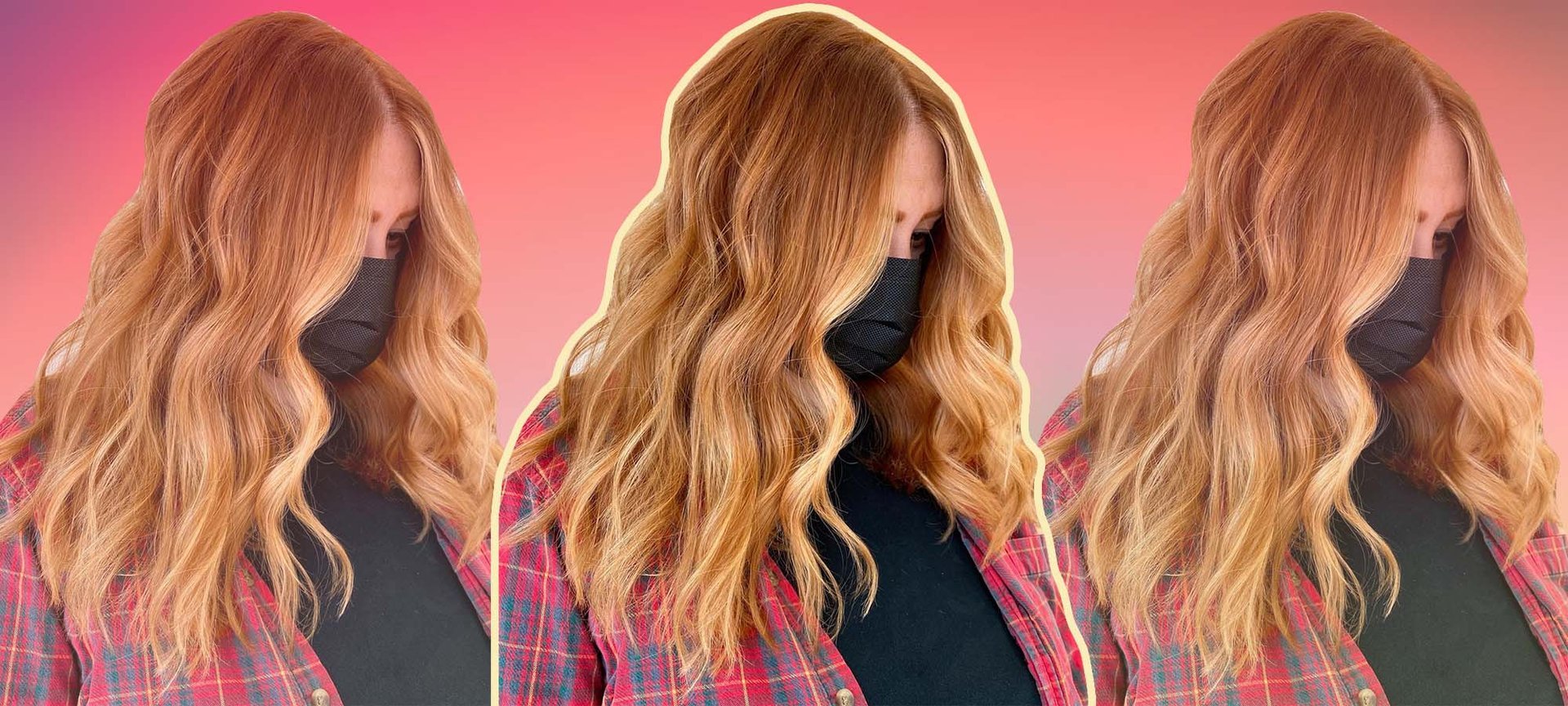 If you're enticed by the idea of transforming your hair into a strawberry blonde shade, but aren't ready to commit to a major hair color change, strawberry blonde highlights are a great alternative. And while you might think that highlights are pretty standard, there are several ways to achieve them so that your new strawberry blonde strands look gorgeous and natural. Below, we're sharing how to get strawberry blonde highlights to inspire your new hair.

What To Consider Before Getting Strawberry Blonde Highlights
Before making a color shift, it's important to take a couple of things into consideration to ensure you're happy with the end result.
1. What You're Looking For
Because hair highlighting is totally customizable, simply asking your colorist to give you strawberry blonde highlights is too vague. Consider the look you're after: do you want subtle highlights or something bold? Do you prefer a low-maintenance hair color option? Are you willing to get frequent touch-ups? These are all important factors to think about before transforming your color.

2. Your Base Color
Taking your base color into consideration is key when opting for highlights in general. When it comes to strawberry blonde highlights, you want to assess your base color and depth. For example, if you have deep, cool-toned brown hair, opting for light strawberry blonde highlights will make for a bold look. If you have warm blonde hair, the addition of strawberry blonde color will look more blended and subtle.
4 Ways To Get Strawberry Blonde Highlights
Once you have a clear picture of what you want, you'll have to work with your colorist to assess what technique will yield the best results. Below, we're sharing four different options.

1. Traditional Highlights
Done with bleach and foils, traditional highlights get really close to the roots to bring lightness to the entire length of your hair. And while you can certainly achieve stunning strawberry blonde highlights with this method, beware that you'll be in need of a root touch-up every few weeks as regrowth comes in.
If you've decided to DIY your strawberry blonde streaks, this may be the best route to take. Consult with the L'Oréal Paris Hair Color Concierge if you need expert tips and guidance, and grab the L'Oréal Paris Féria in Rose Gold to get the look at home.

2. Balayage
If you're looking for something that will appear natural and require little maintenance, balayage highlights is a solid option for you. With this highlighting technique, the lightener is freehand painted onto the hair without foils involved. Once the bleach lifts your natural color, your colorist will tone the highlighted pieces with a strawberry blonde color. The results will be flawlessly blended strawberry blonde strands.

3. Ombré
Ombré hair features a color gradient, and it's often done with balayage. Ombré is done using the balayage technique on most — if not all — of the strands to create a gradient. The hair color is darkest at the roots and fades lighter all the way down to the tips. If you want bolder highlights and an overall more impactful strawberry blonde color without fully committing a solid new color, this is the route for you.

4. Sombré
Sombré 一 short for soft ombré 一 is also done through balayage, but in a more muted fashion. Rather than opting for a highlight color with a significant contrast from the base color, sombré hair features understated highlights. If you prefer a more subtle gradation of color for your strawberry blonde highlights, give this highlighting technique a try.
Next: How To Do Balayage With A Subtle Money Piece

Written by: Alyssa Kaplan, Photo Credit: Lexie Haines, IG/@thestrawberryblonder
{ "@context": "https://schema.org/", "@type": "WebPage", "speakable": { "@type": "SpeakableSpecification", "cssSelector": ["speakable-content"] }, "url": "https://www.lorealparisusa.com/beauty-magazine/hair-color/hair-color-tutorials/how-to-get-strawberry-blonde-highlights" }
Discover more tips & tricks
Keep your skin happy
See all articles
Shop Featured Hair Care products
Discover More
{ "@context": "http://schema.org", "@type": "BreadcrumbList", "itemListElement": [ { "@type":"ListItem", "position": 1, "item": { "@id": "/", "name": "Home" } } , { "@type":"ListItem", "position": 2, "item": { "@id": "https://www.lorealparisusa.com/beauty-magazine", "name": "Beauty Magazine" } } , { "@type":"ListItem", "position": 3, "item": { "@id": "https://www.lorealparisusa.com/beauty-magazine/hair-color", "name": "Bold Ideas From Hair Color Pros" } } , { "@type":"ListItem", "position": 4, "item": { "@id": "https://www.lorealparisusa.com/beauty-magazine/hair-color/hair-color-tutorials", "name": "Hair Color Tutorials" } } , { "@type":"ListItem", "position": 5, "item": { "@id": "https://www.lorealparisusa.com/beauty-magazine/hair-color/hair-color-tutorials/how-to-get-strawberry-blonde-highlights", "name": "how-to-get-strawberry-blonde-highlights" } } ] }