hair color trends
How to Get A Smokey Gray Hair Color
November 13, 2017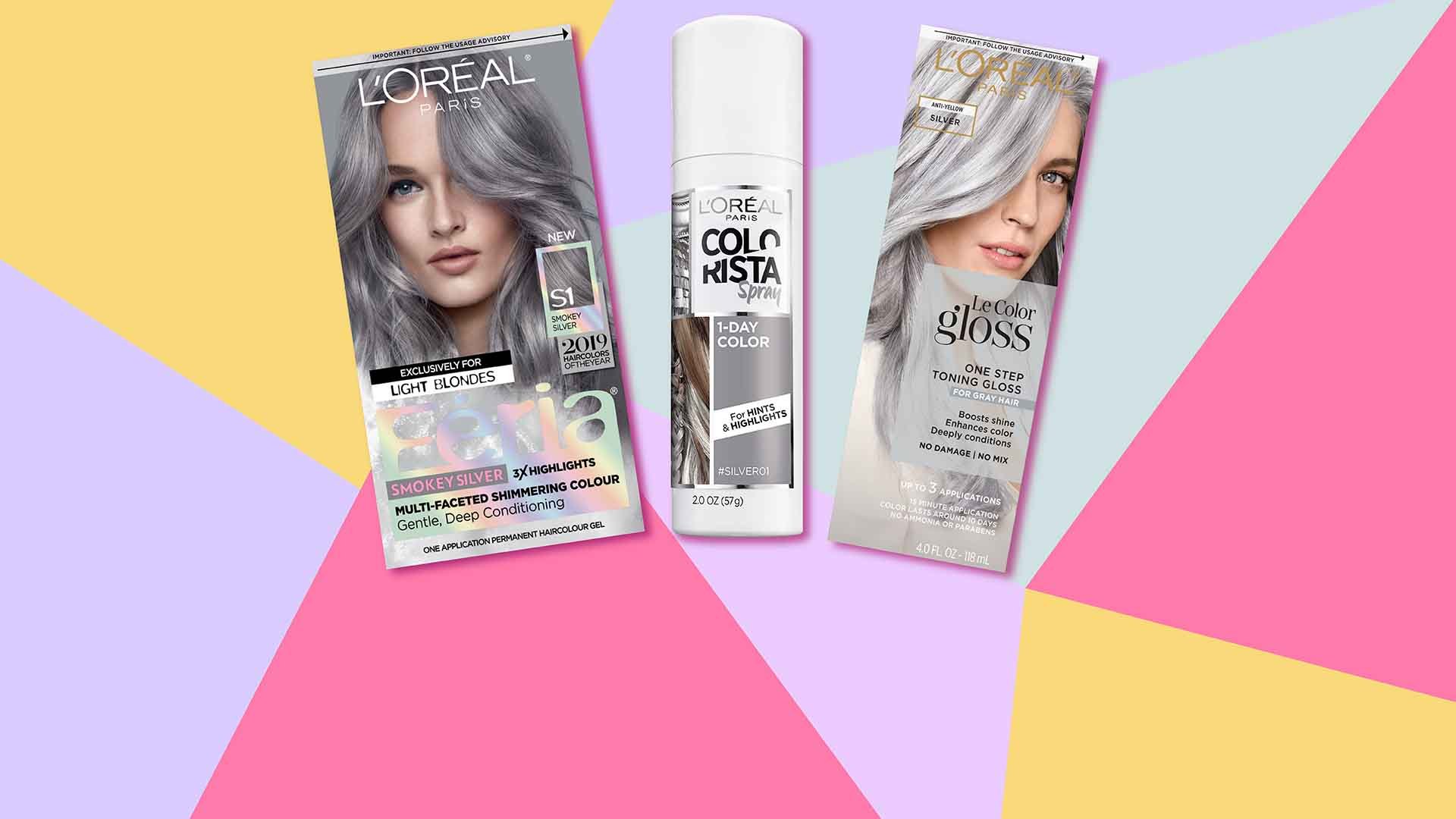 As the saying goes, "everything old is new again," and that certainly stands true when it comes to beauty trends. The dirty cool gray hair color that was just about everywhere in the '90s is back, now infused with shimmering silver and white tones. If you're looking to upgrade your naturally gray hair or interested in dyeing your mane in a silvery hue, you've come to the right place because we've got the scoop on how to dye your hair gray right at home, and the products you can add to your hair care routine to care for your gorgeous new shade.
What To Know Before Coloring Your Hair
Dyeing your hair gray will require the use of bleach to lighten your strands if your starting color is dark. The darker your base, the more sessions it will take to reach your desired shade. If you're looking to make a drastic color change—for example, you want to go from black hair to silvery gray, we recommend booking an appointment at the salon. For those looking to get a gray color at home, DIY with the help of a few hair dye kits or hair color sprays. Be sure to check out some online tutorials before applying any dye to get a sense of what's to come.
How To Get A Smokey Gray Hair Color At Home
Getting a cool smokey gray hue and maintaining it is as easy as following these three simple steps below.
1. Pick Your Hair Color
Hair dye used to be popular for covering gray hair, but now it's also used to embrace the color. Whether you're naturally gray or looking to go temporarily silver, our hair color products can help you achieve a flawless-looking hue. Reach for the L'Oréal Paris Feria Multi-Faceted Shimmering Permanent Hair Color in Smokey Silver. This hair dye works to seal and smooth the strands while enhancing it with shimmering color and highlights. For a temporary option, grab the L'Oréal Paris Colorista Hair Makeup Temporary 1-Day Hair Color Spray in Silver. Since it washes out after one shampoo, there is no need to worry about harming your strands or committing to this color.
2. Apply The Hair Dye
Once you've chosen your hair color product, it's time to get to work! Make sure to follow the instructions included with the packaging of your at-home hair color kit to get the best results.
We recommend keeping an extra box of hair dye so that you can touch up your roots when needed. If you're using the Colorista Hair Makeup Temporary 1-Day Hair Color Spray, start by spraying the product directly onto your roots, mid-lengths, and ends. You can also customize it however you want and go for an ombre effect by leaving your roots natural and fading the color into the mid-lengths.
3. Take Care Of Your New Hue
After turning your mane smokey gray, it's time to move on to your hair care routine. Reach for color-safe products, like the L'Oréal Paris Elvive Color Vibrancy Protecting Shampoo and the L'Oréal Paris Elvive Color Vibrancy Protecting Conditioner. This system will work to seal in hair color for up to sixty days and it's formulated with antioxidants to keep your strands healthy. We also recommend using a hair mask like the L'Oréal Paris Elvive Total Repair 5 Power Restore Multi Use Treatment in place of the conditioner once or twice a week. You can use it as a rinse-out mask in the shower, or as a co-wash to repair current issues and protect against future damage.
And to prevent your color from getting dull, use the L'Oréal Paris Le Color Gloss One Step In-Shower Toning Gloss in Silver to refresh your hair color and give it a glossy finish (like you just left the salon). Formulated with coconut oil, this gloss will leave your hair nourished and feeling soft after one 15 minute in-shower application.
Photo Credit: Sarah Duvivier
Discover more tips & tricks
Keep your skin happy
See all articles
Shop Featured products
Discover More