hair color tutorials
How to Dye Dark Hair Without Using Bleach
No bleach? No problem!
February 28, 2022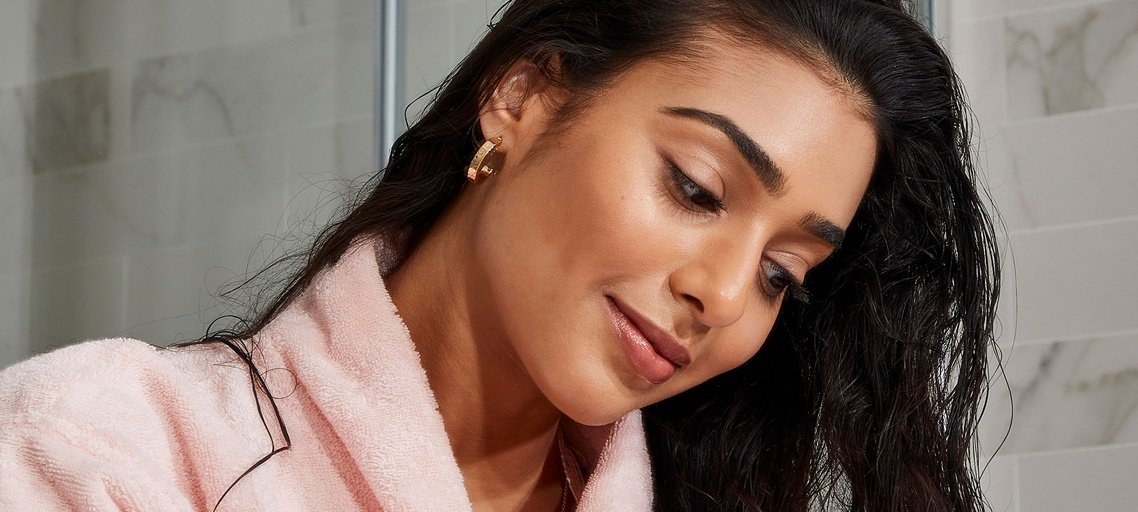 When you have dark hair, sometimes you might feel as though your light-haired friends get to have all the hair color fun. Having to use bleach to lighten your strands before you can achieve your desired hair color can be a drag, not to mention damaging.
If you thought there was no way to get your desired color without bleaching your mane first, think again. We've got you covered! Yup, if you're looking for hair dye for dark hair that works without bleach, we'd like to introduce you to a few holy grail hair coloring products. Read on for our bleach-less hair dye picks.
How To Use Temporary Hair Dye For Dark Hair Without Bleach
The first option for coloring dark hair without bleach is to use temporary hair color that's made to work with a dark base color. These hair dyes are specifically formulated to be vibrant and true without having to lighten your dark strands prior. They're also super convenient for experimenting since they wash out.
If you love to switch it up and want some bold, fun hues, opt for a spray formula, like the L'Oréal Paris Colorista Hair Makeup Temporary 1-Day Hair Color Spray. The temporary hair color spray allows you to instantly create bold looks without the commitment since it washes out in just one shampoo. Each shade is formulated to allow for vivid color on all hair types — no bleach required.
Just shake the can well before each use. Hold it four to six inches from dry hair and spray. Wait a few minutes for the color to dry completely.
Editor's tip: Don't spray too much at once! The color becomes more visible as it dries. Go slowly and build the color until you reach your desired shade.
How To Use Semi-Permanent Hair Dye For Dark Hair Without Bleach
Perhaps you would like your hair dye for dark hair to last longer than one shampoo — but you still don't want to commit to a permanent hair change. Enter semi-permanent hair color: The L'Oréal Paris Colorista Semi-Permanent Hair Color line features four shades specifically formulated for dark hair colors. The semi-permanent hair dye is also ammonia-free and lasts through four to eight shampoos — the perfect amount of time to test drive a fun hair hue.
Choose the sections of your hair you want to color to customize your look and apply according to the included instructions. Set your timer and wait 15 to 30 minutes, then rinse and style as usual.
How To Use Permanent Hair Dye For Dark Hair Without Bleach
If you want your hair color change to stand the test of time, then it's all about looking for shades that will show up on top of your dark strands. As a general rule of thumb, it's best to go for colors that are darker than your starting shade, or at least stay in the same family.
Need some recommendations? Here are a few of our favorite permanent hair dyes for dark hair that won't require breaking out the bleach. Make sure to follow the application instructions that come with whichever dye you choose since they may be different depending on the dye.
For edgy black strands with a high-shine finish, try the L'Oréal Paris Superior Preference Fade-Defying Shine Permanent Hair Color in Ultimate Black or Black Sapphire.
For a rich brown color that's as head-turning as it is fade-defiant, try the L'Oréal Paris Excellence Créme Permanent Triple Protection Hair Color in Dark Ash Brown or Dark Chocolate Brown.
For a statement red or dark strands with a crimson tint, try the L'Oréal Paris Féria Multi-Faceted Shimmering Color in Deep Burgundy or Auburn Brown.
For an on-trend pop of vibrant color that will transform your 'do without ravaging your strands' health, go purple with the L'Oréal Paris Féria Midnight Bold Multi-Faceted Permanent Hair Color in Violet Eclipse. Alternatively, you can dye your dark tresses blue with the L'Oréal Paris Féria Midnight Bold Multi-Faceted Permanent Hair Color in Cosmic Azure.
And don't forget to use the L'Oréal Paris Hair Color Concierge if you need guidance. With this online tool, you can consult with live experts and professional colorists before, during and after your hair color process. You can even schedule a one-on-one video chat with a pro to help you dye your brunette hair with peace of mind.
How To Maintain Newly Dyed Dark Tresses
After dyeing your mane, perk up your color right at home using a hair care system formulated to treat color-treated hair. When washing your hair, reach for the L'Oréal Paris EverPure Sulfate-Free Simply Clean Shampoo and the L'Oréal Paris EverPure Sulfate-Free Simply Clean Conditioner. This pairing is free of harsh chemicals and formulated with non-stripping ingredients that deliver beautiful-looking and vibrant hair.
On days when your colored strands are feeling extra parched and could use a little more love, use the L'Oréal Paris EverPure Sulfate-Free Signature Masque. Made with vegan protein and rose extract, this hair mask helps enhance shine and nourish color-treated hair while providing intense hydration.
And finally, to help preserve your hair color, use the L'Oréal Paris Le Color Gloss One Step In-Shower Toning Gloss once a week. In one 15-minute session, you can enhance your hair tone, boost your color and deep condition your strands. Talk about a hair care multitasker!
Next: 10 Gorgeous Highlight Ideas for Dark Brown Hair
Edited by: Sophie Dweck and Shalwah Evans; Photo Credit: Matthew Kelly
Discover more tips & tricks
Keep your skin happy
See all articles
Shop Featured Hair Color products
Discover More