hair color tutorials
How To Use Permanent Hair Dye For Long Lasting Color
If you're ready for commitment, read on.
December 18, 2019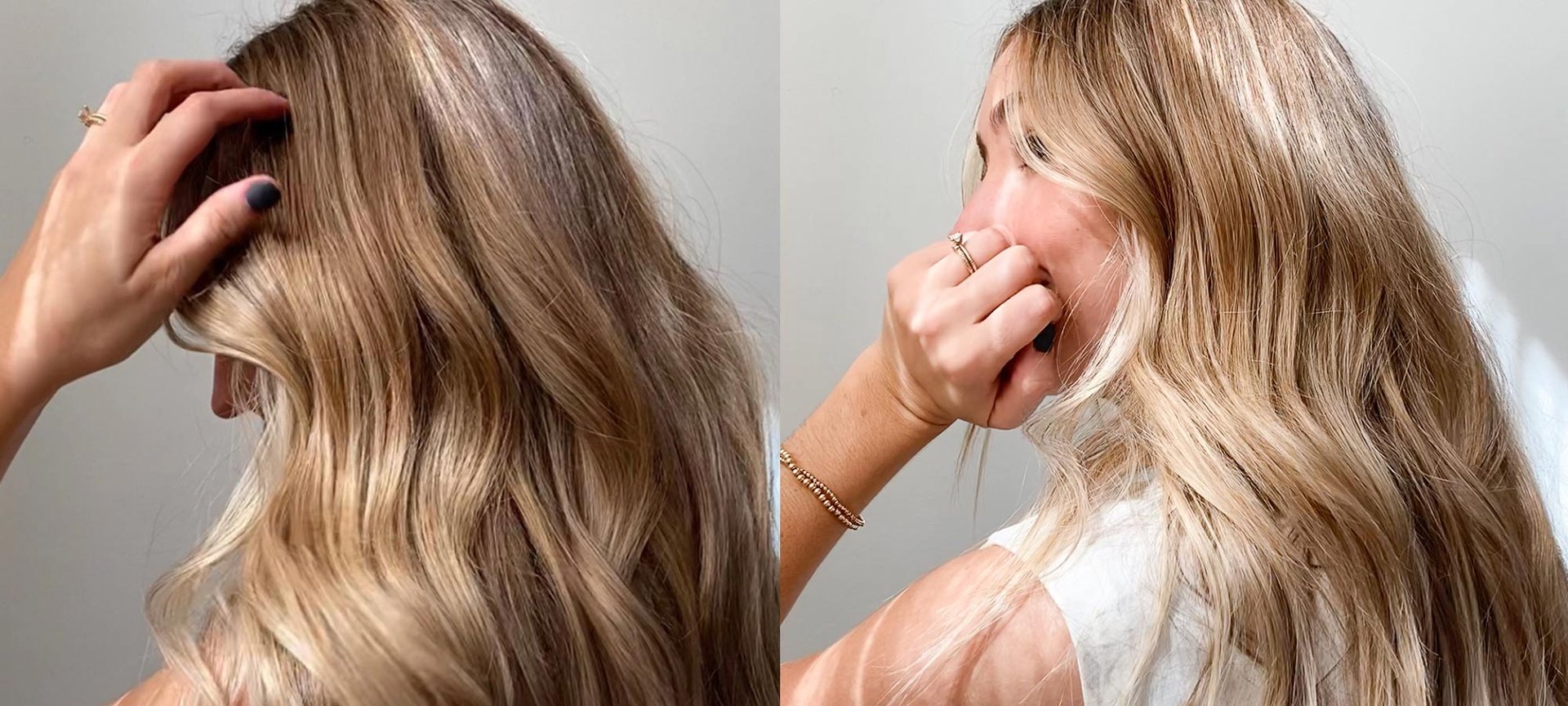 Sometimes, a hair makeover is the perfect pick-me-up when you're feeling uninspired or simply want a change. Opting for a new hair color is a great way to switch it up! And while there's nothing quite like heading to the salon to freshen up your mane, it's not always in the cards (which we learned in 2020 if nothing else). Luckily, with the help of at-home, permanent hair dye, you can try out new hair colors without leaving the house or breaking the bank.
If you've never DIYed your hair color before, using permanent hair color can be intimidating. After all, it's not like you can wash the color out in just one shampoo like the temporary alternative. But permanent hair dye has its perks, especially if you're set on a specific shade or want to color some unsightly grays. All it takes is the right prep and a little know-how to master using permanent hair color. Below, we're sharing how you can use permanent hair dye to get a long-lasting color—all from the comfort of home.
Choose The Right Shade
Before you go in with permanent hair dye, make sure you're choosing a shade that you'll be happy with—once it's applied, it's hard to turn back. If you're unsure which color would suit you best, check out the L'Oréal Paris Haircolor Concierge where you can consult with a color specialist who can give you personalized recommendations. And if you're more visual and want to see what the color would look like before committing, try out the L'Oréal Paris Hair Color Genius virtual try-on tool where you can upload a photo of yourself or use the live try-on feature to see how the color will look on you.
Our Best Permanent Hair Dyes
Once you've chosen your color, it's time to pick the right dye. Before we share how to use permanent hair color on your own, allow us to briefly introduce you to a few of our best at-home permanent hair dyes.
L'Oréal Paris Superior Preference Fade-Defying Shine Permanent Hair Color: This permanent hair dye delivers super shiny, luminous and long-lasting color that's fade-defying for up to eight weeks.
L'Oréal Paris Féria: If you want a permanent color with some depth and dimension, this pick is for you. This permanent hair color will give your mane three times the highlights, delivering intensified, brilliant results.
L'Oréal Paris Excellence Créme Permanent Triple Protection Hair Color: If you're looking to switch up your color while also covering grays, let this hair dye be your new go-to. This permanent formula is designed with an exclusive triple protection system that deeply cares for your hair with 100% gray hair coverage—even on stubborn grays.
How To Use Permanent Hair Dye
Now that you've chosen your color and your dye, here are some tips on how to use permanent hair dye at home.
Step #1: Protect Your Skin
You may want to dye your hair, but we'd bet you'd rather not color your skin (or clothing) in the process. To avoid staining your forehead, cheeks, and neck, apply a thick layer of petroleum jelly to any areas that may come into contact with your hair or the dye. This will serve as a protective barrier that can easily be wiped off when you're done coloring your strands. Also be sure to wear clothing that you don't mind getting messy.
Step #2: Section Your Hair
Next, section your mane. Split your hair into smaller, more manageable sections. How many sections will depend on how thick your hair is. Start with just one section hanging free and use a claw clip to secure the rest of your hair out of the way.
Step #3: Mix Your Color
Follow the instructions included with your permanent hair color kit to mix your hair dye. This is also a good time to put on a pair of rubber gloves to protect your hands.
Step #4: Apply Your Hair Dye
You'll want to apply your hair dye to dry hair. Apply the color as instructed, working section by section. Make sure your hair is saturated and that you aren't missing any spots.
Step #5: Wait and Rinse
Once your strands are fully coated, wait the allotted time for your hair color to develop (set a timer so that you're not guessing). When time is up, rinse your hair until the water runs clear. You don't need to wash with shampoo unless the hair dye you're using instructs you to—most will tell you to wait. You should, however, follow with a conditioner, something at-home color kits often come with.
Editor's Tip: Once you've completed your hair makeover, be sure to use shampoo and conditioner that are formulated for color-treated hair like the L'Oréal Paris Elvive Color Vibrancy Protecting Shampoo and the L'Oréal Paris Elvive Color Vibrancy Protecting Conditioner which are formulated with UV filters to protect your color from fading.
Next: How Long Are You Supposed to Leave Bleach On Your Hair?
Photo Courtesy of L'Oréal Paris
{ "@context": "https://schema.org/", "@type": "WebPage", "speakable": { "@type": "SpeakableSpecification", "cssSelector": ["speakable-content"] }, "url": "https://www.lorealparisusa.com/beauty-magazine/hair-color/hair-color-tutorials/permanent-hair-dye" }
Discover more tips & tricks
Keep your skin happy
See all articles
Shop Featured Hair Color products
Discover More
{ "@context": "http://schema.org", "@type": "BreadcrumbList", "itemListElement": [ { "@type":"ListItem", "position": 1, "item": { "@id": "/", "name": "Home" } } , { "@type":"ListItem", "position": 2, "item": { "@id": "https://www.lorealparisusa.com/beauty-magazine", "name": "Beauty Magazine" } } , { "@type":"ListItem", "position": 3, "item": { "@id": "https://www.lorealparisusa.com/beauty-magazine/hair-color", "name": "Bold Ideas From Hair Color Pros" } } , { "@type":"ListItem", "position": 4, "item": { "@id": "https://www.lorealparisusa.com/beauty-magazine/hair-color/hair-color-tutorials", "name": "Hair Color Tutorials" } } , { "@type":"ListItem", "position": 5, "item": { "@id": "https://www.lorealparisusa.com/beauty-magazine/hair-color/hair-color-tutorials/permanent-hair-dye", "name": "permanent-hair-dye" } } ] }