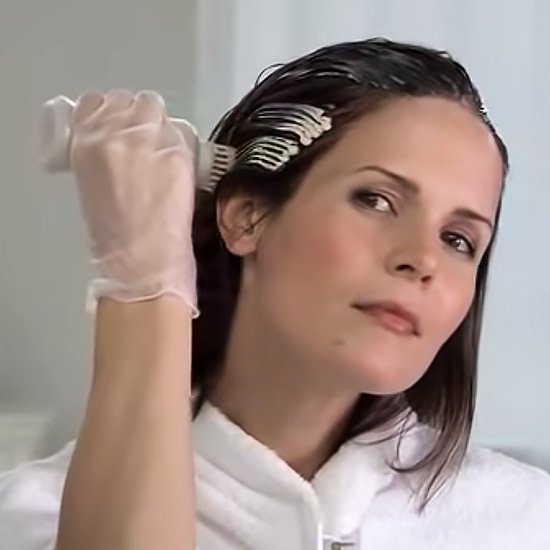 hair color application
Excellence Creme Tutorial: Watch the Video
Forget about heading to the salon: With the L'Oréal Paris Excellence Creme, it's time to make an appointment with your bathroom sink. One box comes equipped with all the essentials you'll need to switch up your hair color. Worried you won't be able to cover your grays with the aid of a box dye? Think again. Keep reading to learn exactly how to use Excellence Creme.
How to Color Your Hair with Excellence Creme
Excited to try a new hair color? Watch the video above, then read our step-by-step instructions below for more details on using Excellence Creme.
Step 1: Mix your color. Put on your gloves to start. Once your hands are protected, break off the tip of the developer creme, remove the applicator cap, and pierce the opening of the color creme tube using the top. Squeeze the entire tube of color into the developer creme bottle and put the cap back on. Once the cap is firmly secured, place a gloved finger over the cap and shake until everything is perfectly blended together.
Step 2: Protect your clothes. Before applying any hair color, it's a good idea to drape an old towel that you don't mind getting stained over your shoulders to protect your clothes.
Step 3: Detangle your hair. There's one more step before hair color application. Once all little knots and tangles are set free, you're ready to begin using Excellence Creme.
Step 4: Prep your hair with pre-color serum. Before color comes the pre-color hair serum. While it may seem unnecessary, there's a reason why this product is included in your little kit. The formula can help protect fragile ends and ensure an even application. All you have to do is massage the serum into your ends, wait two minutes, and move on to the next step without rinsing.
Step 5: Begin applying color. Use the tip of your dye bottle to make quarter inch partings from your hairline back towards the crown of your head. Apply the formula to your roots and use a gloved hand to massage it in for full coverage. If your hands don't seem to be working as well as you'd like, you can also use the included comb for easier application. The key is to make sure that your roots are fully saturated before working your way down toward the ends of your hair.
Step 6: Let your hair color process. Once your roots are fully covered, let the creme sit on your hair for 20 minutes. If you have resistant grays, you can allow the mixture to stay on your hair for an additional 10 minutes. After 10-20 minutes, apply the rest of the color to your hair to refresh your overall hair color and add shine. When your hair is completely covered, pull it away from your face and allow color to develop for 10 minutes. Your total developing time should be 30-40 minutes.
Step 7: Rinse and style with care. When the time is up, rinse hair with lukewarm water until the water runs clear. Then apply the protective conditioning treatment. It will help keep your color looking and feeling radiant, soft, and silky. Leave the conditioner on for 1-2 minutes before rinsing. Now you're ready to show it off! Make sure to keep a box of Excellence Creme on hand so that you're ready for touchups.
For more hair color tips, read How to Prep for an At-Home Hair Color Session.
Discover more tips & tricks
Keep your skin happy
See all articles
Shop Featured Hair Color products
Discover More