hair color tutorials
How To Use Excellence Creme Permanent Hair Color
Fresh hair color right at home.
September 11, 2017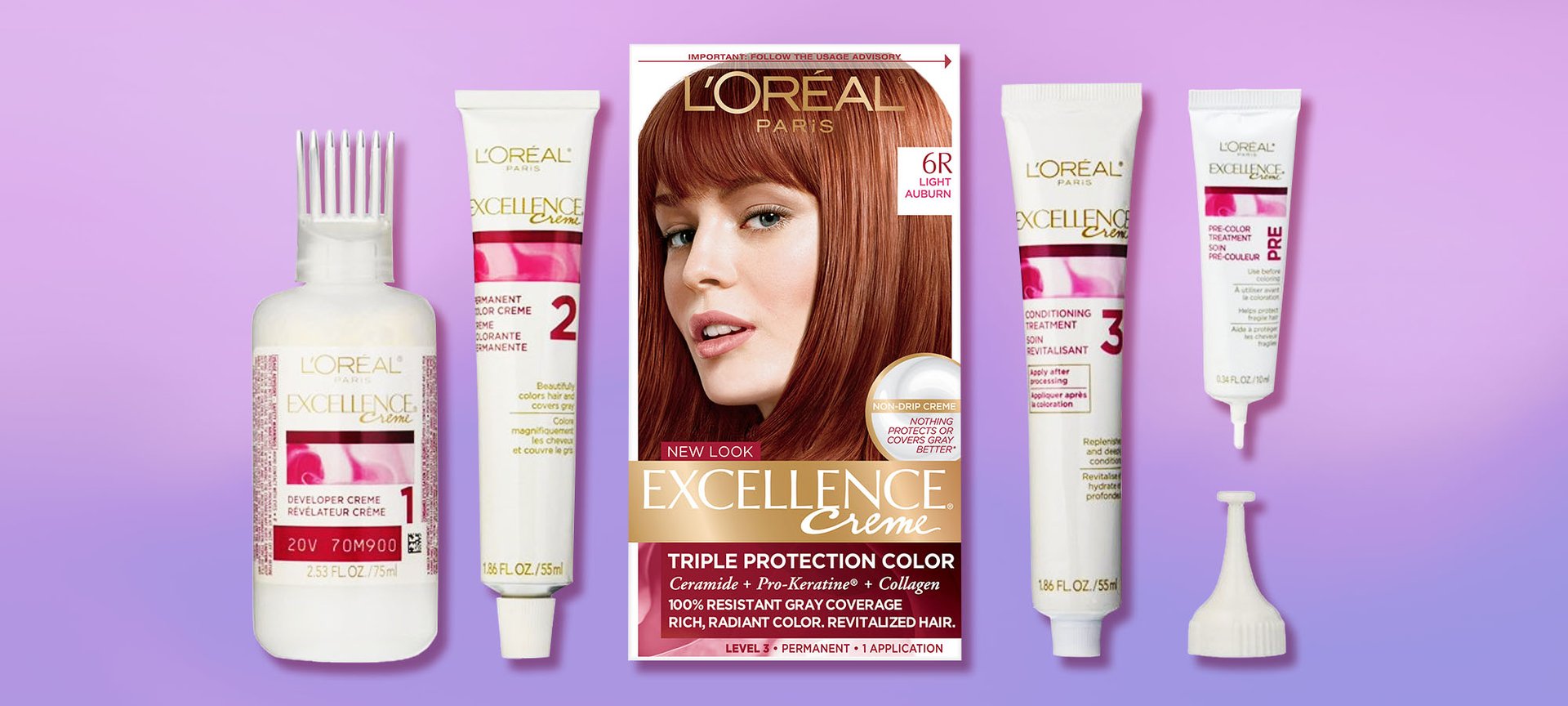 If you're looking to change your hair color for the holiday season, but you're not keen on trekking to the salon, you can still get a gorgeous new hair color without the salon expense and time commitment. Dyeing your own hair at home can seem daunting, but it doesn't have to be. If you follow a few simple steps, it can be surprisingly easy and the results can be beautiful. We're sharing a step-by-step guide on how to use the L'Oréal Paris Excellence Creme Permanent Triple Protection Hair Color, below. Here's to a fresh new hue from the comfort of your home.
What Is Excellence Creme?
The L'Oréal Paris Excellence Creme Permanent Triple Protection Hair Color is a permanent hair dye which comes in various shades of blonde, brown, red and black, giving you plenty of options for a DIY hair color. It's a great option if you have gray hair that you're looking to cover as it provides 100 percent gray hair coverage.

How To Use Excellence Creme Hair Color
Once you've made your shade selection, it's time to start coloring. Below, we're breaking down exactly how to use it to get the best results.
Editor's Tip: If you want help selecting a shade that will flatter you best, consult with the L'Oréal Paris At-Home Hair Color Concierge where you can chat with a live expert who can provide personalized hair color recommendations.

Step 1. Prep
Before coloring your hair, protect your clothes by wrapping a towel around your neck and shoulders. Brush your hair to ensure it's tangle-free, allowing an easier application of the color. Next, apply the conditioning treatment included in the at-home hair coloring kit to your hairline and the back of your neck to prevent the hair color from temporarily staining your skin. Lastly, part your hair into as many sections as necessary to effectively cover your hair when applying the color.

Step 2. Mix Your Color
Be sure to put on the gloves included in the kit before mixing your color. Once your gloves are on, open the developer creme (bottle labeled 1) and set aside. Then, remove the cap from the color creme (tube labeled 2), discard the pink ring at the opening of the tube, fully re-screw the white cap which will break the internal seal, and twist the cap off. Next, squeeze the contents of the tube (labeled 2) into the developer (bottle 1). Put the cap on the developer bottle 一 keeping your finger on the open tip 一 and shake the bottle to mix the color and the developer. Keep shaking the bottle until you can't see any swirls in the mixture.

Step 3. Apply The Color
Once the mixing is complete, immediately apply the color to your hair. Use the applicator tip to generously apply the color at your roots and spread it with your fingers. Use the bottle tip to separate small sections of hair to help you ensure you're evenly coating your strands. Continue applying the color section by section until your scalp is saturated before moving on to your lengths. Once the scalp is coated, move on to your mid lengths and ends 一 spreading the hair color generously with your fingers.

Step 4. Let The Color Process
Once you've evenly coated your hair in the hair color, set a timer for 30 minutes to let the color process.

Step 5. Rinse The Color
After 30 minutes, add water to your hair to emulsify into a lather. Then rinse your hair until the water runs clear.

Step 6. Condition Your Hair
Finally, apply the conditioner treatment included in the kit (tube labeled 3) and leave it in your hair for two minutes. Rinse the conditioner with cool water, dry your hair and style as usual. You'll be left with shiny, vivid hair color.
Editor's Tip: Remember that once you've colored your hair, it's important to use color-safe hair shampoo and conditioner like the L'Oréal Paris EverPure Sulfate-Free Bond Strengthening Color Care Shampoo and the L'Oréal Paris EverPure Sulfate-Free Bond Strengthening Color Care Conditioner. This duo won't fade your hair color, and it works to repair weak hair bonds which can be a result of bleaching and coloring.
Next: Is It Okay To Dye Your Hair While It's Wet?

Written by: Alyssa Kaplan, Photo Design: Sarah Duvivier
Discover more tips & tricks
Keep your skin happy
See all articles
Shop Featured Hair Color products
Discover More