thin hair
12 Hair Hacks to Make Thin Hair Look Thicker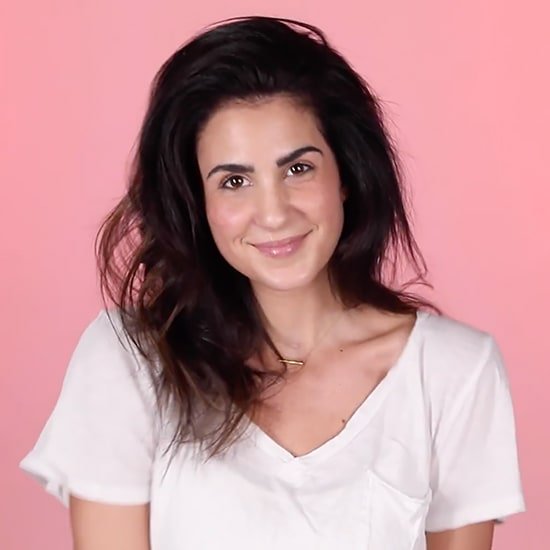 Having hair that looks thick and luscious is basically the ultimate hair goal, right? There's just something glamorous about a voluminous-looking mane. But if your hair is on the thin side, then you may feel like this texture isn't achievable for you. The good news is, there are a few hair hacks you can try to help temporarily make thin hair appear thicker—and these hacks don't require much effort, making them easy to add to your hair care routine. Below, find 12 hair hacks to help make your thin hair look thicker.
THIN HAIR HACK #1: CHOP YOUR LOCKS
One of the easiest ways to help create the illusion of thicker-looking hair is to chop off a few inches. Trimming your hair gets rid of length that could be weighing your hair down (the opposite of what you want if you're looking for a more voluminous 'do). As far as styling your hair, consider telling your stylist to add layers to your mane, as these can help create a more voluminous look. Your stylist can help you decide on the cut that will be most flattering to your features.
THIN HAIR HACK #2: CHANGE YOUR PART
A deep side part could be all that you need to help make your thin mane look a little more voluminous. Plus, it's super elegant. While middle parts have their time and place, a deep side part can help add volume—and it's totally on-trend. Just flip your hair over to one side, and you're good to go!
THIN HAIR HACK #3: USE A SYSTEM OF VOLUMIZING SHAMPOO AND CONDITIONER
When transforming thin hair to thick hair, it all starts with the products you use to wash your hair. Reach for a system of volumizing shampoo and conditioner, like the L'Oréal Paris EverPure Volume Shampoo and the L'Oréal Paris EverPure Volume Conditioner. The EverPure system helps weak and thin hair look thicker while caring for the scalp. You can also try the L'Oréal Paris EverStrong Thickening Shampoo and L'Oréal Paris EverStrong Thickening Conditioner.
THIN HAIR HACK #4: BLOW-DRY YOUR HAIR WITH A VOLUMIZING STYLING PRODUCT
Ready to fake the look of voluminous hair? It's time to stock your vanity with mousse—and upgrade your blow-drying technique. To start your at-home blowout, apply the L'Oréal Paris Advanced Hairstyle BOOST IT Volume Inject Mousse evenly throughout damp hair. This lightweight mousse can help provide a long-lasting, bouncy, and voluminous look. Bonus: This mousse also provides heat protection and an extra strong hold. Once you've applied the mousse, pick up a round brush and your blow-dryer and get to work. Start with the front and sides of your hair. Dry your hair section by section and finish up by working your way toward the back of your head for a thick-looking mane.
THIN HAIR HACK #5: AIR DRY YOUR HAIR
You can help enhance your hair's natural texture—without the use of heat tools. All you really need is a wave spray! After hopping out of the shower, spritz the L'Oréal Paris Advanced Hairstyle AIR DRY IT Wave Swept Spray evenly through damp hair, braid, and allow your hair to air dry. When your hair is dry, remove your braid to reveal effortless, loose waves that will help create the appearance of thicker hair.
THIN HAIR HACK #6: CONSIDER GETTING HAIR EXTENSIONS
Want to help make your thin hair look fuller? Hair extensions could be a good option for you. Whether you opt for clip-in extensions, tape extensions, or beaded extensions, they can help add the look of volume and fullness to your mane.
THIN HAIR HACK #7: USE A THICKENING POMADE
As you've probably figured out by now, your hair styling products can make all the difference in transforming your thin mane. Consider applying a thickening hair pomade, like the L'Oréal Paris Studio Line Thickening Medium Hold Cream Paste, throughout your hair to get messy, piecey, thicker-looking locks.
THIN HAIR HACK #8: USE DRY SHAMPOO ON YOUR ROOTS
Not only does dry shampoo help refresh your locks, but it can also help add some volume to thin hair. To try this hack: Grab the L'Oréal Paris Elvive Extraordinary Clay Dry Shampoo and spray directly onto your roots along a few different part lines, making sure to hold the can six to eight inches away from your head. Brush through to make sure the dry shampoo is evenly distributed, and you're all set!
THIN HAIR HACK #9: DOUBLE UP YOUR PONY
In the past, you may have avoided putting your thin hair into a ponytail for fear of emphasizing its lack of volume—but no more! Create a double ponytail to fake the look of thicker, volumized hair. Here's how:
STEP #1: SECTION YOUR HAIR
Start by parting your hair into a top and bottom section and make sure to keep them even in size. Clip your top section atop your head to get it out of the way.
STEP #2: CREATE YOUR FIRST PONYTAIL
Put your bottom section of hair into a ponytail and secure it with a clear elastic.
STEP #3: CREATE YOUR SECOND PONYTAIL
Pull your top section of hair into a ponytail above your first ponytail. Secure with a clear elastic.
STEP #4: BLEND YOUR PONYTAILS
To fake the appearance of one large ponytail, take a small section of hair from your bottom ponytail and wrap it around the base of both of your ponytails. Secure into place with bobby pins.
THIN HAIR HACK #10: BACKCOMB AWAY
Backcombing, or teasing, is one of the most popular ways to add instant volume to your mane. This technique is especially effective for adding a boost of volume to your roots. Learn all about how to do it in our article, How to Backcomb and Tease Your Hair.
THIN HAIR HACK #11: PANCAKE IT
Decided to braid your thin hair? Braids are undeniably stunning—but less so when they're thin and lacking volume. To create the appearance of a thicker braid, use the "pancaking" technique. Gently tug at the sides of your braid to do so. Hello, volume!
THIN HAIR HACK #12: ROCK A SOCK BUN
Think you don't have enough hair to put into a bun? Think again! A sock bun can help create the appearance of a thicker, more voluminous bun—even if you have thin hair! Check out our article, How to Create a Sock Bun, the next time you want to rock an updo.
Once you've mastered these hair hacks, check out The Hair Care Guide for Thin Hair.
Discover more tips & tricks
Keep your skin happy
See all articles
Shop Featured Hair Care products
Discover More