damaged hair
How To Care For High Porosity Hair
February 17, 2021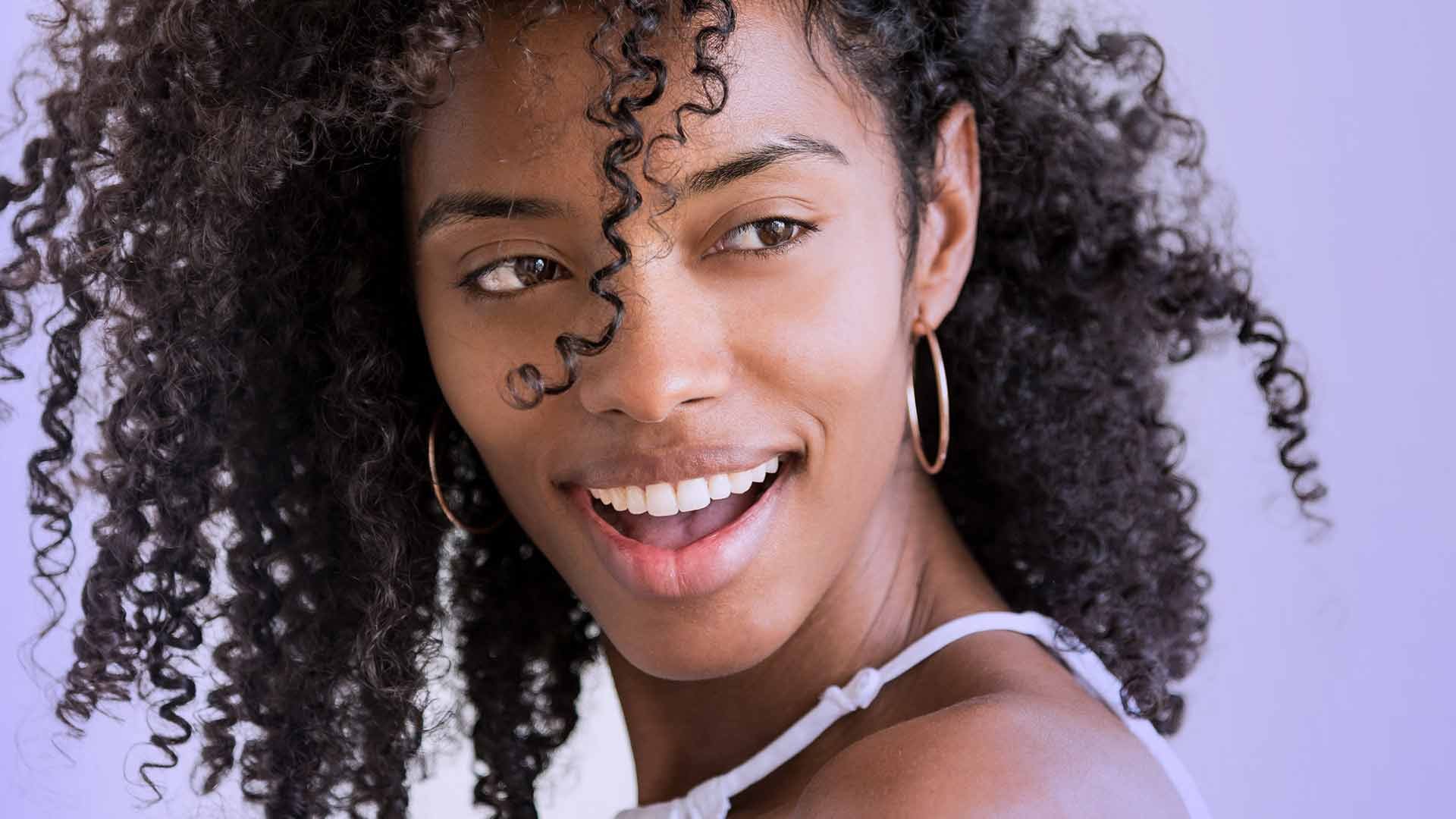 If you have natural hair, you're likely quite familiar with the term hair porosity and what it means. Since maintaining moisture is a top priority for textured strands, it's important to know where your hair stands on the porosity scale. And if you have high porosity hair you're probably finding it nearly impossible to retain moisture in your curls. No matter how diligent you are with a moisturizing hair care routine, it seems as if your strands lose moisture just as quickly as it's absorbed. That's because your hair's porosity plays a huge role in how you keep your tresses hydrated, and high porosity hair has unique needs in this area. Keep reading to learn everything you need to know about managing high porosity hair, plus the right products to give your high porosity hair the TLC it deserves.
WHAT IS HIGH POROSITY HAIR?
Simply put, high porosity hair can easily absorb moisture or water but is unable to hold onto it. The cuticle layer of the hair remains open in high porosity hair, so that moisture leaves as easily as it enters. It's the opposite of low porosity hair, which has a closed cuticle, repelling water and moisture and preventing them from ever entering the hair shaft. Both hair types often look and feel dry to the touch and high porosity hair can also sport a frizzy appearance. While there's no such thing as bad hair porosity, dry hair is more prone to breakage. So no matter your hair type, you want to use the right hair products to keep your strands hydrated and healthy. High porosity hair is no exception, so adopt these hair care tips to ensure that your mane stays moisturized.
HOW TO CARE FOR HIGH POROSITY HAIR
HIGH POROSITY HAIR TIP #1: TRY A MOISTURIZING WASH DAY ROUTINE
When it comes to caring for high porosity hair, your first line of defense should always be using a moisturizing shampoo and conditioner. Your top priority is to boost your strands with moisture, and you'll want to start things off on the right note. Try the L'Oréal Paris EverPure Moisture Shampoo and L'Oréal Paris EverPure Moisture Conditioner, which is a sulfate-free hair care duo that works to gently cleanse and deeply replenish hair with hydration.
HIGH POROSITY HAIR TIP #2: LAYER YOUR MANE WITH MOISTURE
One of the easiest ways to provide high porosity hair with long-lasting moisture is the LOC method: liquid (or leave-in conditioner), oil, and cream. This natural hair technique consists of combining water or a water-based product, hair oil, and a hair cream to help your curls retain moisture.
When it comes to a leave-in conditioner, you don't want to use a heavy formula that can weigh your strands down. We recommend the L'Oréal Paris Elvive Dream Lengths Super Curls Cream Leave-In to deeply nourish your hair and deliver soft, defined curls daily. Massage into damp hair from the roots to the ends. Swap it out for the L'Oréal Paris Elvive Total Repair 5 Protein Recharge Treatment a couple of days a week. It's formulated to condition and strengthen hair while protecting against damage, including dullness and dehydration.
You should also always make it a point to seal in moisture with a light oil or a hair serum after every wash session. Pick up the L'Oréal Paris Elvive Extraordinary Oil Treatment to infuse dry strands with lightweight hydration. You can use it before shampoo to nourish hair and also before styling. Check out our article, LOC Method: Moisturizing Hair Care for Natural Hair, for more tips and information.
HIGH POROSITY HAIR TIP #3: DON'T SHY AWAY FROM DEEP CONDITIONERS
Another way to help high porosity hair look and feel its very best is to rely on a deep conditioner that goes the extra mile to provide your strands with intense moisture, leaving you with the maximum level of hydration. Of course heading to the salon for a treatment might be preferred, but if that's not an option (let's be honest, those visits can get pricey), you can do it yourself right at home. Consider giving the L'Oréal Paris Elvive Extraordinary Oil Rapid Reviver Deep Conditioner a try. Specifically formulated for dry hair, this pick contains 20 percent conditioning serum, camellia, and sunflower oils, which helps to hydrate each strand for silkier and softer hair.
You can also pair this deep conditioner with the L'Oréal Paris Extraordinary Oil Shampoo and L'Oréal Paris Extraordinary Oil Conditioner to transform dry high porosity hair into tresses you love.
{ "@context": "https://schema.org/", "@type": "WebPage", "speakable": { "@type": "SpeakableSpecification", "cssSelector": ["speakable-content"] }, "url": "https://www.lorealparisusa.com/beauty-magazine/hair-care/damaged-hair/high-porosity-hair-care" }
Discover more tips & tricks
Keep your skin happy
See all articles
Shop Featured Hair Care products
Discover More
{ "@context": "http://schema.org", "@type": "BreadcrumbList", "itemListElement": [ { "@type":"ListItem", "position": 1, "item": { "@id": "/", "name": "Home" } } , { "@type":"ListItem", "position": 2, "item": { "@id": "https://www.lorealparisusa.com/beauty-magazine", "name": "Beauty Magazine" } } , { "@type":"ListItem", "position": 3, "item": { "@id": "https://www.lorealparisusa.com/beauty-magazine/hair-care", "name": "All Things Healthy Hair" } } , { "@type":"ListItem", "position": 4, "item": { "@id": "https://www.lorealparisusa.com/beauty-magazine/hair-care/damaged-hair", "name": "Damaged Hair Care" } } , { "@type":"ListItem", "position": 5, "item": { "@id": "https://www.lorealparisusa.com/beauty-magazine/hair-care/damaged-hair/high-porosity-hair-care", "name": "high-porosity-hair-care" } } ] }