dry hair
9 Dry Hair Treatments and Tips to Try Now
April 17, 2020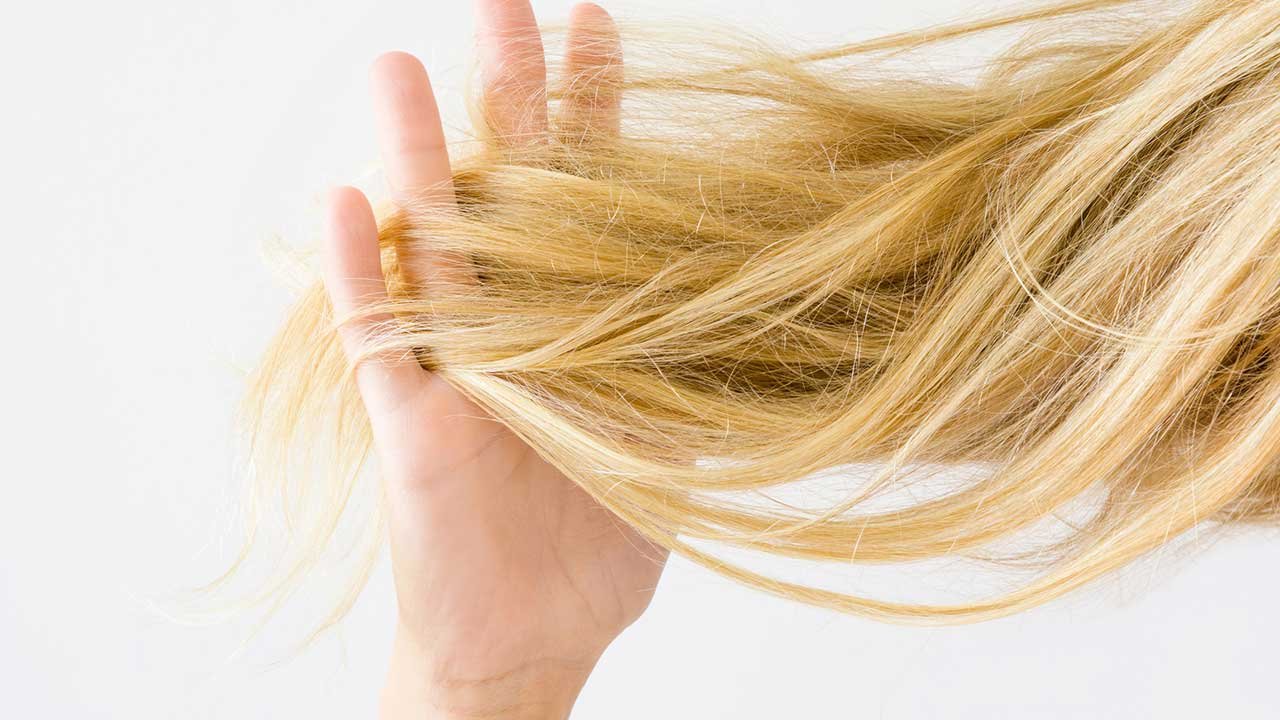 Hair that looks and feels like it's been through a drought is no walk in the park, but dry hair is actually easier to care for than you may think. You shouldn't have to make any drastic changes to manage it either. Caring for dry hair is all about following simple hair care tips for success—and using the right dry hair treatment for your mane.
Basically, all you have to do is shower your strands with a little love and attention, and over time you'll notice that your hair feels softer and looks healthier. For more specifics on how to revive your strands, including which shampoo, conditioner, and hair treatment for dry hair to use, keep reading. Here are nine of our best tips for taking care of dry hair.
WHY IS YOUR HAIR DRY?
Before we get into dry hair treatments and tips, it's time to answer the age-old question, "Why is my hair so dry?" There are a variety of reasons why your hair can look and feel dry, including using harsh hair care products and washing your hair too often. Per the American Academy of Dermatology (AAD), excessive exposure to chemicals in relaxers, hair dyes, and other hairstyling products can cause dryness, too. The AAD also shares that failing to wash the chlorine out of your hair after a dip in the pool can lead to dry stands.
Further, the National Center for Biotechnology Information (NCBI) reveals that regularly using blow dryers can cause dryness. Blow dryers are not the only hair tool to blame, however, the same thing goes for using other heat-styling tools such as flat irons and curling wands. The NCBI also states that using products too frequently and prolonged exposure to sunlight and UV rays may lead to dry hair as well.
If you've exposed your mane to more than one of these dry hair causes, that can make hair extremely dry.
9 DRY HAIR TREATMENTS AND TIPS
Ready to restore order to your mane? We're here to help! Follow along as we share nine dry hair tips and treatments to help get your strands back on track.
DRY HAIR TIP #1: SWITCH TO A HYDRATING HAIR CARE SYSTEM
When it comes to taking care of dry hair, hydrating your hair should be a top priority. One of the easiest ways to get the job done is to enlist the help of a nourishing shampoo and conditioner system that can provide instant hydration. Try the L'Oréal Paris EverCreme Deep Nourish Shampoo and the L'Oréal Paris EverCreme Deep Nourish Conditioner, which are formulated with apricot oil to nourish dry strands and bring them back to life.
To use, apply the shampoo to wet hair and massage gently into a thick lather. Focus your shampooing mainly on your scalp and roots, since that's the area that needs the most cleansing. Rinse out, then follow with the conditioner. When conditioning, take the opposite approach and focus the product mainly on the mid-lengths and ends of your hair.
DRY HAIR TIP #2: MAKE HAIR MASKS PART OF YOUR WEEKLY HAIR CARE ROUTINE
When it comes to hair masks, you don't have to wait for a special occasion or the day when your hair is at its driest to break one out. In fact, to keep your hair looking healthy and prevent it from becoming dry and brittle, you should try to use a hair mask as a dry hair treatment once or twice per week in place of your regular conditioner.
DRY HAIR TIP #3: USE A PRE-SHAMPOO TREATMENT
Dealing with extremely dry hair? You may want to add a pre-shampoo treatment into the mix. A hydrating pre-poo treatment for dry hair can help add an extra amount of nourishment to overly brittle strands, and what's not to love about that? Simply apply the L'Oréal Paris EverPure Repair Remedy Balm onto wet hair before you shampoo, applying an even layer of the product onto your mane and focusing it on your mid-lengths and ends. Leave it on for three to five minutes, then rinse and follow your regular shampoo routine.
DRY HAIR TIP #4: USE A NOURISHING LEAVE-IN STYLING PRODUCT
If you have dry strands, you'll want to use a hair styling cream or oil that will work to nourish your hair while also taming frizz. Try the L'Oréal Paris Elvive Extraordinary Oil Treatment, an oil-based hair serum that's formulated to bring dry, lifeless hair back to life. Just remember that a little goes a long way with hair oils, so only apply one to two pumps onto the lengths and ends of your hair, avoiding your roots altogether.
DRY HAIR TIP #5: SAY NO TO SCALDING SHOWERS
Spending time in a steamy shower may be enjoyable in the moment, but turning the temperature up too high can lead to hair that feels dry. This is because super-hot water can strip your hair of essential oils, no matter how relaxing it may feel. Bummer! You don't have to start bathing in freezing H2O, but switching to lukewarm water is a good idea. Cutting down on your time in the shower can also help, so consider doing your part for the environment at the same time and start taking shorter showers.
DRY HAIR TIP #6: LIMIT HEAT STYLING AND BLOW-DRYING
As we mentioned above, heat styling can wreak havoc on your strands, especially if you're dealing with dry hair. So, it's best to go heat-free whenever you can. Of course, that doesn't mean you have to sacrifice styling your mane. Look for products that you can use to air dry your hair, such as mousse, hair spray, or styling cream. We recommend the L'Oréal Paris Advanced Hairstyle Curve It Elastic Curl Mousse.
As for those occasions when you still want to blow-dry or flat iron your hair, just be sure to spritz on a heat protectant first. Another helpful tip is to use your hot tools on the lowest heat setting that you can, while still only having to pass through each section of hair once.
DRY HAIR TIP #7: STAY CONSISTENT WITH GETTING TRIMS
One of the easiest ways to take care of dry strands is to trim your mane. That's right, your hair needs regular cuts to look and feel its best! While it can be hard to make time for trims with a busy schedule, the benefits are totally worth it. From removing split ends to saying goodbye to damage, your hair will sport a healthier appearance after a quick snip.
DRY HAIR TIP #8: SLEEP ON SILK SHEETS AND PILLOWCASES
Who would have thought that your bedsheets could be the cause of your dry hair? Well, as it turns out, cotton sheets and pillowcases can pull moisture from your mane, leaving you with drier strands. Not cool! Instead, switch things up with a silk pillowcase. Not only does it help your hair, but it also feels totally luxurious. Not ready to part with your Egyptian cotton sheets? You can also opt to sleep with a silk scarf around your hair to protect your mane.
DRY HAIR TIP #9: VISIT YOUR DOCTOR
If you find that the tips above are still not giving your hair the results you desire, it may be time to book an appointment with your doctor. There may be an underlying medical condition that could explain why dry hair has become a factor. Once you find out the main culprit, your doctor can help alleviate the problem with a dry hair treatment plan.
Next up: Want more advice on how to hydrate dry strands? Here are 20 Hair Care Products Everyone with Dry Hair Should Own.
Discover more tips & tricks
Keep your skin happy
See all articles
Shop Featured Hair Care products
Discover More