damaged hair
6 Tips for Repairing Over-Processed Hair
How to undo the damage.
May 16, 2022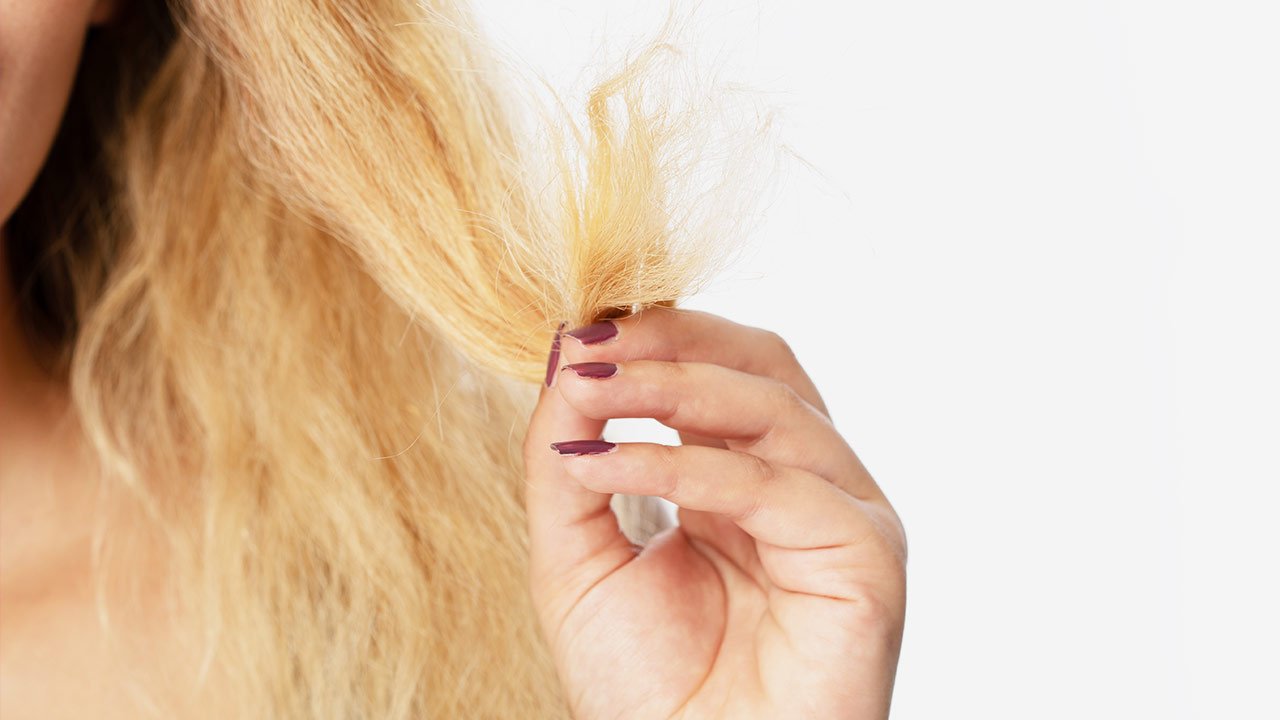 Between endless breakage, dry patches, and split ends, over-processed hair can be an absolute pain to deal with. But, while it once was believed that you have to start fresh with a big chop after over-processing your hair, there are actually a few ways to revive your mane without picking up the scissors. Even if you're totally frustrated with your damaged hair, we're happy to tell you that there is a light at the end of the tunnel. Keep reading to learn how to treat your overprocessed hair in order to grow a healthy, shiny mane.
What Causes Overprocessed Hair?
First things first, let's talk about how your hair got this way to begin with. While many people believe that the main culprit for over-processed hair is bleaching, the truth is, there are plenty of ways to end up with a damaged mane.
Yes, bleaching is one cause, but over-processed hair is also caused by the incorrect use of hair relaxers, perms, and heat-styling tools — whether done by you or a professional stylist. From leaving chemicals in your hair past the recommended processing time to excessively using heat styling tools without a good heat protectant, there are numerous ways your hair can end up a frizzy, brassy mess.
6 Hair Care Tips for Overprocessed Hair
If you're ready to get your hair back into great shape, you've come to the right place. Below, we're sharing six tips you can add to your hair care routine to start the process of reviving your mane.
1. Use a Protein Treatment
You can never go wrong with adding a protein treatment to your hair care routine — especially when your hair needs a pick-me-up. If your hair has lost elasticity and shine while going through a bout of dryness, a protein treatment can help.
We recommend using a leave-in treatment like the L'Oréal Paris Elvive Total Repair 5 Protein Recharge Treatment. This treatment works as a leave-in conditioner and a heat protectant to increase the overall strength and flexibility of your hair while working to protect against everyday damage with each use.
2. Try a Hair Mask for Damaged Hair
Another great way to help restore over-processed hair is with a hair mask. Our favorite hair mask for the job is the L'Oréal Paris Elvive Total Repair 5 Power Restore Multi Use Treatment. Made with a luxurious formula that instantly conditions and penetrates damaged hair to renew and revive, this mask is definitely worth a try.
3. Cut Down on Heat and Chemical Treatments
Addicted to your heat styling tools? Using heat tools regularly can actually make your over-processed hair look much worse. Instead of using your blow dryer or flat iron every day, cut back to only using your heat tools once a week.
While this is only a small step in the battle of managing over-processed hair, it can make a difference. And if you do heat style your hair, don't forget to always use a heat protectant — like the L'Oréal Paris Sulfate-Free Weightless Blow Dry Primer — to protect against heat damage, to calm frizz, and to seal in shine.
Besides laying off the heat, it's also a good idea to give your hair a break from getting chemical treatments and dyeing your hair.
4. Opt for Coconut Oil
Once you realize that you have over-processed hair, the goal is to prevent any more damage from occurring. Add a hair care product with coconut oil, like the L'Oréal Paris Elvive Extraordinary Oil Treatment, to your daily routine to help rehab your locks.
5. Use a Nourishing Shampoo and Conditioner
There is no question that over-processed hair needs all the TLC it can get. Why not try out a nourishing shampoo and conditioner? After all, nothing beats a system that's formulated to seal in moisture and improve the overall look and feel of your hair.
The L'Oréal Paris Elvive Total Repair 5 Repairing Shampoo and the L'Oréal Paris Elvive Total Repair 5 Repairing Conditioner will do just that. The Total Repair 5 System is formulated to repair five visible signs of damaged hair, including split ends, weakness, roughness, dullness, and dehydration.
If your hair is overprocessed due to bleaching or constantly coloring your hair, the L'Oréal Paris EverPure Sulfate-Free Bond Strengthening Color Care Shampoo and the L'Oréal Paris EverPure Sulfate-Free Bond Strengthening Conditioner are great options for nourishing your strands. Damaged hair can be fragile, so these both work to repair and strengthen the bonds to protect hair from further damage.
6. Get a Fresh Haircut
If you find that your mane is damaged beyond its breaking point, you may want to cut your hair. The thought of a big chop alone can be painful if you're attached to your length, but it's way better than holding on to damaged strands. Think about it as an opportunity to experiment with various short and medium-length haircuts for a fierce new look.
Next: The Best Products to Fix 7 Types of Hair Damage
Edited by: Shannon Stubbs, Photo Credit: iStock
Discover more tips & tricks
Keep your skin happy
See all articles
Shop Featured Hair Care products
Discover More