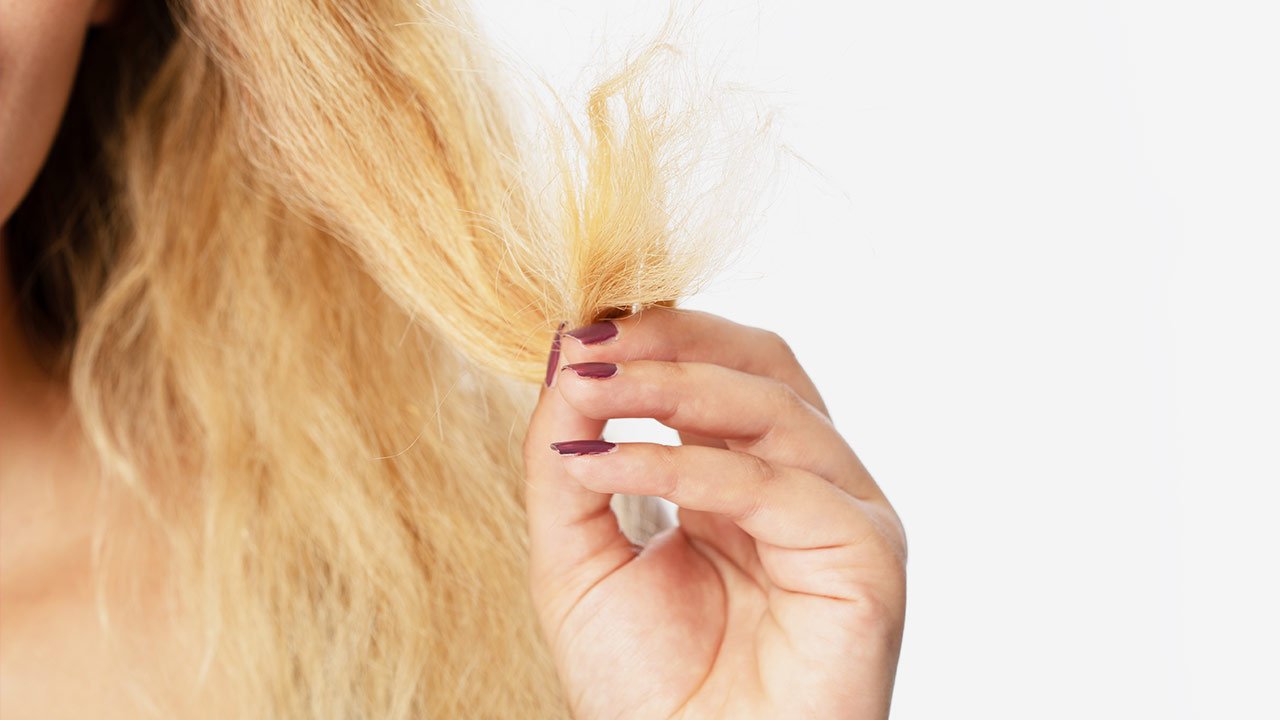 damaged hair
6 Must-Know Hair Care Tips for Over-Processed Hair
If there is one thing we can all agree on, it's that over-processed hair can be an absolute pain to deal with. Between endless breakage, dry patches, and split ends, dry, brittle hair is enough to make you go crazy. While it once was believed that you have to start fresh with a good haircut after over-processing your hair, there are actually a few ways to revive your mane. That's right, even if you're at your wits ends with your damaged hair, there is a light at the end of the tunnel. Keep reading to learn how to manage your processed-to-pieces hair.
WHAT CAUSES OVER-PROCESSED HAIR?
First things first, how did your hair get this way to begin with? While many people believe that the main culprit for over-processed hair is bleaching, the truth is, there are plenty of ways to end up with a damaged mane. Over-processed hair is also caused by the incorrect use of hair relaxers, perming, and heat-styling tools. And sometimes, those mistakes can be made by you or your stylist—even pros get it wrong from time to time. From leaving chemicals in your hair past the recommended processing time to simply using heat styling tools excessively without a good heat protectant, there are numerous ways your hair can end up a frizzy, brassy mess.
6 HAIR CARE TIPS FOR OVER-PROCESSED HAIR
Ready to get your hair back into great shape? You've come to the right place! Below, we're sharing six tips you can add to your hair care routine to start the process of reviving your mane.
TIP #1: USE A PROTEIN TREATMENT
You can never go wrong with adding a protein treatment to your hair care routine—especially when your hair needs a pick-me-up. If your hair has lost all its elasticity and natural shine and is going through a bout of dryness, a protein treatment can help. We recommend using a leave-in treatment like the L'Oréal Paris Elvive Total Repair 5 Protein Recharge Treatment. This treatment serves double duty as a leave-in conditioner and a heat protectant to increase the overall strength and flexibility of your hair while working to protect against everyday damage with each use.
TIP #2: TRY A HAIR MASK FOR DAMAGED HAIR
Another great way to help restore over-processed hair is with a hair mask. Our favorite hair mask for the job is the L'Oréal Paris Elvive Total Repair Extreme Emergency Recovery Mask. Made with a luxurious formula that instantly conditions and penetrates damaged hair to renew and revive, this mask is definitely worth a try.
TIP #3: CUT DOWN ON HEAT AND CHEMICAL TREATMENTS
Addicted to your heat styling tools? Using heat tools regularly can actually make your over-processed hair look much worse. Instead of using your blow dryer or flat iron every day, cut back to only using your heat tools once a week. While this is only a small step in the battle of managing over-processed hair, it can make a difference. And when you do heat style your hair, don't forget to always use a heat protectant, like the L'Oréal Paris Advanced Hairstyle SLEEK IT Iron Straight Hairspray, to protect against heat damage, calm frizz, and seal in shine.
Besides heat, it's also a good idea to take a step back from getting chemical treatments and updating your hair color. This means you should give your hair a break and hold off on getting another hair perm or bleaching your strands again.
TIP #4: OPT FOR COCONUT OIL
Once you realize that you have over-processed hair, the goal is to prevent any more damage from occurring. Add a hair care product with coconut oil to your daily routine to help rehab your locks.
TIP #5: USE A NOURISHING SHAMPOO AND CONDITIONER
There is no question that over-processed hair needs all the TLC it can get. Why not try out a nourishing shampoo and conditioner? After all, nothing beats a system that's formulated to seal in moisture and improve the overall look and feel of your hair. Ready to restore your mane? The L'Oréal Paris Elvive Total Repair 5 Repairing Shampoo and the L'Oréal Paris Elvive Total Repair 5 Repairing Conditioner will do just that! The Total Repair 5 System is formulated to repair the five visible signs of damaged hair, including split ends, weakness, roughness, dullness, and dehydration.
TIP #6: GET A FRESH HAIRCUT
If you find that your mane is damaged beyond its breaking point, you may want to cut your over-processed hair. The thought alone can be painful, but it's way better than holding on to damaged strands. Plus, you can even experiment with various short and medium-length haircuts for a fierce new look.
After you decide to chop off a few inches of your hair, you may be stuck on how you can still master a chic updo style. No need to fret! Next, check out our article on 20 Easy Updos for Short Hair.
Discover more tips & tricks
Keep your skin happy
See all articles
Shop Featured Hair Care products
Discover More