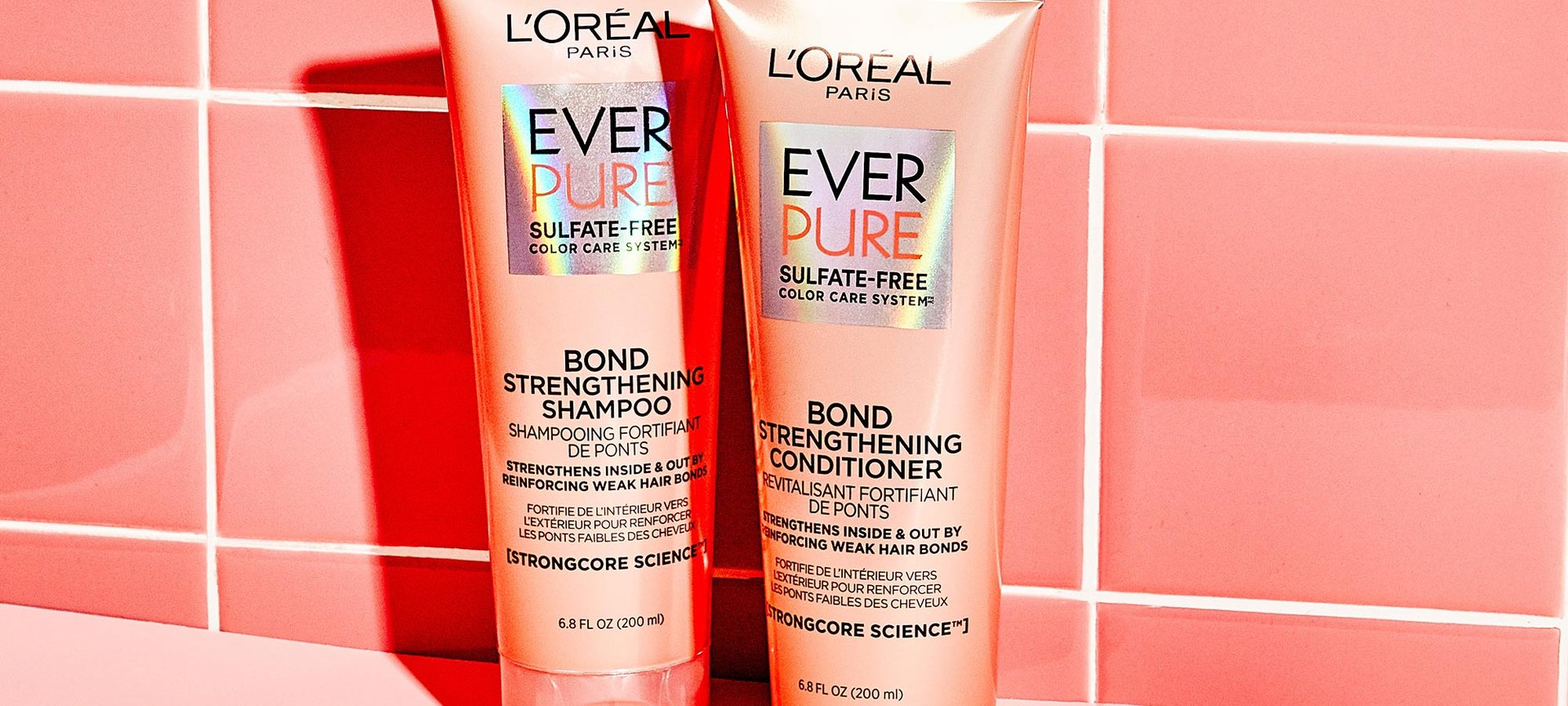 all hair types
Are Bond Strengthening Products Right For Your Hair?
Could these products do damage control for your hair type?
When you have bleached hair, caring for it has to go beyond the surface level. Of course you want tresses that have softness and shine, but bleaching can cause hair damage that needs serious repair. Additionally, if you've been indulging in the type of styles that require hot tools (whether your hair is colored or not), you may be creating split ends, dullness and drying out your strands.
If this is news to you and you feel a panic coming on, let us ease your worries. This is also where we tell you that there's a simple solution in the form of bond strengthening hair products. You might have heard these referred to as bond-building hair care, bond repair systems or bonding shampoos and conditioners. Either way you say it, there are myriad benefits to incorporating them into your hair care routine, no matter your hair type.
What Are Bond Strengthening Hair Products?
Bond strengthening hair products work to strengthen hair from the inside out. Whether you have curls, straight hair or waves, the human hair structure is the same for everyone. Let's dive into a quick science lesson for some context. As per the National Center for Biotechnology Information, hair is made up of two key components: the follicle and the shaft. The architecture of the hair shaft consists of numerous chemical bonds (some strong, some weak) that give hair its shape, strength and elasticity. When these bonds are broken, the hair structure becomes unstable which can result in dullness, weakness, and breakage.
In order to reverse this damage, bond strengthening shampoos, conditioners and other products reinforce weak hair bonds and broken bonds. They restore strength by penetrating the hair fiber, cleansing it of elements that disrupt the reconnection of these weak hair bonds. Different formulas use different technology, but the goal is to rebuild hair strength from the root out.
Who Should Use Bond Strengthening Hair Products?
Since bond strengthening hair care products can rejuvenate damaged hair, they work for all hair types. No matter your texture or hair length, you can use a bond strengthening hair care system. Even if you don't have extensive damage, your hair can benefit from intense conditioning and enriching ingredients that you get with bond strengthening hair care. But if you have lightened locks, damage from styling, or have undergone chemical hair treatments in the past, bond strengthening hair products will be especially beneficial for you.
Our Best Bond Strengthening Hair Products
If you're looking to start a bong strengthening hair care regimen or add some new bond repair products to your current line up, check out these all stars.
This sulfate-free, gluten-free, paraben-free, vegan shampoo is gentle on colored hair while it fortifies from the inside out. It increases the hair's resilience to daily stressors as it smooths rough texture and softens the hair. In addition, it repairs the strength of weak hair bonds and protects tresses from future damage. If you have bleached hair, color-treated hair, heat-damaged hair, split ends and dullness, reach for this shampoo.
After you shampoo, follow up with this bonding conditioner formulated with the same nutrient-rich ingredients, including sunflower seed oil and rosemary leaf extract. Validated by hair colorists (like its shampoo counterpart) it intensely conditions — it's the perfect companion to an effective bond strengthening shampoo.
Next: What Is Bonding Technology And How Can It Change Your Hair?
Written by: Shalwah Evans, Photography: Matthew Kelly, Art Direction: Hannah Packer, Associate Creative Producer: Becca Solovay
{ "@context": "https://schema.org/", "@type": "WebPage", "speakable": { "@type": "SpeakableSpecification", "cssSelector": ["speakable-content"] }, "url": "https://www.lorealparisusa.com/beauty-magazine/hair-care/all-hair-types/bond-strengthening-shampoo-and-conditioner" }
Discover more tips & tricks
Keep your skin happy
See all articles
Improve your routine
Show your new look more love:
makeup
{ "@context": "http://schema.org", "@type": "BreadcrumbList", "itemListElement": [ { "@type":"ListItem", "position": 1, "item": { "@id": "/", "name": "Home" } } , { "@type":"ListItem", "position": 2, "item": { "@id": "https://www.lorealparisusa.com/beauty-magazine", "name": "Beauty Magazine" } } , { "@type":"ListItem", "position": 3, "item": { "@id": "https://www.lorealparisusa.com/beauty-magazine/hair-care", "name": "All Things Healthy Hair" } } , { "@type":"ListItem", "position": 4, "item": { "@id": "https://www.lorealparisusa.com/beauty-magazine/hair-care/all-hair-types", "name": "All Hair Types" } } , { "@type":"ListItem", "position": 5, "item": { "@id": "https://www.lorealparisusa.com/beauty-magazine/hair-care/all-hair-types/bond-strengthening-shampoo-and-conditioner", "name": "bond-strengthening-shampoo-and-conditioner" } } ] }