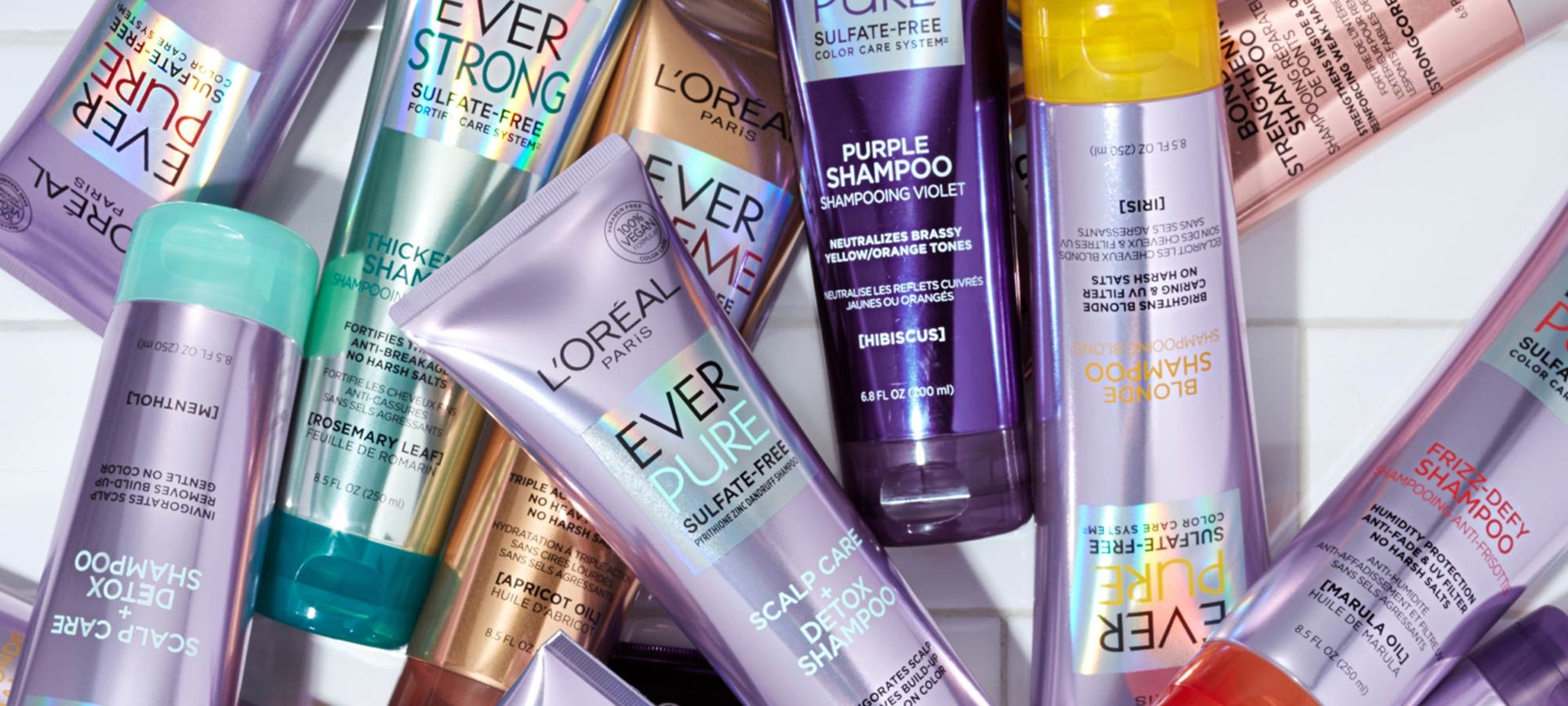 sulfate free
5 Reasons To Consider Using A Sulfate-Free Shampoo
Your hair will thank you later!
At the end of a long day, all you want to do is lie back in a relaxing bath and let your worries gently melt away — relatable! But, have you ever stopped to wonder how your bubble bath transforms from a liquid into hundreds of tiny bubbles or how your shampoo whips itself up into a thick and luxurious lather? Well, sulfates (sodium lauryl sulfate and sodium laureth sulfate) are likely responsible.
Sulfates are commonly found in a whole host of products, including shampoo and other hair products. The big question that's been going around the beauty industry for some years now is do you need sulfates in your beauty products? We're tackling this topic and sharing five reasons you may want to switch to a sulfate -free shampoo or add sulfate-free hair styling and hair care products to your regimen.
What Is Sulfate-Free Shampoo?
If you pick up a bottle of shampoo and look at the label, you may notice the ingredients sodium laureth sulfate and sodium lauryl sulfate (SLS). According to the American Academy of Dermatology (AAD), these are two of the most common ingredients that shampoos are formulated with. Both are types of detergents that produce a lathering effect that can help get rid of dirt and debris on your hair. If you couldn't guess by now, sulfate-free shampoos, conditioners, and other hair care products are not formulated with sulfates—what some would consider a chemical free shampoo option. But don't worry, they still cleanse and condition! Keep reading for our best SLS free shampoo options and more.
Are Sulfates Bad?
Shampoos without sulfates receive a lot of hype, which may make you wonder if using a shampoo with sulfates is bad. The answer? No! According to the National Center for Biotechnology Information, lauryl sulfates are excellent cleansers that are commonly used in shampoos for oily hair. Laureth sulfates, on the other hand, are good cleansers with a foaming property that can benefit normal-to-dry hair. The bottom line, as the McGill Office for Science and Society states, is that sulfates have been studied and approved many times for use in hair products.
Why Use a Sulfate-Free Shampoo?
You may be wondering what's the point of going sulfate-free if SLS is not considered bad for your hair. There are a number of reasons you may want to add a sulfate-free shampoo (and an entire sulfate-free hair care system) to your routine.
1. It's Great For Colored Hair
If you have colored-treated hair, you may find that shampoos formulated with sulfates have an impact on your color, leaving it looking lackluster and faded. Color-treated hair needs extra care to keep it looking vibrant and healthy. There are sulfate-free moisturizing shampoos that help lock in moisture and keep colored hair feeling silky, soft, and manageable.
If you have dry hair… try the L'Oréal Paris EverPure Moisture Shampoo, which is especially gentle on colored hair and can help replenish essential moisture and luminous shine. Pair it with the L'Oréal Paris EverPure Moisture Conditioner.
If you have brassy hair… try the L'Oréal Paris EverPure Brass Toning Purple Sulfate Free Shampoo. This sulfate-free, purple shampoo works to deeply moisturize and neutralize brassy yellow and orange tones in blonde, bleached, highlighted, and silver hair. Pair it with the L'Oréal Paris EverPure Brass Toning Purple Sulfate Free Conditioner.
2. It's Great For Sensitive Scalp Types
If your skin is more than a little sensitive, the AAD states that using shampoos and other personal products that contain sulfates, may potentially irritate your skin. If your skin becomes easily irritated, using a sulfate-free shampoo could help prevent this. In addition to trying a sulfate-free shampoo, if you're experiencing itching, a flaking scalp, or red patches, it's a good idea to make an appointment with your dermatologist or doctor to determine what is really happening with your scalp.
If you have frizz and flyaways… try the L'Oréal Paris EverPure Frizz-Defy Shampoo. This shampoo, which is formulated with marula oil, cleanses frizz-prone hair and helps protect against humidity. Pair it with the L'Oréal Paris EverPure Frizz-Defy Conditioner. We're also loving the L'Oréal Paris EverPure Sulfate-Free Scalp Care + Detox Scrub.
3. It Won't Dry Your Hair Out
According to the AAD, using shampoos that are formulated with strong sulfates can be drying to some hair types. If you've noticed your hair becoming overly dry, it may be time to try a sulfate-free shampoo.
If you have damaged hair… try the L'Oréal Paris Everpure Sulfate Free Bond Strengthening Shampoo and Conditioner. These formulas help repair your strands bonds inside and out from color damage.
4. It's Gentle On The Eyes
Now, this won't be a problem for those who can manage to avoid getting shampoo in your eyes. But, if you ever suffer from the occasional eye stinging because you've let a bit of shampoo get too close to your eye area, switching to a shampoo without sulfates may help keep them from becoming red and irritated. This is because, as the McGill Office for Science and Society reveals, some sulfates are simply more irritating to eyes than formulas without them. So, if you tend to get suds in your face or eyes and want to stop the stinging, consider trying a shampoo that doesn't contain any sulfates.
If you have fine hair… try the L'Oréal Paris EverPure Volume Shampoo. Formulated with lotus flower, the volumizing shampoo helps revive flat hair and boost body without weighing down strands. Pair it with the L'Oréal Paris EverPure Volume Conditioner.
5. It's A Trend Worth Trying
There's no doubt that sulfate-free hair care products—namely, shampoos—have been a huge trend in recent years. So, if for no other reason, why not try out sulfate-free shampoos simply to join in on the hair care trend? If you're anything like us, curiosity about beauty and hair trends tends to get the best of you. And, as we said, we're all different—our skin and hair have different needs—so it's likely that you'll need to play around with beauty products before finding your perfect match.
Next: Can You Use Purple Shampoo on Color-Treated Hair?
Photo: Chaunte Vaughn
Discover more tips & tricks
Keep your skin happy
See all articles
Shop Featured Hair Care products
Discover More