medium hairstyles
21 Stylish Medium-Length Hairstyles for Natural Hair
August 07, 2020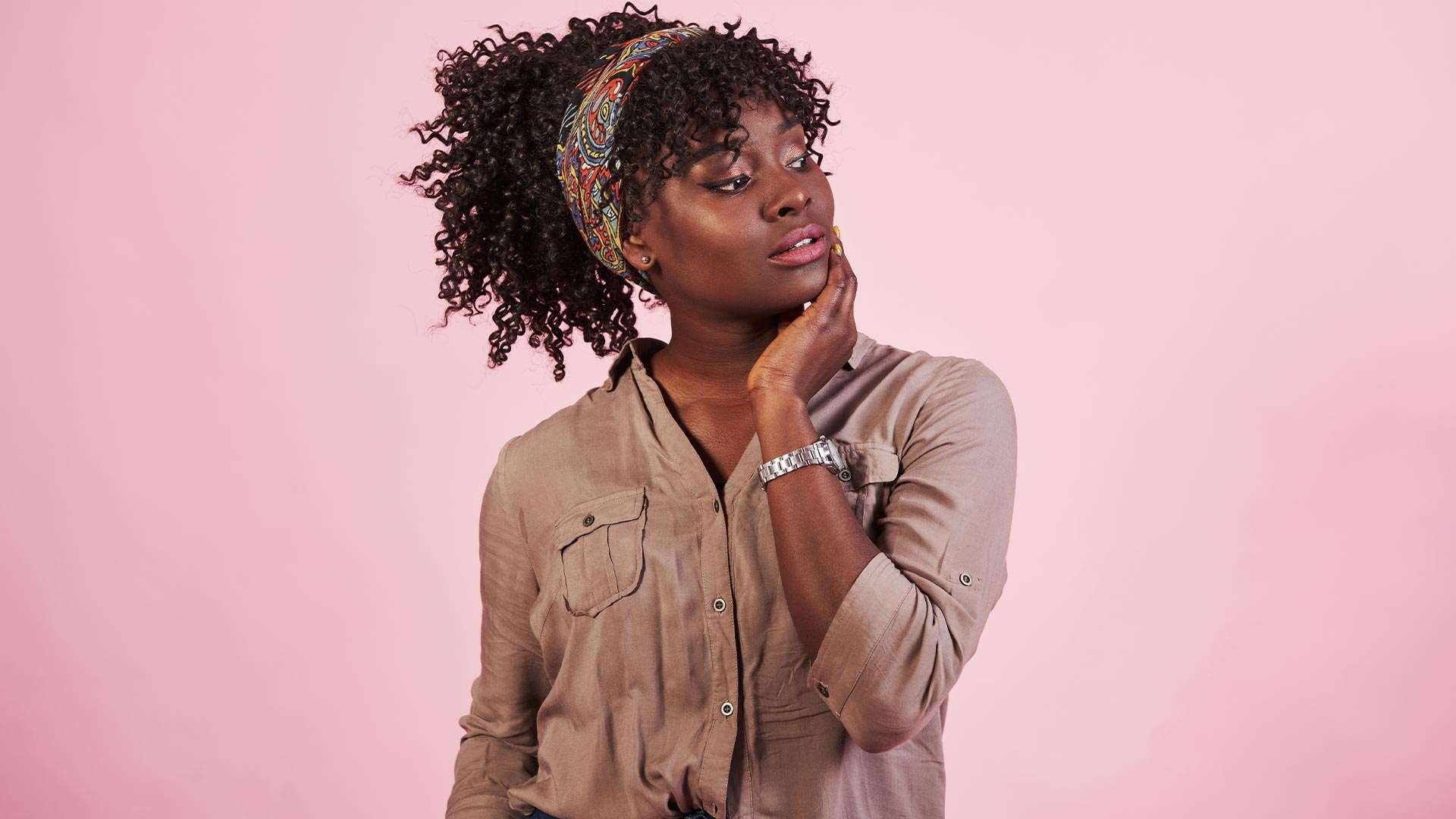 Finding the perfect natural hairstyles for medium-length hair can be a bit difficult. Your locks are not too short nor too long, but you may find yourself repeating the same hairstyles once you find a few that work. However, there are plenty of medium-length natural curly styles to choose from that will keep you from looking anything but basic—trust us. Best of all, you can pull all of these looks together on your own. Ready to transform your locks? Here, find the 21 best natural hairstyles for medium-length hair, so you can shake things up.
1. TWIST OUT
Ah, the beloved twist out hairstyle! This hairstyle is all about installing twists throughout your hair and leaving them in overnight, so they'll reveal a textured pattern when undone in the morning. A foolproof pick for naturals who love the idea of heatless waves, this trend-forward hairstyle is just what you need to bring your desired texture to life. Click through to our article, How to Do a Twist Out on Natural Hair, to master the trend.
2. FAUX LOCS
Prefer to add some protective styling into the mix? Look no further than faux locs! Faux locs consist of braiding your natural hair, then wrapping additional hair around the braid from the root to ends to emulate the look of locs. We also love that you can add colorful hair accessories and clips to your faux locs for a chic twist.
3. CURLY FAUX HAWK
Keep your strands stylishly tucked away with a curly faux hawk. Seriously stylish and effortlessly trendy, this hairstyle is just what you need to make a lasting impression. To start, simply apply an egg-sized amount of curl mousse, like the L'Oréal Paris Advanced Hairstyle CURVE IT Elastic Curl Mousse to damp strands, scrunch, and let air dry. Once dry, apply a dab of hair gel, like the L'Oréal Paris Studio Line Clean Gel to the sides of your mane, brush toward the middle of your head, and secure with bobby pins. Repeat on the other side, and your work is done.
4. FAUX HAWK BUNS
On the hunt for medium-length natural hairstyles that create a polished and well-put-together appearance? Feast your eyes on faux hawk buns. With three buns going down the center of your head, this style works to frame your face while accentuating your features for an ultra-flattering 'do.
To get the look, start by parting your hair horizontally into three even sections and clip the last two sections out of the way. With the section that's left out, secure the hair into a ponytail, then roll and twist it into a bun. Repeat with the other sections and spritz the L'Oréal Paris Elnett Precious Oil Satin Hairspray over your mane. Voila!
5. JUMBO TOP KNOT
If you love to take style cues from social media, you'll fall in love with the jumbo top knot. Known as one of the best medium natural hairstyles, this look requires little to no effort. All you need are a few bobby pins, a hair brush, and a hair elastic to upgrade your locks. Head on over to our article, How to Do The Perfect Top Knot, for a step-by-step tutorial.
6. HIGH PUFF
There is no better way to make a big impact via a medium-length natural curly hairstyle than to add some height to your mane. Thankfully, the trendy high puff hairstyle makes it oh-so-easy. Similar to the top knot, the high puff features sleek edges and a thick afro-like texture. A great pick for those with curly or coily strands, you can count on this look to put your texture on full display.
Start by applying a dime-sized amount of hair gel to your edges and brush your hair toward the center of your head. Secure with a hair elastic. Mist some shine spray over your hair for a salon-approved finish.
7. AFRO PUFFS
Now that you have the glorious high puff on your mind, it's time to take your look up a notch with afro puffs. This 'do adds a playful and fresh vibe to your look, and it's a super cute option for those who can't resist a stylish updo.
To bring this look to life, start with a part down the middle of your head and pin one side of your hair up. With your free section, apply a dime-sized amount of hair gel, brush your hair up to form your first puff, and secure with a hair elastic. Repeat on the other side, making sure that your hair lines up perfectly with the first puff. Tease the ends of your puffs with a rattail comb, and you're all set.
8. BANTU KNOTS
On the hunt for a style that can last you days at a time? Bantu knots are here to save the day. Flaunting a gorgeous set of tiny buns throughout your mane, this retro look keeps your locks out of the way without sacrificing style. It also serves as a protective hairstyle, which is great for those who are in the market for low-manipulation looks. Check out our article, How to Do Bantu Knots, to hop on the trend.
9. BANTU KNOT OUT
If you're looking for a way to elevate your Bantu knots, it may be time to give a Bantu knot out a try. This look allows you to rock your mini buns for as long as you'd like, then unravel them to reveal defined, springy curls. Once you're done slaying your Bantu knots, simply undo each knot and gently finger-comb your hair to show off defined heatless curls. It's really that easy!
10. PINNED AFRO
Add some personality to your afro with the pinned afro. Trend-forward and chic, this style plays up your natural texture while allowing your locks to do their own thing. Simply add a touch of hair gel to either side of your head and brush your hair toward the center of your head. Next, place colorful bobby pins along the side of your head in 'X' shapes. Fluff your locks and spritz your hair with a touch of hairspray to seal the deal.
11. HALF-UP BUN WITH NATURAL CURLS
Trends come and go, but the half-up bun hairstyle is here to stay. A stylish option for individuals who love to flaunt the best of both worlds, you'll be able to slay a beautiful updo and show off your length at the same time. Now, do you understand why we can't stop swooning over this hairstyle?
To get the look, separate your hair into two sections and clip the bottom half out of the way. Apply a touch of hair gel at the roots, brush your hair, and secure into a ponytail. Roll your hair into a bun and secure with bobby pins. Unclip the back section, fluff, and mist shine spray evenly over your hair.
12. HALF-UP POMPADOUR
Contrary to popular belief, pompadours are not reserved for men. This look helps anyone play with height, texture, and angles for a one-of-a-kind statement. Start by parting your hair into a small section in the middle of your head and secure the rest of your mane with an elastic. With the small section, roll your hair up and under until you create a small bump and pin in place. Release the rest of your hair, and you'll be as good as gold.
13. DOUBLE DUTCH BRAIDS WITH CURLS
Think you want to add some weaving action to your locks? It's time to get acquainted with double Dutch braids with curls. A chic option for boho-hairstyle lovers, this style features gorgeous loose curls paired with a beautifully woven pattern, making for the ultimate dynamic duo.
To start, apply a healthy amount of curl mousse to damp hair, scrunch, and let air dry. Once your hair is dry, create a vertical part and split your hair into two sections. Clip one side out of the way. Split your hair into three equally-sized strands and weave a Dutch braid. Once you reach the nape of your neck, secure the braid with a hair elastic. Repeat on the other side.
14. FAUX FRINGE WITH HEAD WRAP
You don't have to head to the salon for a new cut to slay bangs. Instead, consider a faux bang with a head wrap. An easy way to switch up your look completely, this style works wonders to disguise second-day hair. To get the look, simply pull your strands into a high ponytail, leaving the front section out to act as your bangs. Using a head wrap, place the wrap around the back of your ponytail, pull the ends toward the front of your ponytail, and create a small knot. Not only will this look cute, but it will hold your "bangs" in place, falling flatteringly over your forehead.
15. PINEAPPLE
Speaking of updos, the pineapple style has been getting major attention in the natural hair world. This style keeps your curls intact while you get to flaunt a super-chic ponytail. Basically, it's just what you need in a medium-length hairstyle. Simply gather your curls toward the top of your head, then secure them into a ponytail. Fluff your strands to highlight your texture, and your hair will resemble the chicest pineapple possible.
16. WASH-AND-GO
For days when you want to sport a gorgeous look without any extra time to spare, a wash-and-go will come to the rescue. This wet-set style is all about washing your hair and wearing your locks in their natural curl pattern without the use of any styling tools. Sounds like a style you'd love to try? Visit our article, 19 Wash-and-Go Hairstyles for Low Maintenance Hair, for inspiration.
17. LOW CURLY PONYTAIL
Seeking swoon-worthy medium natural hairstyles? Well, we have a feeling that you'll want to try the low curly ponytail. This hairstyle works to highlight your texture while giving you a polished and put-together look. Apply an egg-sized amount of mousse to damp strands, then scrunch and wait for your hair to dry. Once your hair is fully dry, gather it into a low ponytail and fluff your strands.
18. BOX BRAID LOB
If there is one medium natural hairstyle that doesn't disappoint, it's without a doubt the box braid lob. A stunning way to incorporate braids into one of the hottest haircuts, this look checks all of the style boxes. Simply weave your braids slightly past your shoulders at the front of your head and create shorter braids at the back for a head-turning finish.
19. CROCHET BRAIDS
Can't decide between flaunting your natural texture or wearing your hair in braids? Consider crochet braids your happy medium. The style features extensions that are crocheted into cornrows using a latch hook tool. As a result, this trend mimics the look of natural hair to give you more flexibility with your styles. Here are 5 Crochet Braids Hairstyles You'll Love.
20. CORNROWS
Cornrows are a classic hairstyle for a good reason—they look amazing on everyone. Start by taking a section of hair at your hairline and split it into three small segments. To begin forming your first cornrow, use the classic braid technique to anchor it, then pass the right strand under the middle strand before passing the left one under the middle. As you continue to braid, keep the cornrow close to the scalp and begin to incorporate additional small pieces of hair into the braid as you go. When you reach the nape of your neck, continue braiding normally down the length of your hair before securing the hair with a clear elastic. Repeat until you have a mane full of cornrows—or as many as you'd like.
21. FLAT TWISTS WITH CURLS
Pay homage to the '90s with flat twists and curls. Capable of keeping your strands away from your face, this style will always come in handy. Start by creating a horizontal part in the center of your head. Pin the back section out of the way. Focusing on the front section, split it into two with a vertical part, and pin one side up.
With the remaining free section, apply hair gel to the roots and twist your hair from the beginning of your hairline until you reach the middle of your head and secure with a hair elastic. Repeat on the other side. Once complete, release the bottom half of your hair and fluff your texture.
Discover more tips & tricks
Keep your skin happy
See all articles
Shop Featured Hair Style products
Discover More