all hair types
8 Ways To Stretch Natural Hair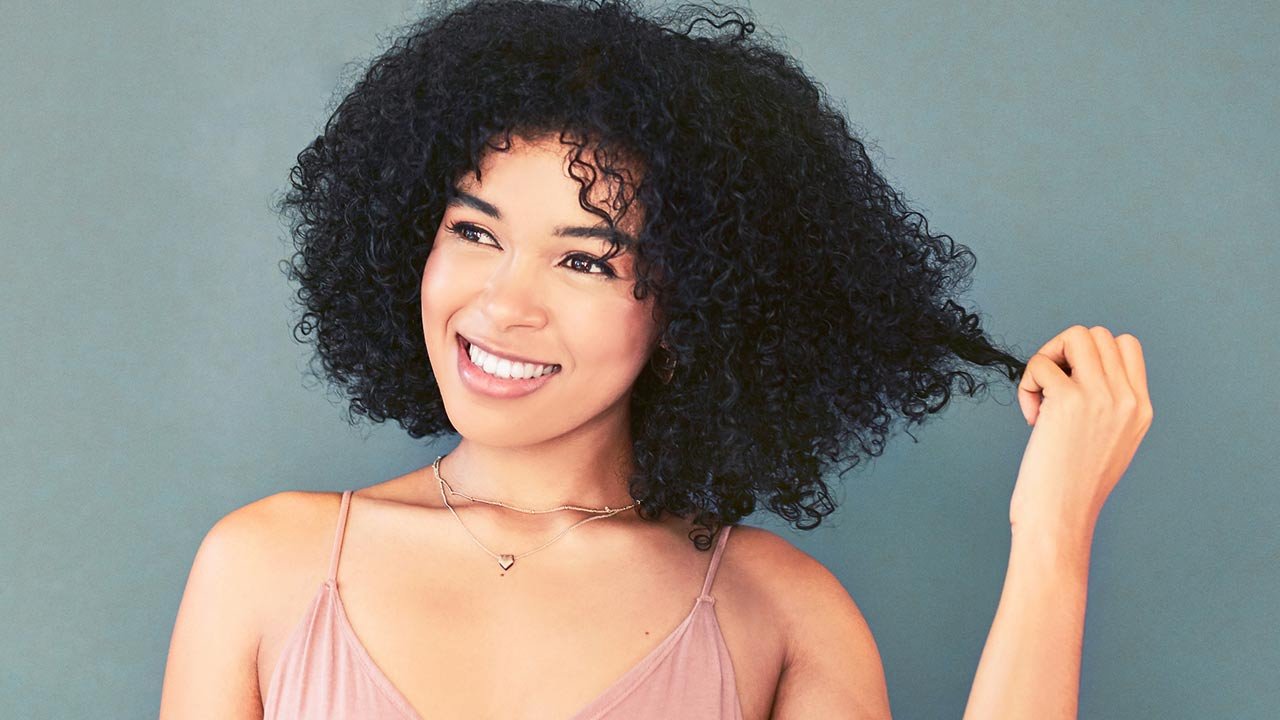 If you have natural hair, then you've probably been wondering how to show off your length without damaging your strands. It's not news that curly, coily, and wavy hair types often have to tackle shrinkage (a decrease in length when natural hair dries). That said, you may think that using a flat iron is the only way to stretch your strands. Well, we're here to tell you that's not true. There are plenty of ways you can get the ball rolling to flaunt your real length.
The key to stretching natural hair without damaging your mane is to opt for no-fuss hairstyles and hair hacks that require little to no heat. If you're ready to see what all the hype is about, we're prepared to show you the way. Follow along to learn how to stretch natural hair nine different ways that allow you to keep your texture intact.
WHAT IS SHRINKAGE?
Before we get into all the ways to stretch your textured strands, it's important to understand why your hair appears shorter than it actually is in its natural state. All signs point to shrinkage. We touched on this earlier, but shrinkage typically occurs after the wash and conditioning process. When your hair dries moisturized and healthy, it can leave you with hair that's shorter than its actual length.
Here's why: With moisturized and healthy-looking hair comes elasticity, which gives your strands the ability to withhold stress and manipulation. In turn, your strands can bounce back to their natural and healthy state without any damage. So, while shrinkage can be annoying to deal with, it's a sign that your hair is nourished.
Editor's note: The curlier your hair is, the more of a decrease in length you can expect to see when your hair is dry. Get the 4-1-1 here: Our Hair Length Chart: Understanding Hair Length and Type.
HOW TO STRETCH NATURAL HAIR
If you're ready to learn how to stretch your natural hair without sitting in a salon for hours on end, we've got you covered. Below, we're sharing eight techniques to put your true length on full display.
TIP #1: TWIST OUT
A chic way to flaunt your hair length is to style your mane in a twist out. This hair technique gives your strands beautiful waves that are naturally stretched for longer-looking locks. Head on over to our article, How To Do a Twist Out On Natural Hair, for a step-by-step tutorial.
TIP #2: BRAID OUT
Similar to the twist-out method, a braid out defines your hair texture while lengthening your strands for a longer appearance. To get the look, start with freshly washed and moisturized hair. Part it in two even sections, then divide each side into six smaller sections. Clip five of them in place and out of the way for now.
Starting with one small section, braid your hair until you reach the ends and repeat. Once complete, gather a few braids and stretch them to the other side of your head. Secure with bobby pins. Unravel the next day for a defined and stretched mane.
TIP #3: THE BANDING METHOD
If you're looking for a quick and easy way to lengthen your strands, the banding method will meet your needs. Part your locks into six equal sections and clip them into place, so they're not in your way. Place a hair elastic at the root of one section, then continue to wrap the elastics down your hair shaft, spacing them out as you go. Repeat on the rest of your hair. Leave the elastics in your mane overnight, then carefully unravel them the next day for elongated strands.
TIP #4: THE TENSION METHOD
If you're not against using heat tools in your hair-styling routine, the tension method may be worth a try. Start by parting your locks into even sections. Using a blow dryer and boar bristle brush, dry your roots using the nozzle attachment. This technique will provide instant stretch if you're pressed for time. Be sure to use your blow dryer on a cool setting to minimize the amount of heat on your hair.
TIP #5: PINEAPPLE
No, we're not talking about the tasty, tropical fruit. The pineapple is a popular hairstyle that is mostly used to keep your curls from getting crushed as you sleep. However, this style also works double duty to stretch out your roots and elongate your mane. All you need to do is flip your hair and fasten it into a high ponytail at the top-front of your head for the ultimate no-fuss 'do.
TIP #6: BALLERINA BUN
Another fabulous way to stretch your natural locks is to rely on the ballerina bun. While this hairstyle may be the last thing on your mind, it can help you flaunt your real length seamlessly. It can also leave you with beachy waves, and that's something we can get behind. The key to stretching your locks is to work on damp hair. Start by combing through your strands to smooth out any bumps or tangles. Pull your hair into a ponytail at the center of your head and secure it with a hair elastic.
Next, twist the length of your ponytail to the ends. Wrap your strands around the base of your pony to form a bun. Secure your hair with bobby pins. Cover your mane with a silk scarf and leave it on overnight. In the morning, unravel your bun, and you'll have stretched locks to play with.
Editor's tip: If your hair is on the shorter side, you can split your mane into two ballerina buns to get the same effect.
TIP #7: BANTU KNOTS
Bantu knots are a protective style that can also be used to stretch natural hair. They work in your favor to create heatless curls and waves that sport major definition. Kick things off by washing your strands with the L'Oréal Paris EverPure Moisture Shampoo and the L'Oréal Paris EverPure Moisture Conditioner. Once complete, create a one- to two-inch part on damp hair. Start twisting from the root to ends.
Twist each section tightly around itself to form a tiny bun and secure it with a hair elastic. Repeat until you have a mane full of Bantu knots. Cover your locks with a silk scarf and leave the style in place. In the morning, gently unravel each knot.
TIP #8: ROLLER SETS
Hair rollers may be a hair-care staple for your mom, but it serves as an excellent method to stretch natural hair. Plus, you don't have to worry about adding any heat into the equation. Starting on a freshly washed mane, take a section of hair and clip the rest out of the way. Apply a small amount of the L'Oréal Paris Advanced Hairstyle CURVE IT Elastic Curl Mousse to it and comb through. Place the roller at the end of the section, and start rolling it toward your roots. Secure it in place with a bobby pin or clip from the hair rollers. Repeat until your mane is complete. Let your rollers sit overnight and unravel in the morning.
Next: If you're game to learn about more tips for maintaining your natural locks, we've got you covered. Click through to our article, Your Natural Hair Care Routine, for some pointers.
Discover more tips & tricks
Keep your skin happy
See all articles
Shop Featured Hair Care products
Discover More