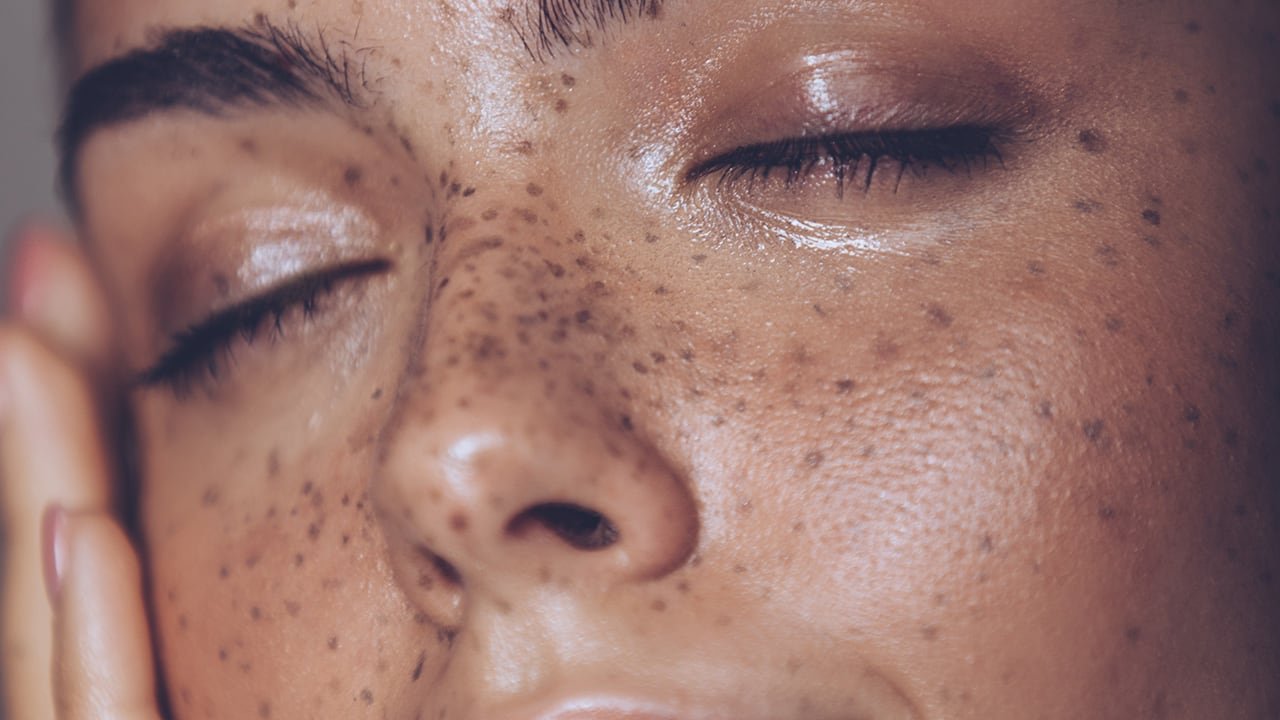 If you have oily skin, you know it. Your skin gets greasy, your makeup melts off, and you're likely prone to breakouts, too. But do you find yourself asking, "Why is my skin so oily?" Well, you're right to ask; in order to best take care of your skin, it's important to know the oily skin causes that are behind your main skin care concern. That's why "what causes oily skin?" is one of the questions we hear most often! Here, we're answering your biggest skin care question by sharing nine oily skin causes that could be responsible for your shiny complexion.
WHAT CAUSES OILY SKIN?
Without further ado, let's dive into nine reasons you might have oily skin.
OILY SKIN CAUSE #1: THE WEATHER
What climate you're in, seasonally or geographically, affects your skin's natural oil production. Skin can become especially oily in the summer months, when the temperatures and humidity are high, according to research published by the National Institutes of Health (NIH). Likewise, dry winter weather can cause dry skin.
Summer weather can also make you more vulnerable to breakouts as the oils on your face will be more likely to mix with sweat and clog your pores. Adjust your skin care products in hot and humid climates with foam or gel cleansers and lightweight moisturizers or serums.
OILY SKIN CAUSE #2: YOU'RE STRESSED
Stress can wreak havoc on your body and your skin. When you're feeling stressed, your body's stress hormone, cortisol, rises, according to research published by the American Academy of Dermatology (AAD). This, in turn, can cause an increase in your skin's natural oil production.
Editor's note: May we suggest relieving stress with a nice face mask? Next time you need a moment of self-care, reach for the L'Oréal Paris Pure-Clay Detox & Brighten Face Mask.
OILY SKIN CAUSE #3: YOUR HORMONES ARE SHIFTING
As hormone levels shift during your cycle—from estrogen and progesterone to testosterone—about two weeks before your period, your sebaceous glands can start to overproduce oil, according to the NIH. This change is also likely to clog pores, potentially resulting in breakouts.
OILY SKIN CAUSE #4: YOU'RE UNDER-CLEANSING
According to the AAD, If you have oily skin you should cleanse twice a day—morning and evening—and also after exercising. Your skin produces oils on its own and comes in contact with dirt and grime throughout your day, so it's very important that you keep your skin clean to maintain a fresh face.
OILY SKIN CAUSE #5: YOU'RE OVER-CLEANSING
Yes, you can over-cleanse your skin, too! For most people, sticking to twice a day, plus after any exercise, and avoiding any harsh scrubbing is the perfect amount of cleansing. Face washing or scrubbing that is too harsh can irritate the skin and actually trigger increased oil production, per the AAD. Instead, use a mild, gentle facial cleanser, such as the L'Oréal Paris Pure-Clay Detox & Brighten Cleanser.
OILY SKIN CAUSE #6: YOU DON'T MOISTURIZE
When your face resembles something of a grease ball, we understand that the last thing you'll want to do is moisturize. However, moisturizing is a must regardless of your skin type. In fact, skipping moisturizer can contribute to your oily complexion. When you don't provide your complexion with enough hydration, it can trick your skin into producing too much oil. Suddenly you want to moisturize, right? Do so with a moisturizer meant for oily skin, like the L'Oréal Paris Hydra Genius Daily Liquid Care – Normal/Oily Skin.
OILY SKIN CAUSE #7: YOU'RE STRIPPING YOUR SKIN OF ITS NATURAL OILS
Washing your face or showering with extremely hot water can strip your skin of its natural oils, much like over-cleansing. Whether you're in the shower or washing your face at the sink, make sure to turn down the water temperature—lukewarm should do the trick.
OILY SKIN CAUSE #8: YOUR SKIN OVERPRODUCES SEBUM
If you truly have oily skin and it's not in response to the environmental factors mentioned, according to research published by the NIH, it means that your sebaceous glands are most likely larger and produce excessive amounts of sebum (oil). Your best bet, in this case, is a regimen that's tailored to your skin type, like Our Best Skin Care Routine for Oily Skin.
OILY SKIN CAUSE #9: POOR DIET
Not only is eating a healthy diet a key part of any healthy lifestyle, but it may impact your complexion. According to research published by the NIH, a diet high in carbohydrates like white bread, sugar, and white rice may lead to high serum glucose levels and elevated levels of insulin. In turn, insulin has been shown to elevate sebum production. Think your diet is affecting your skin? Consult your doctor to determine how you can make healthy changes.
Interested in learning more about the science of skin? Next up: What Is the Skin's Microbiome?
{ "@context": "https://schema.org/", "@type": "WebPage", "speakable": { "@type": "SpeakableSpecification", "cssSelector": ["speakable-content"] }, "url": "https://www.lorealparisusa.com/beauty-magazine/skin-care/skin-care-essentials/what-causes-oily-skin" }
Discover more tips & tricks
Keep your skin happy
See all articles
Shop Featured Skin Care products
Discover More
{ "@context": "http://schema.org", "@type": "BreadcrumbList", "itemListElement": [ { "@type":"ListItem", "position": 1, "item": { "@id": "/", "name": "Home" } } , { "@type":"ListItem", "position": 2, "item": { "@id": "https://www.lorealparisusa.com/beauty-magazine", "name": "Beauty Magazine" } } , { "@type":"ListItem", "position": 3, "item": { "@id": "https://www.lorealparisusa.com/beauty-magazine/skin-care", "name": "Skin Care For Every Age" } } , { "@type":"ListItem", "position": 4, "item": { "@id": "https://www.lorealparisusa.com/beauty-magazine/skin-care/skin-care-essentials", "name": "Skin Care Essentials" } } , { "@type":"ListItem", "position": 5, "item": { "@id": "https://www.lorealparisusa.com/beauty-magazine/skin-care/skin-care-essentials/what-causes-oily-skin", "name": "what-causes-oily-skin" } } ] }