makeup looks
9 Tips for Applying Makeup to Oily Skin
How to stay matte all day.
May 09, 2022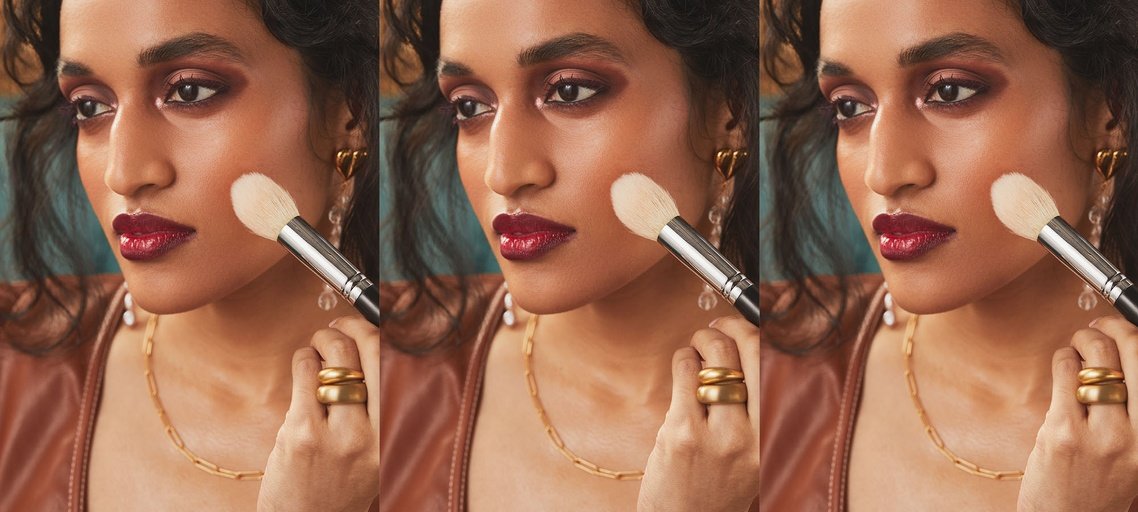 Oily skin can be tricky to deal with — especially when it comes to applying makeup over a shiny-looking complexion. The good news is, there are steps you can take to create an amazing oily skin makeup routine that will ensure your look stays in place. So, the next time you're ready to apply your face for the day, keep the following beauty tips for oily skin in mind.
Makeup Tips For Oily Skin
If you want to finally banish shine from your makeup look, this is for you. Here are some makeup tips for oily skin.
1. Cleanse With Micellar Water
Start with a clean slate by cleansing your skin in the morning. The L'Oréal Paris Micellar Cleansing Water Complete Cleanser Waterproof purifies and mattifies with the power of tiny micelles (oil molecules) that act as a magnet to lift dirt, oil, and residue up and away from the skin.
And the best part about using micellar water is there's no rinsing required. All you have to do is pour a little out onto a cotton round and wipe the pad across your face.
2. Hydrate Your Complexion
Having oily skin doesn't give you a free pass from applying moisturizer. Hydrating is equally as important for all skin types, but it's important to pick a moisturizer that's formulated for you — like the L'Oréal Paris Revitalift Triple Power Day Lotion SPF 30. This moisturizer has ingredients such as hyaluronic acid and vitamin C to help provide long-lasting hydration without creating extra oil or shine.
3. Start With Primer
When you have oily skin, chances are you've experienced a midday makeup meltdown before. That's why using a face primer before applying your foundation is a good idea. The L'Oréal Paris Infallible Pro-Matte Lock Makeup Primer will smooth and blur any imperfections while helping your makeup last all day. Each morning after moisturizing, apply the primer over your entire face or to targeted areas (such as an oily T-zone). It has a matte finish, meaning it won't make you look shiny.
4. Don't Forget the Lids and Lips
Don't think of primer as a product that's only useful for your face — you can also use an eye makeup primer to help prep your lids for makeup application. In a pinch, apply a dab of foundation or concealer to your lids before swiping on eyeshadow. You can also use a lip primer before applying lipstick to create a smooth base and avoid creasing.
Shop the Product
5. Use a Mattifying Powder Foundation
If you have oily skin, you'll want to look for a foundation that has a matte finish. It's best to avoid anything with a radiant finish since that can make your skin look overly greasy.
A powder foundation works best, such as the L'Oréal Paris Infallible Up to 24H Fresh Wear in a Powder. This foundation has coverage that rivals a liquid foundation while staying matte and sweatproof. It comes with a sponge applicator, which is also beneficial for oily skin — it limits how much you're touching your face — as hands can add more oil.
6. …Or Longwear Foundation
If you're not a fan of a matte finish You can totally rock a natural finish foundation as long as it has a long wearing formula, which will help your foundation stay put even when your oily skin dares to challenge it. Try the L'Oréal Paris Infallible Up to 24HR Fresh Wear Foundation, Lightweight, which has a medium-to-full coverage formula that resists sweat, water, and transfer. Pair it with a waterproof concealer, like the L'Oréal Paris Infallible Full Wear Concealer Waterproof, Full Coverage, to cover any unwanted blemishes.
7. Finish With Setting Spray
To help keep your look in place all day, top it all off with a spritz of the L'Oréal Paris Infallible Pro-Spray & Set Makeup Extender Setting Spray. Spray in an "X" and "T" motion to cover all your bases. This will keep your makeup looking fresh and smudge-free all day.
8. Don't Leave the House Without Blotting Sheets
Blotting sheets are super-convenient and can be tossed in your purse for midday touch-ups. With just a simple swipe, you can help soak up any excess oil that has built up on your complexion throughout the day.
9. Add a Clay Mask To Your Beauty Routine
Consider this your excuse to pamper your skin on a regular basis. The L'Oréal Paris Pure-Clay Detox & Brighten Face Mask is formulated with three types of clay (kaolin, montmorillonite, and Moroccan lava) to help draw out the buildup of impurities, dirt, and oils and reduce the look of excess shine.
Apply an even layer to clean, dry skin, leave it on for 10 to 15 minutes, then rinse off with water. Use three times a week for best results.
Next: 10 Tips for Applying Makeup When You Have Dry Skin
Edited by: Shannon Stubbs, Photo Credit: Crystal Simone
Discover more tips & tricks
Keep your skin happy
See all articles
Shop Featured Makeup products
Discover More