skin care concerns
How to Take Care of Oily Skin in the Summer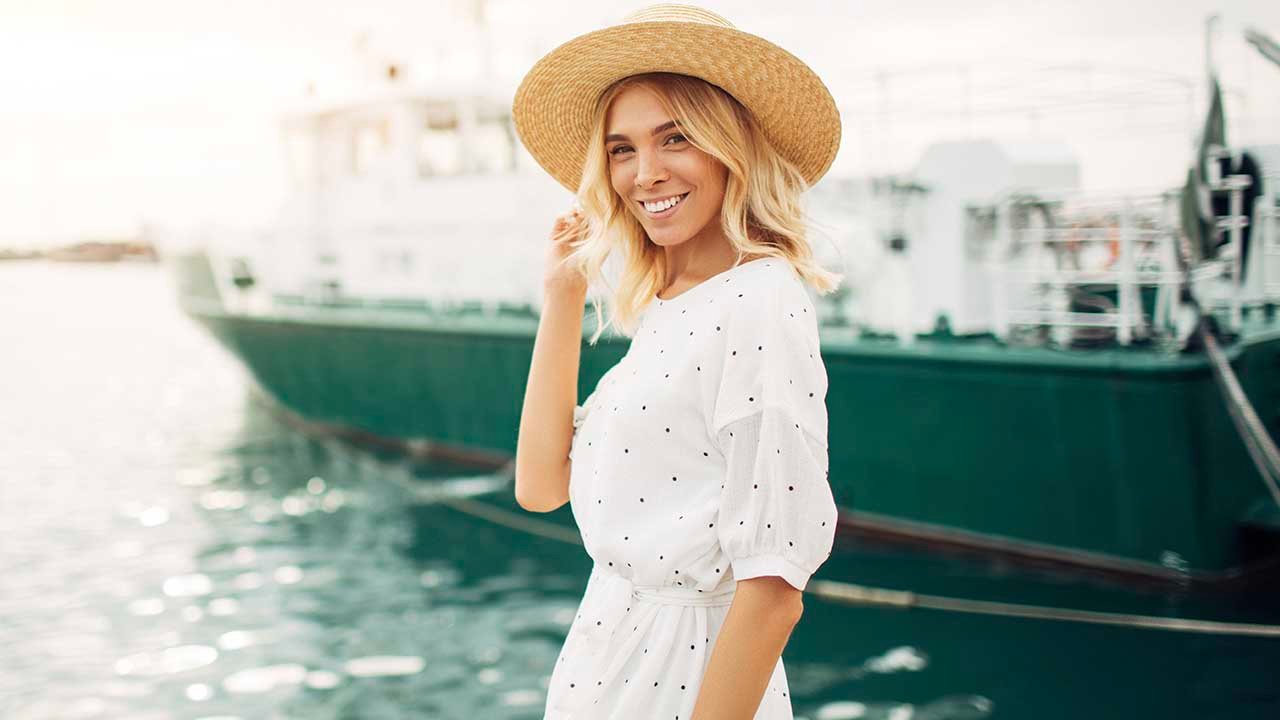 There are lots of reasons why we love summer, including the extra daylight, beach trips, and vacations. But when you have oily skin, you may find yourself thinking more about how you're going to help prevent your complexion from looking overly greasy instead of focusing on kicking up your feet and enjoying the surf and the sand. So, what can you do? Using skin care products like a mattifying face mask can help. Follow these 10 skin care routine and makeup tips for taking care of oily skin in the summertime.
OILY SKIN TIP #1: TRY A CLAY FACIAL CLEANSER
When it comes to your oily skin care routine for summer, it's all about looking for products that help mattify. And the first step in your skin care routine should be cleansing. The L'Oréal Paris Pure-Clay Purify and Mattify Cleanser is powered by three different clays and enhanced with eucalyptus. It transforms from clay to mousse and removes everyday impurities from the surface of your skin without over-drying. It also helps remove excess sebum (oil) from the surface of your skin for a refreshed look and feel. Once a day, squeeze the facial cleanser onto your hands and add water to transform it from clay to mousse. Gently massage it onto your face in circular motions, then rinse thoroughly and pat dry.
OILY SKIN TIP #2: USE A WATER-BASED MOISTURIZER
Think you can skip the moisturizer if you have oily skin? Think again! In the summer, look for a lightweight moisturizer formulated for oily skin, like the L'Oréal Paris Hydra Genius Daily Liquid Care for Normal/Oily Skin. It's formulated with hyaluronic acid and aloe vera water to help provide long-lasting hydration with a matte finish. Smooth it over your face and neck after cleansing.
OILY SKIN TIP #3: DON'T SKIMP ON SUNSCREEN
After moisturizing your oily skin, it's time to apply a broad-spectrum sunscreen. According to the Food and Drug Administration (FDA), you should use a broad-spectrum one with SPF 15 or higher, along with taking other sun protection measures. Those include limiting your time in the sun (especially during the sun's peak hours of 10 a.m.-2 p.m.), covering up by wearing long sleeves, long pants, UV-blocking sunglasses, and a broad-brimmed hat, and reapplying sunscreen at least every two hours—and immediately after swimming or sweating. As far as picking a sunscreen for oily skin goes, consider looking for one that's oil-free and non-comedogenic.
OILY SKIN TIP #4: ADD EXFOLIATION TO YOUR WEEKLY ROUTINE
Exfoliating should be an essential step in your weekly skin care routine if you have oily skin to help slough away dead skin cells that may have built up on the surface of your skin. Use a face scrub, like the L'Oréal Paris Pure-Sugar Purify & Unclog Face Scrub, which is formulated with three types of sugar and kiwi to gently buff away the build-up of dead skin cells that could be clogging your pores. Use it three times a week for best results.
OILY SKIN TIP #5: MATTIFY THE LOOK OF YOUR COMPLEXION WITH A FACE MASK
Clay face masks are one of the most popular skin care products out there—and if you have oily skin, you may benefit from adding one to your skin care routine this summer. The L'Oréal Paris Pure-Clay Mask Purify & Mattify Face Mask is formulated with three types of clay and enhanced with eucalyptus leaf extract to help draw out the buildup of impurities, dirt, and oils and reduce the look of excess shine. Apply an even layer to clean, dry skin, leave it on for 10-15 minutes, then rinse off. Use three times a week for best results.
OILY SKIN TIP #6: INVEST IN A TRAVEL-FRIENDLY FACIAL CLEANSER
If you're going to be traveling a lot this summer, pick up a no-rinse cleansing option that you can use on the go, like micellar water. The L'Oréal Paris Micellar Cleansing Water Complete Cleanser for Normal to Oily Skin purifies and mattifies. Sweep it across your face using a cotton pad and you're good to go.
OILY SKIN TIP #7: SWITCH TO BB CREAM
Having your makeup start to slip down your face the second you step outside during the summer is just the worst. The best way to avoid this unpleasantness is to stay inside—just kidding! Instead of piling on multiple products, just opt for a lightweight BB cream. The L'Oréal Paris Magic Skin Beautifier BB Cream has four benefits in one: It primes to smooth skin's texture, corrects for an even-looking complexion, hydrates for long-lasting moisture, and perfects to hide imperfections.
OILY SKIN TIP #8: ALWAYS USE A PRIMER BEFORE MAKEUP
When you have oily skin, you may find that your face makeup has a particularly hard time stay putting in the summer heat. To ensure that all your blending, blotting, and powdering stays put all day long, be sure to start your makeup routine off with a mattifying primer, like the L'Oréal Paris Infallible Pro-Matte Lock Makeup Primer. Designed to smooth the surface of your skin while absorbing excess oil, you can expect a flawless-looking visage with each use.
OILY SKIN TIP #9: DON'T LEAVE THE HOUSE WITHOUT SETTING YOUR MAKEUP
While using face primer is a sure-fire way to prevent against midday makeup madness, it never hurts to go the extra step to be sure that your foundation, concealer, bronzer, and highlighter stays where you put it. To do so, finish your makeup routine with a finishing face powder, like the L'Oréal Paris Infallible Pro-Sweep & Lock Loose Setting Powder. Use a makeup fluffy brush to apply it so as to give your whole face a light dusting without disturbing the makeup beneath.
OILY SKIN TIP #10: KEEP BLOTTING SHEETS ON HAND
If you haven't hopped on the blotting paper bandwagon, you're missing out. Blotting sheets can seriously come in handy if you have oily skin. Just press one onto your complexion to help sop up excess grease during the day. They're compact enough to keep on you at all times—and all it takes is a quick trip to the ladies' room and a single sheet to help get rid of excess shine.
Now that you know how to care for your oily skin this summer, you may want to get a bit more targeted with your oily skin makeup routine. If that sounds like a good idea, be sure to check out our article, How to Use Highlighter When You Have Oily Skin, to help get the ball rolling.
Discover more tips & tricks
Keep your skin happy
See all articles
Shop Featured Skin Care products
Discover More