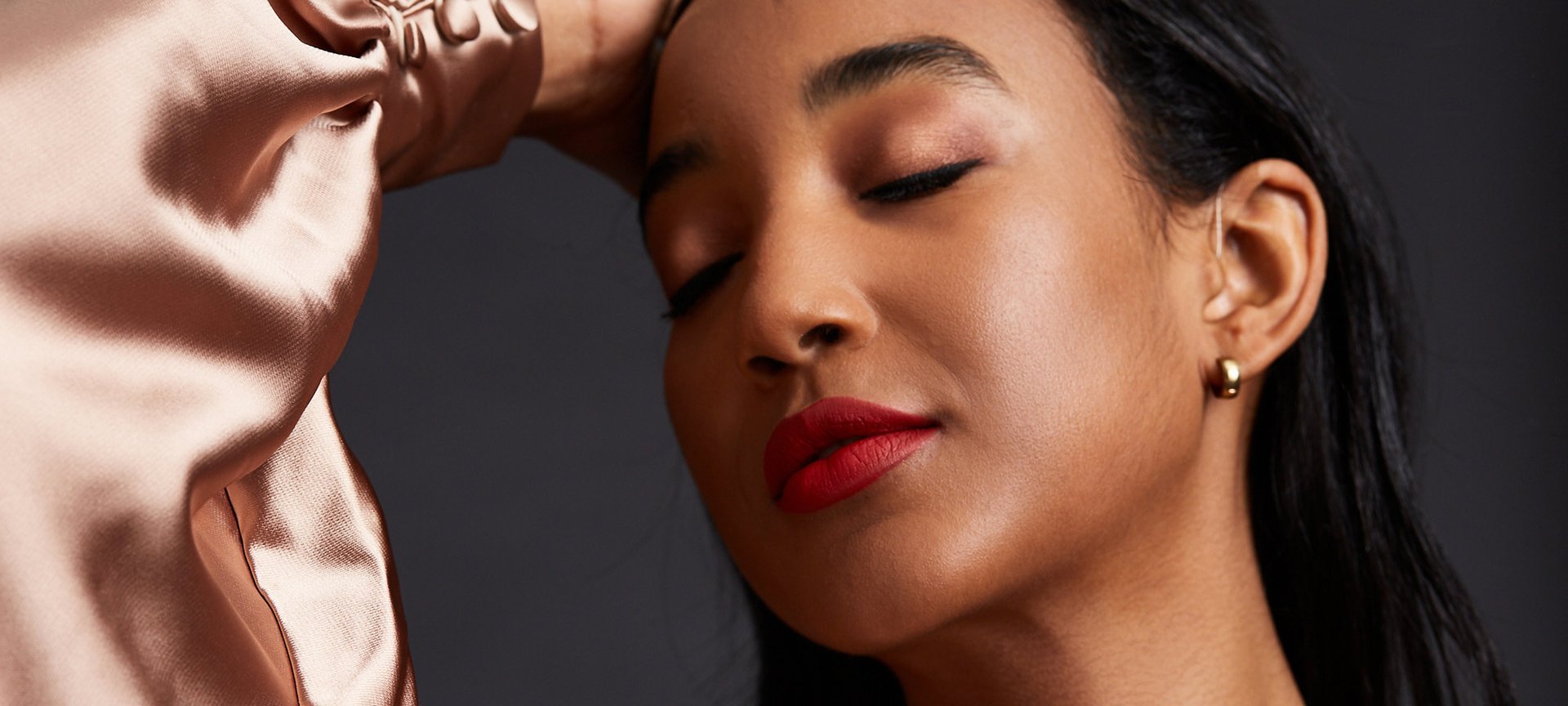 beauty looks
How to Avoid Looking Shiny in Photos This Summer
Let your smile shine, not your T-zone.
Picture this: you got dolled up with a new makeup look (or kept things minimal) for a post-vaccine night out and your friends want to take a group photo. In the moment, you might be thinking about how much fun you're having, but once a friend posts a photo of you with a shiny t-zone, chances are your thoughts are elsewhere. Thankfully, shine in flash photos can be avoided. To prevent your skin from looking oily in photos this summer, read on for our tips.
Commit to an Oil-Zapping Skin Care Routine
The key to perfect makeup application (and how the makeup and your skin appear in photos) is a targeted skincare routine. When it comes to oily skin, the daily build up of dirt, makeup and excess oil can end up clogging pores (read: causing breakouts) and can make your skin appear more oily. So, it's important to follow a routine that helps to reduce oil production and tighten pores.
Glycolic acid is a powerhouse ingredient that works wonders on oily skin because it polishes away dead skin cells from the surface to prevent pore-clogging, which can lead to pimples. We recommend using the L'Oreal Paris 10% Pure Glycolic Acid Serum to exfoliate and improve the texture of the skin.
Oily skin can also benefit from micellar water, which is a gentle and effective way to remove dirt, makeup and oil from your pores while toning the skin. The L'Oreal Paris Micellar Cleansing Water Waterproof Makeup Remover lifts away impurities and promotes a healthier, softer and smoother complexion, free from excess oil.
Use the Right Makeup Products
Now that your skin is being properly cared for, it's time to make a few makeup swaps in order to avoid looking shiny in photos. makeup slipping can make your skin look oilier, Especially during the warmer months. Before applying foundation and concealer, use a primer, like the L'Oreal Paris Age Perfect Blurring Face Primer with Caring Serum to help makeup stay put throughout the day.
To keep things matte, we love using the L'Oreal Paris Infallible 24Hr Foundation in a Powder as our go-to foundation. It's weightless, yet provides full coverage and a natural-looking finish that stays fresh all day long. Even during a hot, humid day, the heat- sweat- and waterproof formula keeps oily skin matte and under control.
Finally, set your makeup with a setting powder, like the L'Oreal Paris Infallible Tinted Matte Loose Setting Powder and then throw it in your purse to make touch ups in particularly oily spots (yes, we're talking about you, T-zone!) as needed throughout the day.
Next: The Best Cleansing Tips for Oily Skin
Photo Credit: Chaunte Vaughn
{ "@context": "https://schema.org/", "@type": "WebPage", "speakable": { "@type": "SpeakableSpecification", "cssSelector": ["speakable-content"] }, "url": "https://www.lorealparisusa.com/beauty-magazine/beauty-tips/beauty-looks/avoid-shine-in-photos" }
Discover more tips & tricks
Keep your skin happy
See all articles
Improve your routine
Show your new look more love:
makeup
{ "@context": "http://schema.org", "@type": "BreadcrumbList", "itemListElement": [ { "@type":"ListItem", "position": 1, "item": { "@id": "/", "name": "Home" } } , { "@type":"ListItem", "position": 2, "item": { "@id": "https://www.lorealparisusa.com/beauty-magazine", "name": "Beauty Magazine" } } , { "@type":"ListItem", "position": 3, "item": { "@id": "https://www.lorealparisusa.com/beauty-magazine/beauty-tips", "name": "Pro Ideas For Your Unique Look" } } , { "@type":"ListItem", "position": 4, "item": { "@id": "https://www.lorealparisusa.com/beauty-magazine/beauty-tips/beauty-looks", "name": "Beauty Looks" } } , { "@type":"ListItem", "position": 5, "item": { "@id": "https://www.lorealparisusa.com/beauty-magazine/beauty-tips/beauty-looks/avoid-shine-in-photos", "name": "avoid-shine-in-photos" } } ] }