skin care essentials
Are There Benefits of Steaming Your Face?
August 28, 2020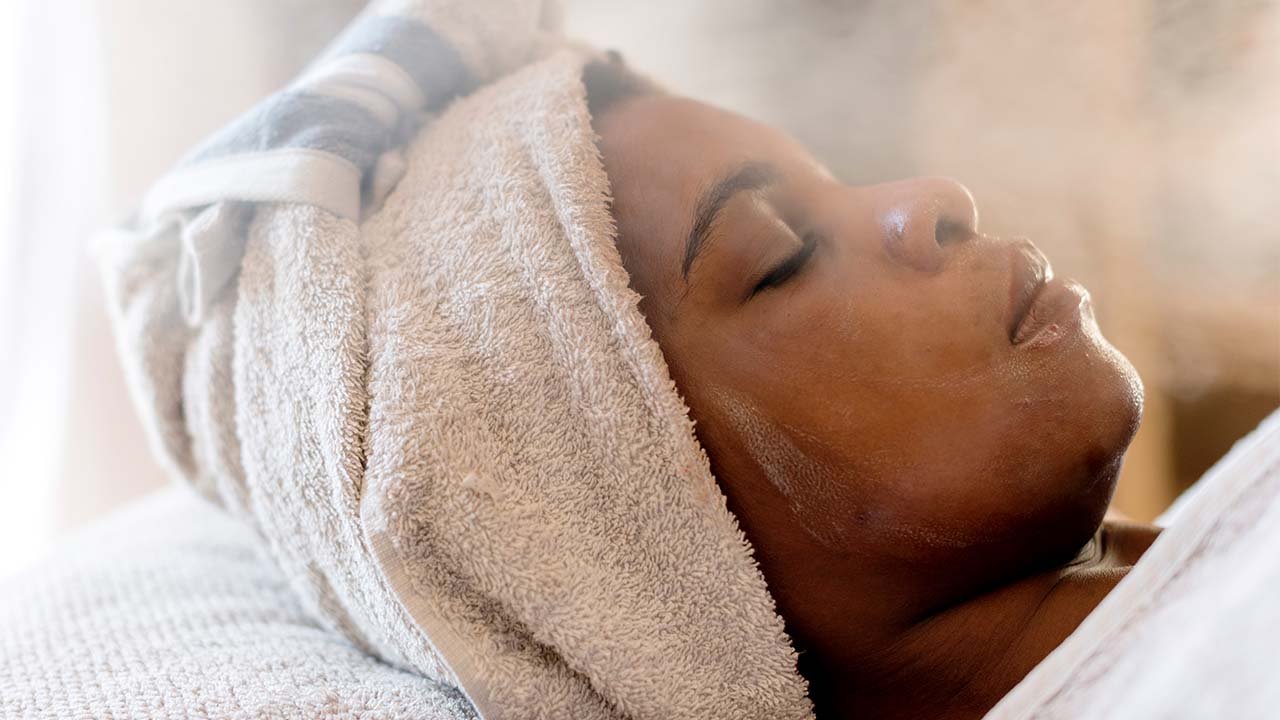 When it comes to addressing skin care concerns, you likely get plenty of advice from friends, family, and the internet. But is all that advice really true? One skin care tidbit you may be curious about is whether there are benefits to steaming your face. We've all heard about facial steamers opening clogged pores and providing other skin care benefits—which makes face steam sound like an obvious choice for your skin care routine—but it's possible it's all a myth. Keep reading to learn once and for all—is steam good for your skin? Bonus: We'll also talk about how to steam your face at home.
IS STEAM GOOD FOR YOUR SKIN?
At the root of this question is whether or not steam can open up your pores. Unfortunately, this age-old skin care advice is a myth. Your pores are always open! So, in this way, steam isn't beneficial to your skin.
Of course, there are other claimed benefits to steaming your face at home. And with those, there is some truth to what you've heard! According to the Mayo Clinic, steam emitted from a humidifier increases moisture levels in the air and can alleviate cracked lips and other health concerns. When properly maintained, it can keep dry, cold weather conditions from being too harsh on your skin. If you need further reason to consider investing in a humidifier, the American Academy of Dermatology also lists humidifiers as one of their top dry skin relief tips. Alternatively, you can add a face steamer to your skin care regimen, which is specifically meant for steaming your face!
Editor's note: You may have skimmed over the keywords 'properly maintained' above, but you'll need to pay attention to maintenance if you want to combat dry skin with the help of a humidifier. The Mayo Clinic states that proper maintenance is necessary as a dirty humidifier can quickly breed bacteria and mold, leading to illness.
HOW TO STEAM YOUR FACE
Steaming your face at home is actually really simple. If you want to multitask while reaping the benefits, consider hanging out in a room with the door closed and your humidifier turned on. Bonus points if the room is on the smaller side, like a bathroom. As the room fills up with steam, you'll be simultaneously steaming your face. Use this time to give yourself an at-home manicure or catch up on a new book.
Alternatively, you can use a face steamer to steam your face. This device is specifically made to steam your face at home. Fill it with water and hold it a few inches from your face (always follow the directions that go with the specific steamer you're using). Allow the steam to pass over your complexion for a few minutes, and you're done.
4 OTHER WAYS TO TAKE CARE OF DRY SKIN
Okay, now you know steam from a humidifier can help alleviate dry skin—but using one shouldn't be your only line of defense against dryness. Taking care of dry skin also requires using the right skin care products. And with fall and winter upon us, now's the time to get your dry skin routine in order.
1. MOISTURIZER
Everyone knows moisturizing dry skin is a must! Consider adding one of the following moisturizers to your skin care collection:
L'Oréal Paris Hydra Genius Daily Liquid Care - Normal/Dry Skin: This water-based moisturizer offers instant hydration that's quickly absorbed by your skin. Formulated with hyaluronic acid and aloe water, it quenches skin with moisture and locks it in to improve skin's radiance.
L'Oréal Paris Hydra Genius Daily Liquid Care - Extra Dry Skin: Have skin that's extra dry? This moisturizer is for you. The lightweight formula also contains aloe water and hyaluronic acid, providing continuous hydration and leaving you with comfortable, fresh-looking skin.
2. CLEANSER
Dry skin types shouldn't shy away from cleansers. Everyone needs to get clean, and there's no reason cleansing has to leave you with skin that feels tight and extra dry. It's all about using the right cleanser.
L'Oréal Paris Age Perfect Nourishing Cream Cleanser: As far as cleansing dry skin goes, it's safe to say that using a cream cleanser is a good idea. This cleanser is formulated with replenishing oils to gently yet effectively remove all traces of makeup without over-drying for softer, smoother, more supple skin.
L'Oréal Paris Micellar Water Complete Cleanser Waterproof - All Skin Types: When it comes to taking off your makeup, you want to avoid makeup removers that contain alcohol and can dry out your skin further. This gentle micellar water can be used to remove makeup—even waterproof products.
L'Oréal Paris Ideal Clean All Skin Types Makeup Removing Towelettes: As an alternative makeup remover, these wipes are formulated without alcohol so they won't dry out your skin. The ultra-soft towelettes gently yet effectively remove all traces of makeup and mascara, including long-wear makeup.
3. FACE SCRUB
Dry skin cells build up on the surface of the skin over time, resulting in a lackluster complexion. No thanks! That's when a face scrub can be your saving grace. Try a coffee scrub, like the one below, as a pick-me-up for your skin.
L'Oréal Paris Pure-Sugar Nourish & Soften Cocoa Scrub: Dry skin is often flaky and uneven, making exfoliation essential. This face scrub, which is formulated with three pure sugars, finely crushed cocoa, coconut oil, and cocoa butter, smoothes, nourishes, and comforts skin while removing dirt and impurities.
4. FACE SERUM
The right facial serum can also give your complexion a much-needed boost in moisture. We're talking about hyaluronic acid serum. This hydration-attracting molecule is naturally found in your skin and enhances moisture-retention for lasting hydration. Try using the L'Oréal Paris Revitalift Derm Intensives 1.5% Pure Hyaluronic Acid Serum, which quickly absorbs to replenish hydration immediately and visibly reduce wrinkles for visibly plumped, youthful-looking skin.
If you want more dry skin tips, head over to our article, Your Guide to Taking Care of Very Dry Skin.
Discover more tips & tricks
Keep your skin happy
See all articles
Shop Featured Skin Care products
Discover More